In light of the Mars2020 rover landing earlier this year and the Mars Helicopter, Ingenuity, attempting something that has never been done before, Mansi Joshi takes a moment to share the stories of some of the inspiring women working on this mission.
In mid-February this year, the world witnessed NASA's Perseverance rover land successfully on the surface of Mars and two months later the Mars Helicopter, Ingenuity, demonstrated the first powered, controlled flight on a world beyond Earth. This was a huge milestone and Ingenuity has already gone on to successfully complete several more experimental flights.
Although there have always been women working on space programmes, the Perseverance mission especially highlighted some of these incredible women, showcasing their roles and contributions towards space missions.
Take Dr Swati Mohan, for example. Not only did she confirm the touchdown of the rover on Mars, she played an integral role in the mission from its very beginning in 2013. To see a woman of south Asian ancestry – someone who looks like me – playing a pivotal role in this mission was not only enlightening, but also inspirational to see for the next generation of space enthusiasts.
Dr Mohan's journey started from completing her BS in Mechanical and Aerospace Engineering and MS and PhD from MIT, to then working on several missions including Cassini to Saturn and GRAIL. She is currently the Guidance, Navigation & Control (GN&C) Operations Lead for Perseverance which involves figuring out the orientation of the spacecraft, pointing it in the correct direction and manoeuvring, including during entry, descent and landing to ensure a safe touchdown.
Her role also entails training the GN&C team, scheduling the team staffing and looking after policies and procedures of GN&C in the mission control room. Seeing a female, who was born in India and raised in the US, at the forefront of the mission coverage was a clear demonstration that regardless of your gender, race or background, you can be involved in the space sector.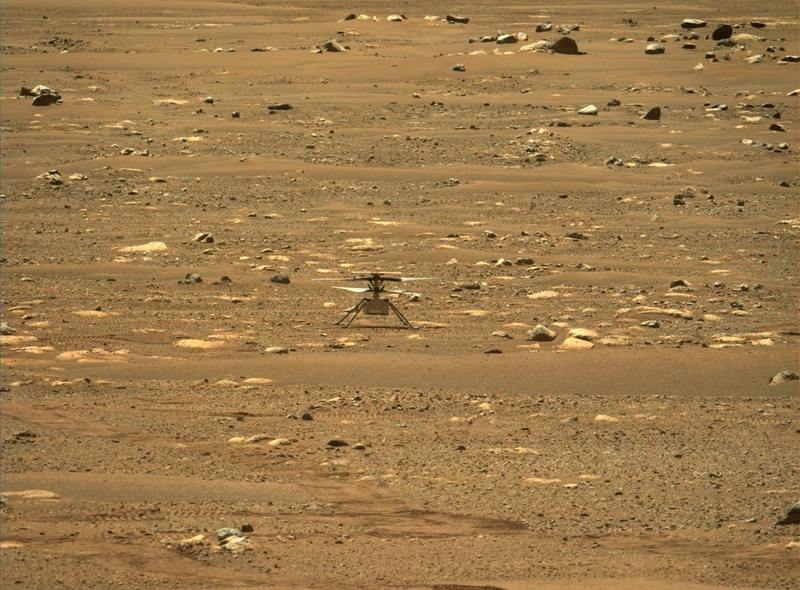 NASA s Ingenuity Mars helicopter seen from the Perseverance rover after it successfully completing a high-speed spin-up test. NASA/JPL-Caltech

Alongside Dr Mohan, many other women were in the spotlight for this ambitious Mars mission. Diana Trujillo, an immigrant who moved to the US from Colombia with only $300 and whose story was shared all over the world, is one of them.
After arriving in the US with the hope of overcoming difficulties faced at home, Diana worked hard to learn English and pay her way through college, studying aerospace engineering. During her studies, she was the first Hispanic immigrant woman to be accepted into the NASA Academy programme and went on to be one of two candidates to receive a job offer from NASA after graduating.
Diana joined NASA in 2007, starting from working on the Constellation Program at Goddard Space Flight Center and then JPL on human and robotic space missions. Since then, she has undertaken many roles including Surface Sampling System Activity Lead and Dust Removal Tool Lead Systems Engineer. As well as working on the Mars2020 rover as Phase Lead for Robotic Arm Science, she also worked on Curiosity ensuring sampling remained dust free.
In addition to her work, Diana has been actively involved in programmes inspiring women, especially from the Latin American and African American communities, to pursue careers in science and engineering.
Alongside her husband Will Pomerantz, she founded the Brooke Owens Fellowship which provides paid internships and executive mentoring for women and minorities in aerospace. The experience aims to develop each of the 40 fellows selected per year, growing their talent, industry experience and creativity.
Diana's story is truly inspiring and her extraordinary work is directly contributing towards strengthening the next generation of scientists and engineers, specifically supporting minorities entering the aerospace industry.
The next person to mention is MiMi Aung, Lead Engineer of the Mars helicopter, Ingenuity, and also Deputy Division Manager for Autonomous Systems at NASA JPL. After studying electronic engineering and completing her masters, MiMi joined JPL where she worked in the RF and Microwave Subsystems section of NASA's Deep Space Network (DSN).
In 2013, MiMi became deputy division manager for autonomous systems and in 2015 she became the lead for Mars helicopter, the first craft of its kind to fly independently on an extra-terrestrial body. Though Ingenuity ran into a small issue before attempting the first flight on Mars, MiMi and her team were beyond prepared, quickly developing a solution and a back-up plan. As a result, Ingenuity's first flight was successful, as was each subsequent flight test thereafter. Achieving this significant milestone really is a testament to MiMi and her team's work.
Dr Mohan, Diana Trujillo and MiMi Aung are just three of the awe-inspiring women working on Mars2020. Others include Dr Moogega Cooper, Planetary Protection Lead, JPL, who alongside her exceptional career is dedicated to sharing her joy of science with outreach work; and Dr Vandana Verma, Chief Engineer Robotic Operations, JPL, who has worked on Mars rovers since 2008 and whose team develops new technologies for future missions, to name a couple.
"The most creative, out-of-the-box thinking teams I've been part of consist of people with varied experiences and different perspectives who value that diversity," said Dr Verma.
"Teams plateau if everybody thinks the same way. It helps to have people who can poke at a problem from a different side. Diversity encourages young people from a variety of different backgrounds to enter STEM allowing us to reach the best and propagate a culture of exceptional teams."
These remarkable women are amongst us and I am pleased to have the opportunity to share some of their stories and, in doing so, helping to encourage the next generation of space enthusiasts to step into the sector and find their place in the future.
Editor's note
This is the second monthly article in our 'New Voices in Space' series authored by young scientists and engineers involved in the space business. The first article 'Taking quantum into space' can be accessed here
About the author
Mansi Joshi is a recent aerospace engineering masters graduate, currently working in the computational software sector, and is one of the founding members of the SSLC New Voices in Space group. Throughout her academic and professional journey, she has actively strived towards getting young people, especially females, involved in STEM. Her experience ranges from organising and delivering interactive science workshops, to primary and secondary school outreach as well as being invited to speak at several leading space industry events. Mansi is also member of the Rocket Women team and is a strong advocate for women in STEM, driving towards equal representation within the industry.