Early in my career as an artist I became interested in art as a functional form of civic action. I felt that aesthetics and the pursuit of the understanding of form and beauty, led me to believe that those things were connected to broader ideas like equity, health, human rights and unity. I felt that these broader concepts were embedded in art, and that pursuing the life of the artist had led me to believe that I wanted my art not just to be a metaphor for my beliefs but also to be an example of my beliefs in action.
This wild idea caught hold of me when I was a younger man teaching violence prevention, literacy and cultural understanding through the arts in public schools in the South Bronx for an organisation called LEAP (Learning through an Expanded Arts Program). It was in this role that I saw that art, and specifically community art made with young people, could have a measurable and demonstrable impact on a range of social issues - the concept has never let go of me.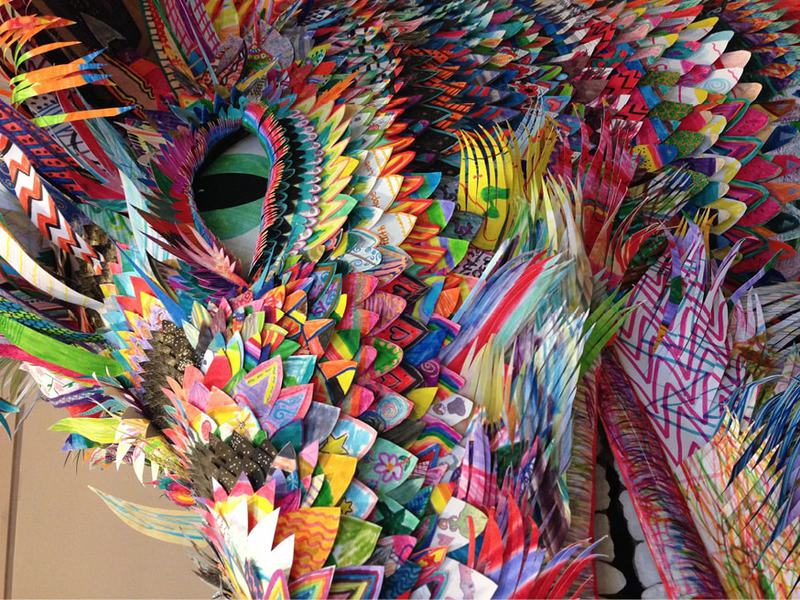 Okoa the Wave Rider - a collaborative art project by children at MD Anderson Children's Cancer Center.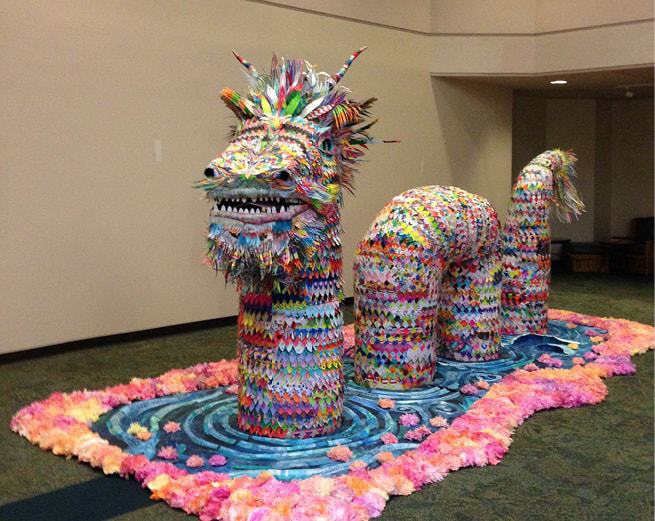 This desire to inspire the patients and families I serve with projects of monumental scale led me to the idea to create a collaboration with NASA
In 2005 I moved to Austin, Texas. My wife got a job teaching and I began hitting the pavement exploring the potential for cross-sector public art projects that I could generate through community collaboration. I became increasingly interested in the role of public art that was participatory and felt that large-scale work made with people who do not normally get a chance to shape the landscape of the city would be meaningful.
After a series of proposals that included graphic wind turbines, giant solar butterflies, and refugee tents failed to generate the partnerships needed to pull them off, I proposed the idea to wrap several city busses with art made in collaboration with children in treatment at the recently opened Dell Children's Hospital.
The bus company, Capital Metro, agreed to provide two busses, so I reached out to 3M, who made the materials that are used to do vehicle wraps. They were happy to donate the materials and agreed to pay for the installation. I contacted Art Alliance Austin, a non-profit organization that sponsored public works. They agreed to provide a grant. Next, I approached the Hospital, and although I had never had any clinical experience I had worked in crisis contexts and they agreed to let me in.
I worked 18 months on that project, making art full-time with pediatric patients in the dialysis clinic and in the oncology unit. It could not have felt more meaningful. I saw how making art affected the young patients I was working with the way it has always affected me - it gave them a sense of purpose, a sense that they were a part of something larger than their illness, it motivated them, and in many cases it provided a kind of healing that was complementary to the other treatments they were undergoing.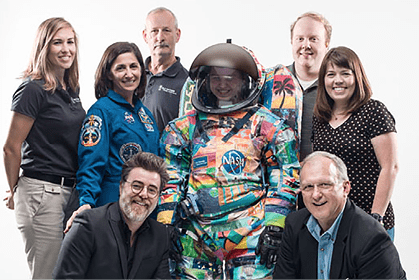 Some of the team behind the HOPE Space Suit Art Project.
In 2010, I was invited by MD Anderson in Houston to come pilot the Arts in Medicine Program. I partnered with Dr Martha Askins, a clinical psychologist, and together we created a series of art studios, working with patients and their families in bedside visits and with patients who were visiting the hospital for outpatient chemotherapy and radiation treatment. At that time, Dr Askins and I began to focus on working with patients with limited mobility and developed techniques for what we called 'patient directed art' for those who could not make art themselves as a result of physical limitations connected to their disease and its treatment.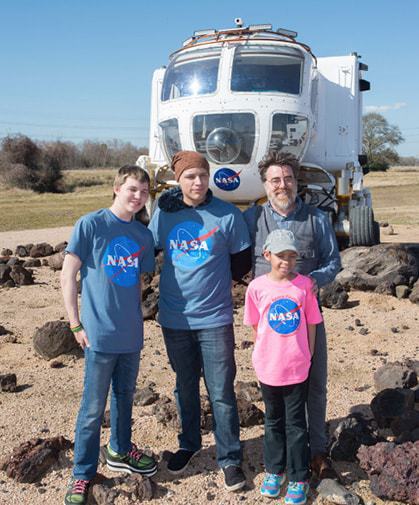 Ian Cion and young artists on location at NASA is Johnson Space Center.
I began working on a series of projects that were collaborative and large scale, so that the patents' art was not just something we taped to the walls of their rooms but connected them to each other, formed relationships and connected them to the community in a way that celebrated them not as cancer patients but as artists. This was particularly important in the context of one of the world's leading cancer centres, where patients from around the world come seeking treatment - and being far away from friends and family can be particularly (and often by clinical need) isolating.
This practice had an impact but I was only one person and knew that I could not see every patient I wanted to help. I worked to understand how I could use art to support their healing and manage their symptoms. I used video footage of our sessions and interviews with patients and their family members the way a football team uses game films, to understand what was working about the process and to demonstrate through first-hand accounts the role this type of art making was having on the patients and their families.
Additionally, I began to see that by making the art public it was tying it to a tradition of arts-based research, in which the art itself became a tool for understanding and interpreting its clinical impact.
I have focused my role at MD Anderson on the use of large scale works as a tool for generating enthusiasm in my patients. The value of enthusiasm cannot be overstated - the feeling of having something to look forward to, of having something that makes you want to get out of bed in the morning, has an even greater significance when taken in the context that getting out of bed can keep you from getting bed sores or prevent pneumonia.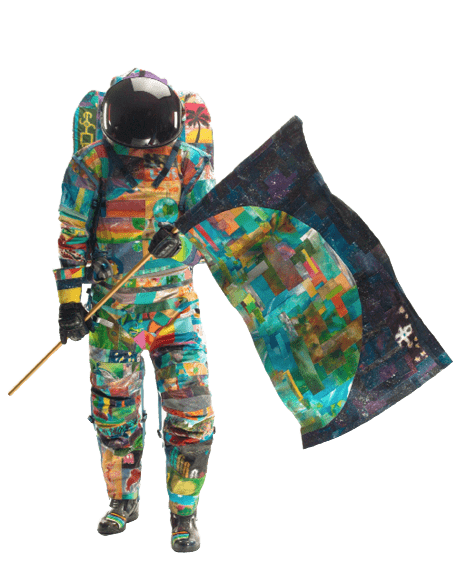 HOPE - Suit 1.
Project by project, I tried to explore new ways to motivate my patients, from giant collaborative sculptures like 'Okoa the Wave Rider' (a 20-foot long paper dragon made in collaboration with over 1,300 patients) and a 100-foot long digital print mural that we have exhibited at the hospital, to exhibiting our art through partnerships with the Museum of Health and Medical Science and the Museum of Fine Arts Houston, to animation made in collaboration with our patients and families and a team of professional artists that includes animators, writers, illustrators, musicians and neuroscientists who are helping us examine how this animation we are creating impacts the brain.
This desire to inspire the patients and families I serve with projects of monumental scale led me to the idea to create a collaboration with NASA called the 'Space Suit Art Project'.
It came from a simple premise - kids are inspired by space. Beyond this initial simple premise was the idea that there are many parallels between the lives of astronauts and the lives of cancer patients. Both are put through a series of physically taxing and rigorous extreme changes to their bodies, both are subject to extended periods of isolation, both face the unknown in a profound way, and both need to identify tools to sustain themselves in critical, life-threatening situations.
If I could draw this parallel in a meaningful way, I could inspire the patients and families I serve (as well as the astronauts) to think about their own journey in a new way. I decided that a space suit would be a profound symbol of how we can work together to integrate the best of science and art to create a form of protection.
With this in mind, I knew I wanted to make a work of art that was not only made by many people, but one that was also recognisable as authentic. So I contacted my friend Gordon Andrews, a communications specialist for the International Space Station (ISS) team at the NASA Johnson Space Center, briefed him on my plan and asked if he could help me get accurate specs for a space suit.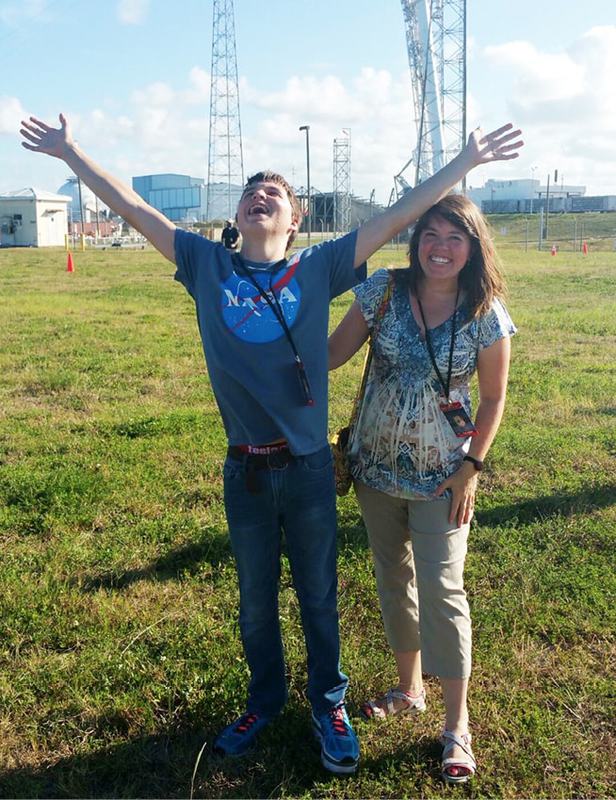 Jacob Ballard, who has participated in the HOPE spacesuit project, pictured with his mum Letha at the SpaceX launch pad, Kennedy Space Center, before the Falcon F9 launch in July.
Gordon is one of the most generous guys you will ever meet. He didn't just email me some measurements, he invited me to NASA to tour the space suit labs and introduced me to Dave Graziosi, an engineer from ILC Dover, the company who has been making space suits for NASA since the Apollo Missions. Gordon also introduced me to retired astronaut Nicole Stott, the first astronaut to make a painting in space, who is now continuing her pioneering career as a space artist and STEM to STEAM advocate. Thus the Space Suit Art Project team came together.
Not only did NASA and ILC Dover agree to provide me with the space suit blueprints needed to make an accurate suit, they agreed to help put the suit together. Their team members worked evenings and weekends to help sew together the hundreds and hundreds of individual mini-paintings that were collected in art studios I set up at MD Anderson, and quilted them together into a singularly beautiful work of art.
ILC Dover and NASA agreed to partner on a series of three space suits, which we are calling HOPE, COURAGE, and UNITY. The first suit, HOPE, was completed with the artwork of over 500 patients and family members and was recently exhibited at the Museum of Fine Arts Houston.
For the second suit, COURAGE, we decided that we truly wanted to reach for the stars. Working with NASA and the ISS programme, we decided to create a hand-painted flight suit to be flown to the ISS to honour Childhood Cancer Awareness month.
This afforded us the tremendous opportunity to add astronaut Kate Rubins to our Space Suit Art Project Team. NASA managers also agreed to allow Kate to wear the second suit, COURAGE, onboard the ISS in September 2016 and to provide a video downlink as a tool for raising awareness about childhood cancer. This incredible opportunity became an amazing clinical tool. Imagine walking into the room of a patient, a child, who is fighting for their life and inviting them to contribute their artwork to a suit that is going to be worn by an astronaut in space!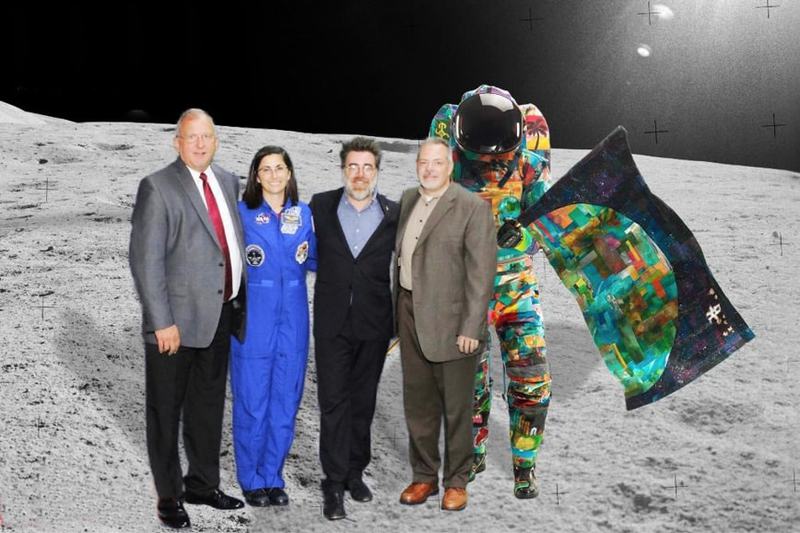 Gordon Andrews (ISS Programme Comms), Nicole Stott (Artist/ Astronaut), Ian Cion (MD Anderson Cancer Center Arts in Medicine Program), and Dave Graziosi (ILC Dover) with Hope.
For COURAGE, we used a NASA-authorised flight suit and NASA-tested paints. The suit and paints were taken to patient's rooms in the MD Anderson Children's Cancer Hospital, and we held art studios in which NASA astronauts Nicole Stott, Kate Rubins, Reid Wiseman and Ellen Baker sat and painted on the suit with our patients and their families, and I was also able to arrange a home hospice visit to allow one of my patients who was at the end of her life to participate.
Even something as simple as a handshake or a child's painting can change the course of history
Our beautifully hand-painted space suit was launched as part of the cargo headed for the ISS on a SpaceX Falcon F9 rocket in July. I was able to travel to Kennedy Space Center and was joined by one of my patients and his mother to watch the launch.
It is hard to describe the depth of emotion I felt watching the launch. I have worked with thousands of children with cancer over the last 11 years and, in many cases, I have watched and been there with families through unimaginable loss. To see the rocket carrying this simple, hand-painted offering filled me with a sense of profound comfort, as if we were sending a message to honour the loved ones we have lost and to inspire the ones who are here that they are not alone on their journey.
A big part of the Space Suit Art Project has been the way in which partnering with NASA, ILC Dover, and our patients and families has extended our collective communities. Many of our patients now consider astronauts among their friends, and they connect on Facebook and follow each other's journeys.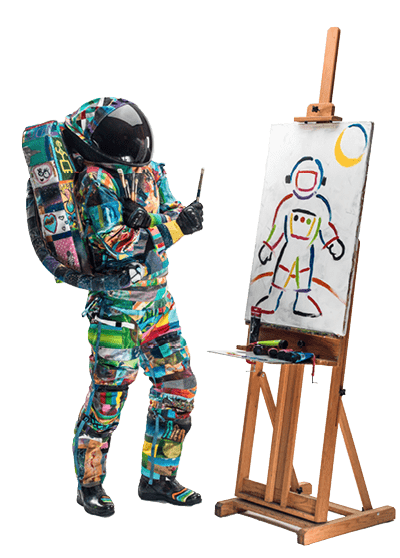 HOPE-Suit1
Our third suit, UNITY, is about broadening this message of togetherness. In September, Nicole Stott and I will be travelling on a world tour to make art with patients and astronauts in the cities that are the home base for the other space agencies that partnered to build the International Space Station. We will be making art with paediatric and young adult cancer patients, and with astronauts and cosmonauts in Cologne, Moscow, Tokyo, and Montreal, as well as with our patients and NASA astronauts. ILC Dover has agreed to put together the artwork collected on this global mission into our third suit, UNITY.
In preparation for our trip to Moscow, I recently watched a video on YouTube of the handshake that took place in space as part of the 1975 Apollo Soyuz mission. This incredible international collaboration and celebration of connectivity took place at the height of a global conflict and served as a tool for diffusing tension and a model for working together that still remains one of the most meaningful celebrations of peace in the 20th century. It reminded me again that our actions, even something as simple as a handshake or a child's painting, can change the course of history.