Portugal's space agency (Agencia Espacial Portuguesa), which has only been in existence a few years, made a big impact at the 2022 International Astronautical Congress (IAC) in Paris, France. On a busy stand, President Ricardo Conde met up with ROOM Editor-in-Chief Clive Simpson to share his enthusiasm for the country's newly coordinated space effort and discuss its targeted and specific vision for space.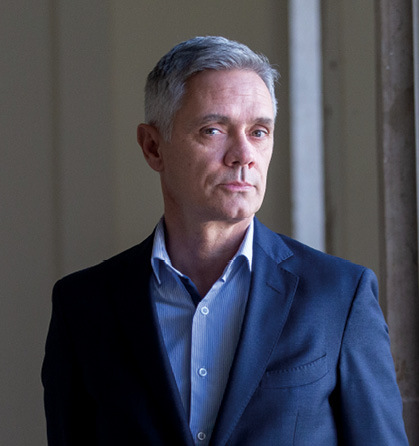 Ricardo Conde

Bom dia! Could we start by setting the scene for the Portuguese Space Agency: when was it formed and what is its main mission?
The space sector in Portugal dates to the dawn of the Space Age with the supply of cork insulating material to many early US missions such as the Mercury, Gemini and Apollo capsules and the Saturn V launcher.
However, it was only in 1989 that Portugal joined the first space-related international organisation when it became a member of the European Meteorological Organisation (EUMETSAT). The next decade marked a significant milestone for Portugal with the launch of the first Portuguese satellite (POSAT-1), in 1993, which was developed in the UK by the University of Surrey.
We are now shaping the future of space in Portugal and supporting international collaborations
At a European level, Portugal is also part of the European Union (EU) which results in the country actively participating in the development of and benefiting from the EU's space programmes, such as Copernicus and Galileo.
We are still a relative youngster in space terms and started our main journey more or less 22 years ago, in December 1999, when we became a member of the European Space Agency (ESA). At that time, various government ministries were responsible for our space activities but not necessarily in a strategic way, so in 2018 the government formed the Portuguese Space Agency, tasking it with implementing and updating a national space strategy, aggregating all space competences and fostering the sector's overall development.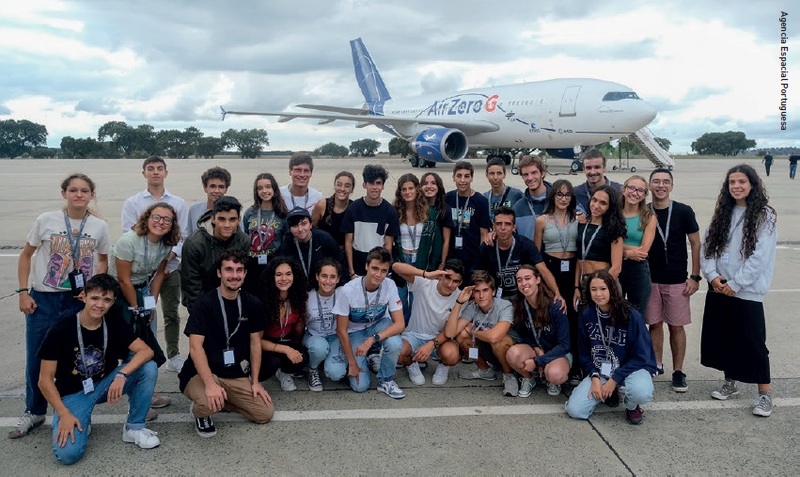 The first of a series of parabolic flights from Portugal took off in September from the Beja Air Base with 30 young people on board. It is part of an initiative which aims to stimulate young people's interest in space.

Four years later, we are now shaping the future of space in Portugal and supporting international collaborations, including national subscriptions to organisations like ESA.
This is aligned with our national strategy. Our declared goal as a country is to advance the space ecosystem for the benefit of society, thus enabling science, developing technology and promoting business. Four key enablers to support further growth have been identified: (1) ambitious initiatives, (2) downstream users, (3) legal framework and (4) international collaboration.
The Portuguese space agenda is essentially defined by the phrase 'Sustainable Earth & Space', with two practical results of this policy being the Atlantic Satellite Constellation and monitoring space debris.
Is Portugal looking to specialise in terms of the industry or technology?
Our declared goal as a country is to advance the space ecosystem for the benefit of society
We don't have big resources to develop this sector so we have had to put priorities in place, which is normal for a small country.
In September 2020, the Agency issued a document 'Portugal Space 2020-2030 Strategy: Execution Balance and Guide for the Future', in which we have defined four programmatic challenges to be actioned by our national space ecosystem during the decade.
The first, 'Atlantic Constellation', is about fostering the development of a constellation of small satellites dedicated to investigating and monitoring the Atlantic Ocean, responding to climate-change challenges, increased pressure of anthropogenic activities and the need to foster a sustainable economy sector.
The second, 'Digital Planet', has the general aim of increasing the digitalisation of public administration and corporations, and more specifically ensuring the uptake of satellite data for the benefit of society at large. It will involve the implementation of a multi-platform for Earth observation data - the Digital Planet – which aims to increase the uptake of satellite data and to foster the development of downstream applications. In particular, it is focused on land management; biomass and carbon monitoring; fire prevention; water, forestry and agriculture management; and monitoring of coastal areas as well as the Atlantic area. And, importantly, it will be tackling real problems at the Portugal level.
The third area we call 'Sustainable Space for a Sustainable Earth', which we consider to be of paramount importance, so Portugal is supporting it through different initiatives in the domain of Space Situational Awareness and Space Traffic Management. As a country, we are also very active in active debris removal, being the lead for two subsystems of the ESA ClearSpace-1 mission.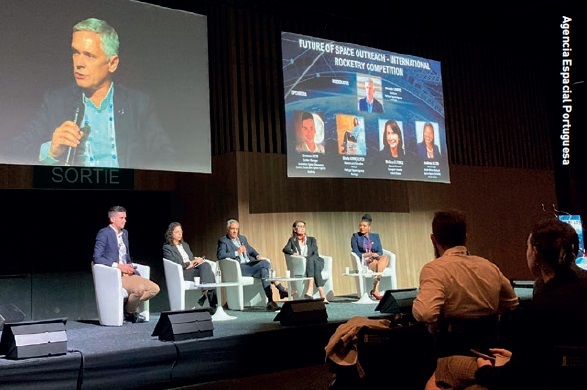 Portugal panel presentation at IAC 2022 in Paris.

The fourth challenge we identified is called the 'Santa Maria Space Ecosystem' and involves the establishment of a complete space innovation hub. The mid-Atlantic island of Santa Maria has been identified as a prime location for access to and return from space activities, both on land and potentially at sea. This is well aligned with the strategic goal of democratisation of access to space, thus opening the upstream space market to new entrants and supporting open competition and commercialisation.
Santa Maria has an advantageous geographic location in the central Atlantic with plenty of free space for launch and re-entry activities, stable weather conditions, and existing infrastructures, such as an airport with a runway over 3000 metres long, weather stations, radar, an ATM station, harbour and a teleport and tracking station!
Tell us a bit more about your commitment to sustainability, which features as a headline statement on your stand here at the IAC in Paris.
The Portuguese space agenda is essentially defined by the phrase 'Sustainable Earth and Space'
Portugal is a small country, like Spain, and Greece, and Italy in the south of Europe. We are facing big challenges nowadays and we want to engage in international collaboration in many areas.
With the congestion of our orbital space, the sustainability of space operations is a challenge in which Portugal wants to be involved. Part of the solution is the monitoring of space debris and the development of space traffic management tools, which rely on Artificial Intelligence (AI) and Machine Learning (ML).
On Earth, everyone is aware of the wild fires - we had temperatures this summer like never before. It was unbelievable: there were some regions that reached almost 50 degrees Celsius. We have also faced, for many years, a lack of water for the population. These are all new developments in our climate.
So what this means is that, ultimately, what we do in space is all about helping us to manage our territory. Like many other countries we have made mistakes but now we have to make the right decisions, to plant trees rather than destroy them. We can learn a lot from satellite data, which can help us to manage things better.
Of course, in Portugal we also have the Atlantic dimension and, if you take into account our maritime area, we are probably the biggest country in Europe. It sounds quite strange and we have to look with a different perspective at the ocean and how we can preserve and protect it. Space and satellites can help us in this way because the sheer scale makes it impossible to monitor such an extensive marine environment with boats or aircraft.
This is how we are shaping our national programmes, to provide solutions for a sustainable future. We want to monitor and tackle the problems of sustainability of our territory and also in space.
How big is Portugal's space industry as a whole?
In a nutshell, we have more or less 70 companies, which at our scale is quite something. We have around 15,000 employees in the domain, and all of this represents a figure of about 67 million euros a year. Our plan is to expand this so, by the end of this decade, it will from five to seven times greater. This is our expectation.
Of course, it is essential that the development of the space sector goes together with the expansion of the number of downstream users using satellite data for non-space activities. Three main types of downstream users can be clearly identified: Earth Observation (EO) users (including meteorological forecasting), GNSS users and satcom users.
Education and capacity building are also pillars of the Portuguese space strategy, with the goal of promoting a sustainable growth of the sector, starting by empowering the younger generation.
In terms of weaknesses, the critical mass for the space ecosystem is yet to be achieved along the whole value chain. More specifically, there is a lack of experienced system engineers on the upstream side of the value chain, while the downstream users still lack awareness and know-how on how to benefit from space-based data.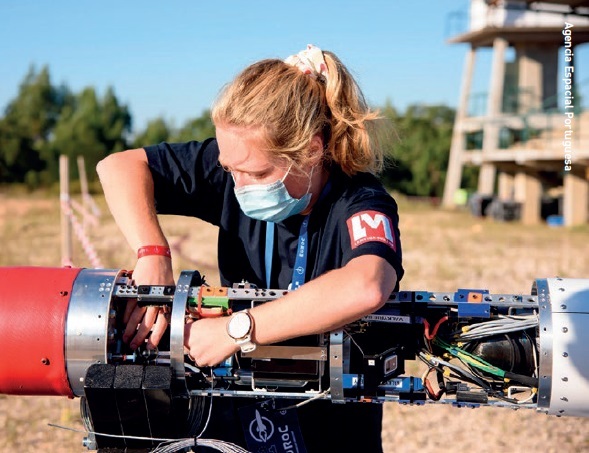 The European Rocketry Challenge (EuRoC) is a Portuguese Space Agency educational initiative. It takes place each autumn and typically attracts 20 teams building 20 rockets and up to 400 students.

Are you working towards any specific future projects?
The sustainability of space operations is a challenge in which Portugal wants to be involved
Well, it's been remarkable what's happened; particularly in the last few years, what we've achieved in Portugal is quite remarkable given its size. One of the advantages we have is certainly our history - we are a very open people and everyone is welcome. We are ambitious, but we are a very small country with limited resources, so we have to set our priorities.
Portugal has more than 20 years of participation in ESA's space exploration missions, with several Portuguese companies involved in missions such as ExoMars, Mars Sample Return, the International Habitation Module (I-HAB) part of the Lunar Gateway, the future European Large Logistic Lander (EL3) and the Columbus module at the International Space Station (ISS), among others.
The Portuguese Space Agency is now the focal point of space policy in Portugal, connecting stakeholders, steering the public debate and orchestrating the necessary public policies to grow the space ecosystem further.
These structural elements make the country a fertile soil for private initiatives willing to expand the presence of space in the country's economic activities. Although the upstream developments are still mostly driven by public initiatives, they enable further commercial exploitation, and are also one of the drivers for downstream activities.
Consequently, while nurturing all the structural elements, a significant growth opportunity resides in the widespread adoption of space-based services by public institutions, private companies and the public at large.
The Portuguese space sector finds itself at a 'sweet spot' from where it can build upon several decades of experience while at the same time being structurally lean and flexible to react.