Asgardia, the nascent space nation, celebrated its second birthday in October and is rapidly moving forward to create the infrastructure and an economy that aims to power its 25-year space programme to safeguard humanity's future both on Earth and off world.
For Asgardia's founder, Dr Igor Ashurbeyli, a Russian scientist and businessman, humanity is to have a future even if there is a great cataclysm on the home world. "The first step is the space arks [space stations] and the second step, settlement on the Moon," he says.
Like other space visionaries of our age, Ashurbeyli sees the colonisation of space as the guarantor of humanity's future. But, unlike them, he is not just investing in transportation, he is building a nation to go into orbit and calling on people around the planet to join and help.
Ashurbeyli announced Asgardia on 12 October 2016 at an event at the Ritz hotel, Paris. A year later, in November 2017, a CubeSat called Asgardia-1 was launched into a 400 km orbit via an Orbital ATK Antares rocket. The satellite is the first representation of Asgardia's territory, and Asgardian citizens - of which there are now more than 270,000 - can upload personal data to the tiny spacecraft.
Asgardia-1 is the beginning of a 25-year space programme that will continue with satellite constellations and end with a settlement on the Moon in the 2040s. Ashurbeyli explains: "We are not contemplating things that at this point we believe belong to the realm of fiction, whether scientific or not, such as manned flight to Mars, mining on asteroids and things of that kind."
While Asgardia-1 is the first step in orbit, most of the nation's activities to date have been on Earth. In the two years since the Paris announcement, Ashurbeyli was voted into office as Head of Nation; the constitution was adopted; the parliamentary elections were held; the first parliamentary assembly occurred in Vienna in June 2018 and, four months later, the first digital online parliamentary session took place; the Supreme Justice of Asgardia was appointed for its court of law; elections were held for 44 city mayors; a new calendar was created with 2016 as year zero; national holidays were announced; and a coat of arms, a flag and anthem adopted. "I think that is quite a lot for the first couple of years," says Ashurbeyli.
First Asgardia Congress
Asgardia, is creating an economy that aims to power its 25-year space programme to ensure humanity's future is off world
The next 12 months will see a new raft of important activities including details of the 25-year space programme to be unveiled at Asgardia's first Space Science and Investment Congress to be held in June 2019. The Congress will host six keynote speeches, 72 presentations in plenary sessions, have six panel discussions and 40 stand-up presentations by young scientists.
Key topics of the congress are fundamental science, advanced applied science and technological innovation, investment projects and startups, as well as research related to space exploration. Other topics to be presented include, astrobiology, artificial intelligence, space medicine, business innovation, human physiology in space, microgravity, artificial gravity, debris, Earth observation, small satellites, education and temporary and permanent habitation in Earth orbit and on the Moon.
Asgardia's space programme will also be presented at the International Astronautical Congress (IAC) in Washington DC in late October 2019.
"We're working diligently on designing the outlines of this system because there is a lot of science, technology and engineering involved," says Ashurbeyli. "We want to be seen not just as a nation with an economic system, but as a space power." Ashurbeyli expects the programme to undertake research into long-term space and lunar habitation and produce a constellation of geostationary satellites "that will deliver core government functionality".
Blockchain in space
The geostationary satellites will use blockchain for Asgardia's records including citizens' personal data, the nation's statistics, birth certificates, weddings, divorces, inheritance, death certificates, registration of companies, payment of taxes, dividend distribution, and even storing the overall knowledge of human kind, Ashurbeyli adds.
Another planned constellation is for global internet access. Users will connect using a satellite communications device no larger than today's smartphones. The basic technologies for this device are being developed, Ashurbeyli says, and it will act as a phone, a passport, an electronic wallet and will access Asgardian government services.
The Asgardian economic system to fuel this long-term programme is expected to be in place by the third anniversary of Asgardia on 12 October 2019. By this date, Ashurbeyli says the parliament will convene in person and meet with all the executives and ministers, and the national bank and all the other institutions to finish the assembly of the economic system.

Listening to presentations during the Economic Forum in Nice (see page 51).

The development of this system was the focus of the first Asgardian economic forum held in Nice, France, from 26-28 October 2018. Ashurbeyli wants Asgardia's economy to differ from those of terrestrial states. "All Asgardian nationals will participate in the distribution of [state] revenues," he explains. As well as citizens benefiting from a government budget surplus, Asgardia is expected to have two currencies independent of political influence. In comparison, Earth's nations have deficits that lead to "everybody's pockets feeling the pain," as Ashurbeyli describes it.
Among those attending the economic forum in Nice was Leon Shpilsky, an experienced businessman in the fields of investment banking and high technology and innovation investment. On 1 November, Asgardian prime minister, Ana Mercedes Diaz, announced that Shpilsky had been appointed acting finance minister. Shpilsky is an Asgardian citizen and chief executive officer of Asgardia AG, the Vienna-based legal entity that is the nation's operational arm.
"Asgardia could be viewed as a vehicle for the promotion of and investment in business activities related to developing space and space industries," says Shpilsky. "So, it is definitely one of the finance department's functions to find ways to improve investments in fundamental industries, research related to space and the extent to which we can attract the attention of major investors."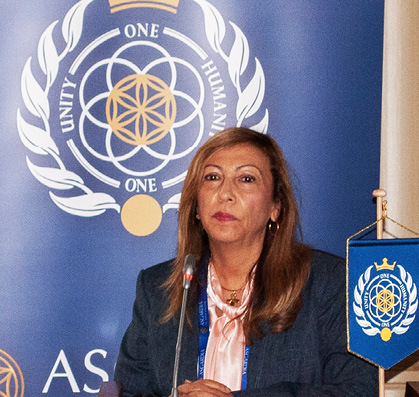 Ana Mercedes Diaz, Asgardia's Head of Government.

Digital currency
The next 12 months will see a new raft of important activities including details of the 25-year space programme to be unveiled at Asgardia's first Space Science and Investment Congress
Economically, Asgardia will interact with the outside world through its currency, the Solar. Anyone will be able to use the Solar to buy Asgardian services and goods and Ashurbeyli wants it to be convertible with any other currency. He does not want to describe the Solar as a cryptocurrency which he sees as having a negative image. Instead, he says it will be a digital currency, just as the pound Sterling or US dollar are digital when used electronically.
What Ashurbeyli does want is a completely independent national bank that removes "the government's monopoly over the print shop", which he refers to as "an old theory that apparently emerged in the 19th century".
While an independent central bank will determine the supply of money, the government will receive a "fixed fee" to guarantee the integrity of all the digital transactions. The law for the currency is expected to be adopted at the next parliamentary online session in January 2019. Another session in April will review the bills for the central bank.
Ashurbeyli also suggests there may be central banks, plural, and more than one currency exchange - Asgardia will have two currencies. Asked why the outside world would want to use the Solar, Ashurbeyli replies that: "Asgardia needs to offer an attractive marketplace for the services and goods that both Asgardian individuals and companies produce and if there is demand for those, there should be demand for the Solar."
The name of Asgardia's second currency is Lunar. "The plan is for this currency to be solely for internal Asgardian circulation and accessible only to Asgardian citizens," Ashurbeyli explains. "Lunar will serve as a certificate of citizenship, and those are the people who will participate in governance and the distribution of [government] profits."
This in-development economic model with its two currencies will be presented by Shpilsky to the World Economic Forum annual meeting in Davos-Klosters, Switzerland, in late January 2019. "We're really excited about this opportunity," Ashurbeyli says.
Looking ahead, Ashurbeyli sees the important objectives to be "building an economic system that would be self-sufficient", the "recognition of Asgardia by as many as possible of the Earthly states", and "real progress in getting into space, including science".
The gateway to commencing Asgardia's economic, political and scientific activity was further opened in November after the Parliament endorsed a 100 euro annual citizenship fee.
"People can continue as 'followers' of Asgardia at no cost but contributing the citizenship fee means you are part of that elite community actively building the history of humanity's next adventure, as we reach out beyond our home planet to new horizons," says Chair of Parliament Lembit Opik.
Future objectives
The foundations of Asgardia's Parliamentary democracy have to be fit for purpose right from the start of any future orbital habitation
Looking further ahead, Ashurbeyli has a goal that he sees as heralding a new era and which has not been spoken of much up to now. "The first human being to be conceived and born in space," he thinks, will be an event celebrated for all time. "I am confident that, for as long as humanity exists, it will remember that very first individual who is born in space."
The settlement of space and the procreation of the species there, in Ashurbeyli's view, ensure that "humanity has a future. In terms of Asgardia's philosophy and in terms of all the tangible things that Asgardia will be doing, that is the key objective. All of our activities are geared towards accomplishing this purpose."