Our space infrastructure continues to prove vital in global affairs and emergency situations, such as the Covid-19 pandemic and, more recently, in the developing invasion of Ukraine. Josephine Millward takes a look at what to expect from an investment perspective in the second half of 2022 and how the space industry is likely to develop around the world.
Last year (2021) was a breakthrough year in the space industry. It witnessed the first all-civilian spaceflight, three successful missions to Mars, the launch of the James Webb Space Telescope and a record US$12.4 billion investment of private capital in the space ecosystem, an increase of more than 60 percent year-on-year.
Meanwhile, the key commercial satellite applications – communications, positioning, navigation & timing and Earth observation – continued to support humanity, serving to limit the spread of the Coronavirus by helping to manage the movement and monitoring of people and the tracking of infected patients. Satellite communications enabled doctors to connect with patients virtually and assisted in the drone delivery of emergency medical supplies. And as the tragic events in Ukraine continue to unfold, commercial satellite companies are providing transparency to the world and up-to-the minute intelligence on the course of the Russian invasion of Ukraine through high resolution satellite imagery.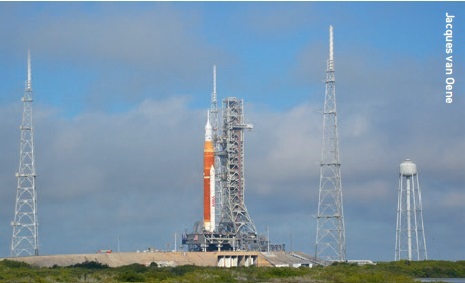 NASA's new Moon rocket, the Space Launch System (SLS), was rolled out in March to Pad 39B at Kennedy Space Center prior to its first test flight.

Ordinary people are now seeing satellite data typically reserved for spy agencies and getting insights into the on-going crisis as they never have before, supporting evacuation of civilians and helping to combat misinformation.
Commercial satellite companies provided transparency to the world and up-to-the minute intelligence on the course of the Russian invasion of Ukraine
In investment terms, space came of age in 2021 and is now becoming more widely accepted as a new investment asset class. Strong public market interest in space has enabled leading space start-ups to access to large amounts of capital not previously available to them through an active Space SPAC (Special Purpose Acquisition Companies) IPO market. Twelve space start-ups went public through SPAC last year at a combined market capitalisation of $25 billion. Investing in Space has gone mainstream and is now open to the public market.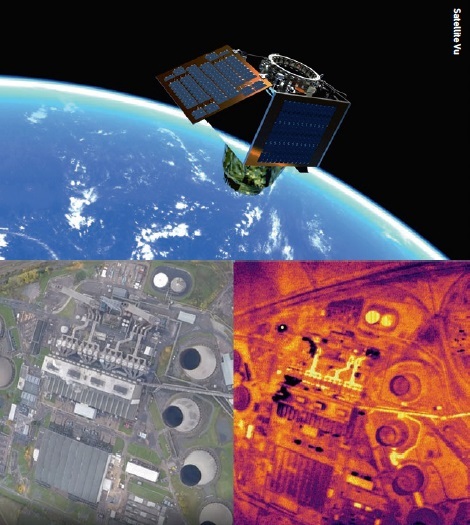 Equipped with US$21 million in new funding, Satellite Vu will launch its initial seven-satellite constellation in 2023 and begin thermal monitoring of Earth. The company's orbital view of heat and cold could lead to serious economic insights and insights of other kinds, as hinted by the addition of Lockheed Martin and In-Q-Tel to the list of investors.

Looking forward
Space will likely remain in focus with the public again in 2022 with the launch of several heavy rockets, including NASA's new Moon rocket, the Space Launch System (SLS), and SpaceX's monster rocket Starship. If successful, Starship will be the most powerful rocket ever built and will change the economics of space, since it can carry up 150 tons of payload on a reusable rocket, taking people and cargo to the Moon and potentially fulfilling billionaire Elon Musk's dream of colonising Mars.
Other heavy rocket launches include ULA's Vulcan, Blue Origin's New Glenn, as well as Europe's Ariane 6 and Japan's H3. Small launch providers Relativity and ABL Space Systems are expected to fly for the first time with Virgin Orbit and Astra Space picking up pace after completing their first orbital launch last year.
Space is also cementing itself as a key strategic area for governments around the world which increasingly view space as a mission critical domain and key to economic and national security. More and more countries are developing their own space programmes, with South Korea, Japan, India and UAE all planning missions to the Moon this year. The new Space Race is expanding beyond competition between the US and China to include Russia and Europe.
During a recent conference, European leaders declared their ambition to be a space power and have proposed sending their own astronauts to space, in addition to launching three accelerators to drive the use of Space in Europe. As part of the strategy, the European Commission (EC) and the European Investment Fund (EIF) announced that they were committing at least one billion euros over five years to Cassini, a programme that will fund early-stage start-ups, and invested €300 million into two space tech focused funds (Orbital Ventures and Primo Space). There is also widespread interest in spaceports in Europe, with the UK and Italy pursuing initiatives for direct access to space from their respective territories.
In investment terms, space came of age in 2021 and is now becoming more widely accepted as a new investment asset class
In parallel, it is interesting to ask whether urgent global challenges such as climate change and space debris can help drive international cooperation in space. The world has already seen 1.2 degrees Celsius of warming and is well on its way to two degrees, which could lead to devastating and irreversibly extreme weather. Space Tech companies in the Earth observation, satellite communications and IoT (Internet of Things) spheres are rushing in to monitor, measure and track changes on Earth as space becomes increasingly relevant to combating climate change.
At The Flying Object fund, we expect the momentum to continue as space is at an inflection point. In the coming year, significant new capabilities in satellite communications and Earth observation are coming online that are disrupting traditional industries and creating new ones. Technologies like AI and cloud computing are transforming the space industry by providing start-ups with infrastructure to scale quickly and allowing them to focus on their unique value proposition. Integration of satellite communications, geolocation and Earth observation are enabling real-time connectivity of sensors to deliver valuable insights that disrupt every industry from agriculture and energy to insurance, driving digitisation and decarbonisation of the global economy.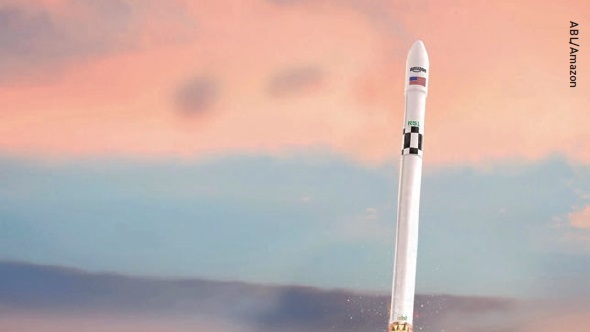 Two prototype satellites for Amazon's project Kuiper are planned for launch later in 2022 on ABL Space Systems new RS1 rocket. The satellites will allow Amazon to test communications and networking technology, and help us validate launch operations and mission management procedures that will be used when deploying its full mega-constellation.

New Space developments
The pipeline for space Special Purpose Acquisition Companies (SPACs) remains active in spite of market volatility, in particular for communications and climate. Going public via SPAC in 2022 will be more challenging for space companies, but we expect this market to remain open for emerging category leaders that have demonstrated solid commercial traction and growth. We saw evidence in Q1 2022 that investors are not losing their appetite with the SPAC IPOs of D-Orbit and Satisfy. Given the capital-intensive nature of the space industry, SPAC will likely remain an interesting option to entrepreneurs looking to raise large sums of capital to fund their business for several years, leaving management time to focus on execution rather than fund raising.
Almost all of the space companies that have gone public have traded down since their IPO due to high shareholder redemption and disappointing results, combined with unfavorable macro environment of market rotation out of growth and tech stocks to value based on inflation expectations. While the stronger ones are leveraging their cash for mergers and acquisitions, we expect the weaker ones to become acquisition targets in the upcoming wave of consolidation.
Significant new capabilities in satellite communications and Earth observation are coming online that are disrupting traditional industries
The 'Cloud' is also transforming space and Cloud players will accelerate their reach in space in the coming year. AWS (Amazon Web Services), the number one cloud player, established a dedicated space unit more than a year ago. We see leading cloud players like AWS rapidly transforming the space industry by providing powerful, cost-effective and scalable solutions to accelerate space companies across the ecosystem.
At the same time, Amazon is investing more than $10 billion to build a network of over 3000 satellites to deliver broadband connectivity. It is planning to launch its first Project Kuiper satellites in late 2022. Another tech/cloud giant, Microsoft Azure, also launched a space business recently; it believes that every one of its enterprise customers could benefit from space and see space technology disrupting every industry of the economy.
Massive increase in satcom capacity will drive further consolidation. Global satcom capacity is expected to increase more than five-fold to over 20 Tbps this year, according to Euroconsult, as long-planned High Throughput Satellite (HTS) from major satellite operators ViaSat, Eutelsat, Hughes and SES come on-line. At the same time, new low Earth orbit mega-constellations such as Starlink and OneWeb are gearing up for commercial services.
While we see strong demand for broadband, mobility recovery and growing applications for autonomous vehicles and Machine-to-Machine/IoT, operators still need to close their business cases in a fragmented market with many technologies, networks and spectrums. We expect to see further consolidation as operators try to scale and position themselves for growth.
Like satcom, the Earth observation (EO) industry is rapidly transforming with new technologies and will see a significant increase in capacity and modalities in the coming year. First, Maxar's Legion constellation will be able to deliver high resolution optical imagery with revisit rates up to 15 times per day for monitoring missions, more than triple that of its current capacity. Planet Labs is planning to double its imaging capacity with the launch of 44 SuperDove satellites.
Meanwhile, start-ups including Tomorrow.io, Lunasonde, SatelliteVu and Pixxel are launching their first satellites, making new data available to the commercial market for the first time. Companies have access to multiple sources for their data and multiple sensors, enabling new capabilities to accelerate commercial adoption. We see this trend driving horizontal and vertical consolidation, especially for a well-funded optical EO player to acquire a complementary synthetic aperture radar (SAR) constellation to enhance its end-to-end solution.
The explosion of new geospatial data and development of analytics have become increasingly relevant to solving big problems related to climate change. Diversity of higher resolution and more frequent space data are enabling new applications to monitor and track objects and activities on Earth. At the same time, companies are rushing to integrate ESG (Environmental, Social and Governance) due to growing investor and regulatory pressure. In fact, the US Securities and Exchange Commission (SEC) recently proposed new rules that would for the first time require businesses to report their greenhouses gas emissions and how their businesses are impacted by climate change. This represents a massive new opportunity for the Earth observation and geospatial analytics industry to accelerate climate action while driving commercial adoption.
Space data provides powerful tools to help institutions establish a baseline in order to monitor their operations at scale and track their progress and carbon footprint. We expect to see more space companies tackling climate change in a wide range of applications such as greenhouse gas detection, building energy efficiency, weather forecasting, environmental monitoring, supply chain optimisation, precision agriculture and efficient routing of air and maritime traffic. Space companies active in climate monitoring include Planet, Spire, ICEYE, Satellogic, Tomorrow.io, Lunasonde, Kayrros, GHG Sat, Scepter Air, Pixxel, SatelliteVu, Cervest, Sust Global and RS Metrics.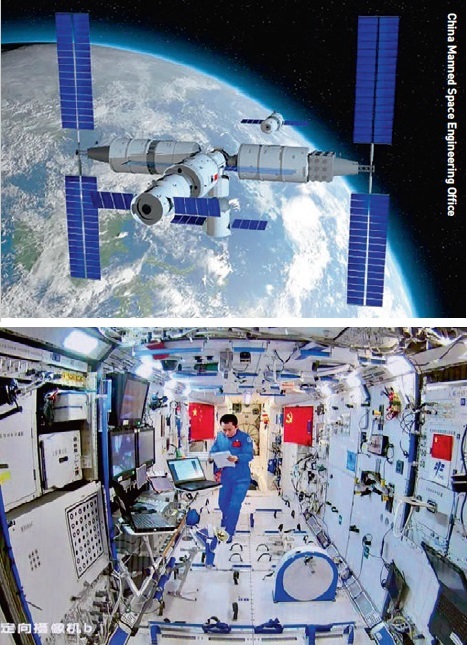 Chinese astronaut Tang Hongbo of the Shenzhou-12 mission works inside the core module Tianhe of the Chinese space station during 2021.

Rising tension
The 'Cloud' is also transforming space and Cloud players will accelerate their reach in space in the coming year
The need for global leadership becomes clear amidst congestion and rising tension between the US and China, while debris from a recent Russian weapons test highlighted the growing risk of collisions in space as it becomes more congested. Global leadership and cooperation are urgently needed to promote norms and maintain a sustainable space ecosystem, but the chances of cooperation between the US and China are likely slim due to ongoing national security concerns and rising geopolitical tensions and competition in space.
Last year, China made 56 orbital launches, exceeding the US total, and is jockeying for international partners to develop the Moon. China is planning to launch more than 50 space launches this year, sending over 140 spacecraft into space and six crewed flights to complete the building of its own space station by the end of 2022.
The US government's recent FY2023 DoD budget request prioritises Space with space-based systems funding up 30 percent to close to $21 billion for space-based missile warning and tracking efforts. The Space Force is seeking a 40 percent increase in their FY23 budget to $24.5 billion, reflecting the urgency to launch and defend satellites that can detect a hypersonic missile, track a moving truck and assure US nuclear command and control.
At the same time this year, the US military is deploying its first batch of small satellites for what could be a 1000-satellite mega-constellation in low Earth orbit. These satellites will carry different payloads and provide redundancy against cyber, electronic jamming and missile threats. Another key programme to watch is the award from the National Reconnaissance Office (NRO), the US intelligence agency responsible for the nation's spy satellites and acquiring commercial imagery for the federal government. The Electro-Optical Commercial Layer will replace the current single vendor, $300 million a year contract with Maxar Technologies, extending it to at least three US suppliers. Awards to commercial new space players such as Planet or BlackRock on this large and sole sourced long-term government programme will be an important milestone for the industry, demonstrating the maturing of the ecosystem and validating the government's appetite for commercial imagery.
In terms of international cooperation on space sustainability, the United Nations resolution on 'norms of behaviour' represents an opportunity for leading space powers to come together and reach a consensus to reduce risk in space. Japan's Aerospace Exploration Agency (JAXA) and the European Space Agency have partnered with start-ups to remove space debris. We expect to see more private companies involved in Space Situational Awareness (SSA) and space debris removal to emerge in the future to keep space safe for everybody. These companies include Kayhan Space, Vyoma, Slingshot Aerospace, Privateer Space, LeoLabs, Astroscale.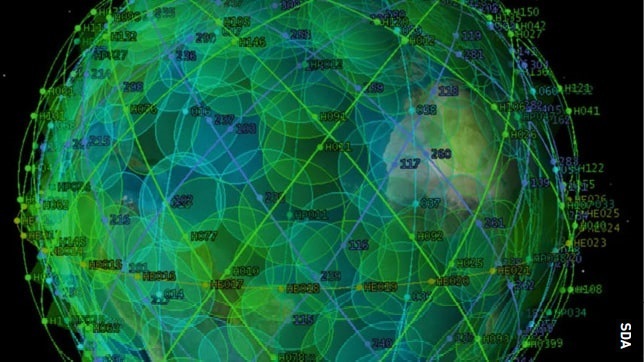 The Pentagon s SDA has been soliciting pitches for technologies that will be used to build a network of satellites in low Earth orbit that would help the military find targets on the ground and track enemy missiles in flight. By late 2022, the agency wants to have several dozen satellites in orbit to demonstrate it can operate a proliferated constellation which can 'talk' to weapon systems.

Space sustainability is one of the most important challenges facing the industry as the orbital environment becomes more congested. The number of satellites launched is expected to increase to 50,000+ in the next 10 years, up more than fivefold, from the last 60 years. Aurora Propulsion Technologies, a Finnish start-up and The Flying Object fund's portfolio company, is a good example of next-generation technologies coming out of Europe, enabling space sustainability by providing the lowest SWaP (Size, Weight and Power) and most capable electric propulsion for spacecraft autonomy, collision avoidance and deorbiting once a satellite has reached its end of life. The company launched its first technology demonstration flight on 2 May 2022 with RocketLab. AuroraSat-1 was named "The Flying Object" to validate the company's proprietary clean and water-based propulsion technologies. Stay tuned.
About the author
Josephine Millward recently joined The Flying Object fund (TFO - www.theflyingobject.com ), as Partner. TFO is a sector-focused global venture and growth fund offering strategic capital to breakthrough solutions across the Technology of Flight and sustainability. TFO invests in game changing technologies in the air and space ecosystem including satellites, autonomy, drones, cyber security, AI data analytics and etc. Prior to TFO, Josephine was a Strategic Advisor and Head of Research at Seraphim Capital, a leading SpaceTech VC that has backed more than seventy start-ups through its fund and accelerator. She has more than a decade of experience as a top-ranked Wall Street research analyst covering Defence Tech stocks. Her research coverage included technology companies that became mission critical to the US government after 9/11 and included areas such as commercial satellites, drones, robots, tactical radios/communications and sensors.