According to ASTM F2792-12 (Standard Terminology for Additive Manufacturing Technologies), Additive Manufacturing (AM) can be described as, 'a process of joining materials to make objects from 3D model data, usually layer upon layer'. AM enables the fabrication of objects through the deposition of material in order to obtain fit-for-purpose hardware, as opposed to traditional subtractive processes, where material is removed from larger, semi-finished products.
3D printing allows us to mimic what Mother Nature does, namely manufacturing layer by layer and putting material only where it is needed
Like many new manufacturing processes, 3D printing arose from the merging of previously existing technologies, the coming together of Computer Aided Design (CAD), inkjet nozzles and automated machine systems. AM includes a large family of processes and technologies and can be applied to a wide range of materials ranging from metals, polymers and ceramics but also food, living cells and organs.
Plastic printing arrived first, initially used for rapid prototyping purposes, but metals and ceramics came soon after. The most common processes for metals include Powder Bed Fusion, using a laser or an electron beam, and Direct Metal Deposition, where powder is blown into the molten pool, also by means of a laser. Wire Arc Processes use metal wires instead of powders for additive manufacturing of large structures, and polymers are typically processed via Selective Laser Sintering (SLS), stereo-lithography (also used on ceramics) or Fused Deposition Modelling (FDM).
Today, AM is a standard manufacturing process in a significant number of industrial applications and high potential is anticipated (and in many cases already demonstrated) in high end technology sectors, including aerospace, turbine industries and medical applications.

Schematic description of the Moon Base structure: a Lunar Module (acting as air-lock once deployed) would release an inflatable structure containing the internal habitat and life support equipment for astronauts. The 3D printed dome is built with a honeycomb internal structure (for manufacturing and structural optimisation) around the inflatable and offers protection to the astronauts with respect to temperature fluctuations, micrometeoroids and solar radiation
3D printing in space
The idea of Moon colonisation originated long before the age of space exploration. Recent discoveries of considerable amounts of water close to the lunar poles as well as the need to optimise space exploration by exploiting Moon bases as launch outposts for further destinations (eg, Mars), could make this opportunity more concrete and appealing.
However, the establishment of a manned human colony on the Moon (or on Mars) needs infrastructures to shelter astronauts and scientific instrumentation from very harsh environments, characterised by deep vacuum conditions, strong temperature fluctuations, micrometeoroids and solar radiation.
Among the possible options for building a Moon Base - digging the lunar surface in order to build an underground habitat; bringing fully functional and complete habitation modules from Earth to be mounted on the Lunar surface; or directly building on the Moon surface using local material - 3D printing offers the most effective alternative [2] as addressed in recent ESA research activities.
Lockheed Martin is considering 3D printing for building large structures and propulsion tanks
Resources already available on the surface (the lunar regolith) can be used as a building material and a solar powered 3D printer can focus endlessly available sunlight to sinter successive layers of regolith into structural elements of the habitat structure. This option offers tremendous logistical, technical, economical and safety advantages as opposed to launching building materials and tools from Earth. It could also decouple the launch timeline of astronauts with respect to the manufacturing of the Moon habitat, which can start much earlier in a completely automated and safe manner before arrival of the first crew.
Exploring this approach further, the intention is to use the lunar regolith to manufacture not only the base's external structure but also tools needed by astronauts during surface exploration activities. Moreover, further optimising the mission and exploiting the 3D printing potential, system studies are currently ongoing in ESA to analyse what elements could be brought from Earth and which could be reprinted on the lunar surface. An ideal and obvious source of metals and polymers is the no longer needed landing module, recycling its materials into more useful shapes and tools for the current phase of the mission.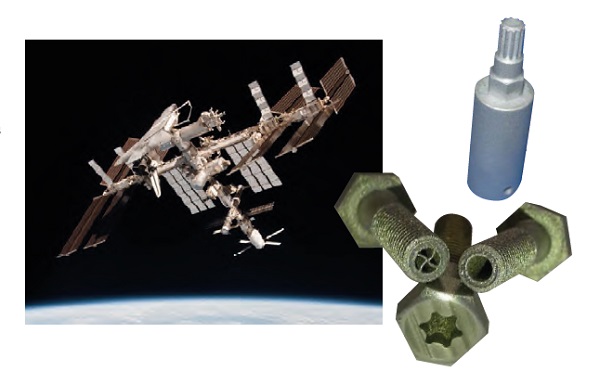 The use of 3D printing can be significantly beneficial for manufacturing onboard the ISS where failed parts can be reproduced without the need of a large spare parts stock, and ondemand tools can be manufactured in order to fulfil unplanned needs for fixing malfunctioning units
This is the perfect synthesis of why 3D printing is considered an enabling technology for future space missions, currently not possible with traditional processes. Moreover, the described technologies which offer solutions for the Moon or Mars missions may also be adopted on Earth, where 3D printing structures using solar power and in-situ resources could support rapid construction of post-disaster emergency shelters, removing long, costly and often inefficient supply chains.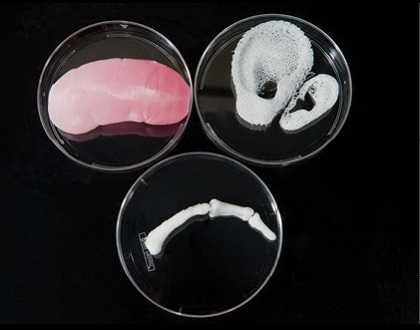 Prototype 3D printed kidney, bones and cartilage
Additive manufacturing can also be adopted for in-orbit manufacturing onboard of the International Space Station (ISS) for both plastics and metals. NASA has a plastic 3D printer on the ISS today and the Italian Space Agency has just launched its own plastic printer prototype as a technology demonstration for long term manned exploration missions. As on the ISS, manned missions could carry 3D printers to ensure full self-reliance as they fly for months or years from Earth with limited resources. No need to bring a significant amount of spare parts (which will probably never be used): a large spare parts stock can be replaced with a printer and powders of most common materials to be printed if necessary into the failed part. Or on-demand tools can be manufactured in-situ to disassemble and fix malfunctioning units.
On-orbit printers also offer the prospect of designing mission parts for microgravity manufacturing. Since the parts manufactured on-orbit will not experience launch loads, metals can be replaced by polymers and ultra-light structural designs can be realised. Small, plastic satellites can be manufactured and launched directly from the Station offering a new perspective on the use of the ISS as a manufacturing and launching platform of fully functional satellites.
In the longer term, the 3D bioprinting of human cells, organs, blood, skin, bones currently being demonstrated on ground may offer the possibility of hastening the sustainability of deep space missions and planetary colonisation. On Earth the possibility of printing organs using stem cells may open the unique opportunity to replace malfunctioning organs (printed to the correct design for the individual patient) without waiting for a donor and with reduced risk of rejection. It may also allow preliminary drug evaluations and testing at tissues or organ level before testing on human beings, dramatically reducing associated risks.
Challenges and limitations
The materials and processes used for space hardware manufacturing are confronted with very peculiar challenges and limitations: the omnipresent need for low mass will be achieved while also guaranteeing very high performances and very high reliability of the end product (with no repair/maintenance option), often requiring very small and complex geometry operating on highly demanding mission environments.
This pioneering trial clearly highlighted the tremendous potential of 3D printing for space applications
The rather small production series/small procurement volumes typical of the space sector, reduce significantly the influence on the materials/processes supply chain with respect to other industrial sectors, therefore limiting the availability of tailored alloys (challenging materials procurement) and associated manufacturing processes.
Additive Manufacturing answers many of the highlighted challenges. It fully enables design for performances as opposed to design for manufacturing, opening the design to completely new and optimised shapes as well as functional structures (eg, embedded thermal elements). Mass savings of more than 50 per cent are often obtained, and up to 95 per cent has been achieved for selected parts. The number of interfaces and associated controls have been reduced, lead time has been shortened by months, and the number of manufacturing steps in a process chain has been dramatically decreased.
Space hardware developments performed within the last decade have highlighted other potential ways AM could reduce the environmental impact of space missions. The dramatic decrease in the amount of required and transported raw materials combined with process speed optimisation, enables the AM route to decrease energy consumption and reduce CO2 footprint. As recycling of removed metal is not needed, there is no downgrading of metal quality induced by recycling (for high end metals, the amount of energy needed for recycling and rejuvenating is particularly relevant).
In the United States, substantial financial support is allocated to research activities related to AM. Lockeed Martin is considering 3D printing for building large structures and propulsion tanks. "In the next decade, we will completely change the way a satellite is designed and built," said Mark Valerio, Vice President and General Manager of military space for Lockheed. "We will print a satellite. It's real. We're flying it on satellites now."
SpaceX is also significantly involved in AM. According to Elon Musk, chief designer and CEO: "SpaceX is pushing the boundaries of what Additive Manufacturing can do in the 21st century, ultimately making our vehicles more efficient, reliable and robust than ever before."
Mimicking Mother Nature
The European Space Agency's experience with metallic 3D printing dates back to 2006 when a failed ISS valve was used as a case study for exploring the potential of metallic printing technologies. The valve was an interesting case, since it possessed both thick and thin walls, was manufactured starting from a rather large block of stainless steel (with significant amount of waste material and long manufacturing time), presented multiple interfaces and had a very delicate weld representing a potential point of failure needing sophisticated and time consuming non-destructive inspections.
The Italian Space Agency has just launched its own plastic printer prototype as a technology demonstration for long term manned exploration missions
This pioneering trial clearly highlighted the tremendous potential of 3D printing for space applications (since no waste material was produced) and AM made also it economically viable to replace stainless steel with titanium, leading to around 50 per cent mass saving. The manufacturing lead time went from days to hours and the interfaces, as well as the weld, were removed. It was, however, deemed a major mistake to use such technology to reproduce an existing design.
Since the Stone Age, design has been defined by limitations imposed by subtractive manufacturing, creating heritage on defined shapes and structures and a sense of familiarity with those. In contrast, 3D printing allows us to mimic what Mother Nature does, namely manufacturing layer by layer and putting material only where it is needed.
As with a tree bent by the wind, the larger section is at the bottom where the wind loading is high. Much lighter structures, the branches, are 'built' on top of the tree, where wind loads are minimal. The lesson was learnt: to take maximum benefit from AM, the initial design must be changed to take into account the freedom brought by AM and, even more important, the way of thinking of the designer/engineer must be changed.
Since then, ESA has explored the adoption of 3D printing on a large number of components [3]. In structural elements - both for spacecraft and launcher applications - the use of 3D printing combined with topology optimisation software has allowed a move from traditional to 'bionic' design, placing material in response to loads borne by the item. The resulting products can be radically different from conventional designs, often weirdly organic in appearance because they follow similar design rules to biological evolution.
The capability of manufacturing complex shapes in 'one go' has been largely exploited on propulsion. A number of elements (eg, injectors, combustion chambers, nozzles and thrusters) have been produced with optimised geometries resulting in propulsion performances. This includes functionally graded structures (with gradual transition in composition and structure), enhanced monopropellant catalyst design and lattice structures for optimal thermal/weight management.
Design/manufacturing optimisation has also included the dramatic reduction of thruster parts from a few hundred to one. The first 3D printed platinum-rhodium thruster in the world has been manufactured and tested: this alloy cannot easily be manufactured with traditional processes (like casting and forgings) so printing was the only way. The optimal use of the material enabled the manufacturing of the thruster with such an expensive element, allowing maximum propulsion performances.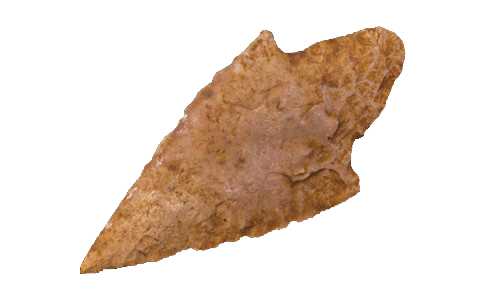 Design for manufacturing, limited by the subtractive approach, as opposed to design for performances enabled by the additive manufacturing approach
Radio frequency filters have been produced using optimised internal design, where the sharp edges generated by the milling processes used so far have been replaced by performance-optimised smooth surfaces, which have tremendously simplified (and improved) the silver coating process required to further enhance radio frequency characteristics. Mass has been reduced by 50 per cent and the need for assembly avoided (the part is manufactured in one piece now).
AM has been rapidly identified as a game changer in the launcher domain especially in the current context of increasing competition where it is essential to reduce a launcher's time to market to below five years, while minimising the recurring costs and development risk. Launcher propulsion has been a precursor in AM with the metal deposition process used in the manufacturing of the Vulcain nozzle extension. Within the ESA-led FLPP (Future Launchers Preparatory Programme), several developments have been pursued aimed at increasing the performances of the propulsion systems, as well as reducing the mass of structural components.
The ISCAR (Internal Rotation and Attitude Control System) bracket is taken as a demonstrator to evidence the benefit brought by additive manufacturing technologies even for highly loaded launcher structures, with potential market opportunities on Ariane 5 and Ariane 6. To do so, high strength aluminium alloy will be substituted by Ti6Al4V. Despite using a denser material, the topology optimisation will bring significant mass saving, well above 30 per cent.
AM is showing great potential on a very large number of space applications but challenges have been identified. For example, current design tools do not allow taking full benefit from the AM capabilities and are not always compatible with AM machine programmes. Moreover, design rules for AM are not fully established yet. Manufacturing challenges start with the raw material procurement and control: powder screening methods, procurement specification and verification requirements must be fully established. On the manufacturing process itself, process stability, monitoring the understanding of changes of process and parameters impact on the final product play a major role. Moreover, space qualification and validation routes need to be addressed, probably contributing to a company's capabilities approval scheme. Lastly standardisation needs addressing in order to facilitate the market uptake of 3D printing and promote its innovation potential to industrial competitiveness.
As a response to the identified challenges, ESA has coordinated the 'Harmonisation Roadmap on Additive Manufacturing for Space Applications', bringing together all major European actors, including the European Commission, the European Defence Agency, national space agencies, universities and research institutions, and the private sector to agree on a common strategy and a shared 'to do' list.
This strategic roadmap has obtained an unprecedented success, with support provided by around 700 experts, representing 26 countries and 390 companies. The roadmap is addressing all open challenges on the whole AM end-to-end supply chain, aiming at the safe and reliable use of 3D printing for space applications. Starting from the design and modelling tools through to materials supply (including powder quality control and traceability), processing and post-processing stages up to verification and standardisation.
However, the most relevant of the open challenges will remain the education of the engineers to take full advantage of the potential of 3D printing and getting used to the so called 'bionic design' and the mimicking of Mother Nature. Even a new aesthetic sense should be developed in engineering getting use to asymmetric structures and organic appearances of our future spacecraft and launchers structures.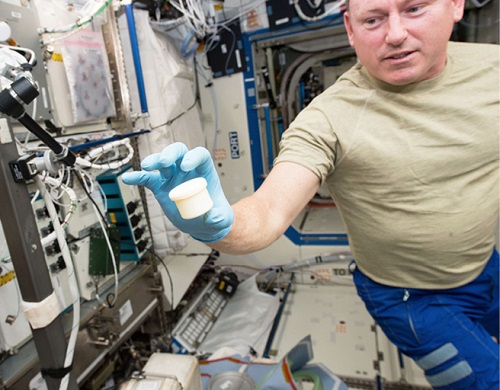 Space Station astronaut Barry Wilmore holds a science sample container that took two hours to make with a 3D printer. The container was the first object to be printed with two parts: a lid and a container. NASA wants to make science equipment in space, rather than launching it
Prof Richard Feynman (Nobel Prize for Physics) is often quoted as saying: "for a successful technology, reality must take precedence over public relations, for Nature cannot be fooled". One could add that Mother Nature shall not be fooled, it shall be imitated - and now the engineering community has a technology to enable this.
3D printing is not a global solution and will not be used everywhere because it will not necessarily bring competitive advantages to all applications. Before using this technology for space (as well as non-space), clear targets and figures of merit for hardware manufacturing with respect to traditional manufacturing solutions will need to be defined and technical versus economic benefits carefully weighed.
References
1>Wohler, T., 3D Printing and Additive Manufacturing State of the Industry Wohlers Report 2014, 2014. Wohlers Associates, Fort Collins.
2Cesaretti, G., Dini, E., De Kestelier, X., Colla, V., Pambaguian, L., Building components for an outpost on the Lunar soil by means of a novel 3D printing technology. Acta Astronautica, 2014. 93: p. 430-450.
3Pambaguian, L., Ghidini, T., Bonvoisin, B., Gumpinger, J., Smith, M., Roma, I., Ernst, C., Hovland, S., Breteau, J., Danesi, A., Metal Based Additive Manufacturing at ESA, Status and Way Forward. Proceedings of the Metallic Materials and Processes Industrial Challenges Conference, November, 25-27, Deauville (France), 2015.