Thanks to the highly successful Cassini-Huygens mission, any future investigations will be well acquainted with conditions on Titan before they set out towards this enigmatic world in orbit around Saturn. What can past missions tell us about the environment on this mysterious moon?
Titan is Saturn's largest satellite and one of the most intriguing moons in our solar system, in particular from an astrobiological perspective because of its large organic content in the atmosphere and on the surface and because of the probable subsurface ocean of liquid water.
Titan, which is larger than the planet Mercury, has a dense and extended atmosphere consisting essentially of nitrogen with some methane and hydrogen, along with trace gases such as hydrocarbons and nitriles produced through photochemistry and photolysis in the upper atmosphere.
This very advanced organic chemistry diffuses downward in the form of aerosols and condensates and is finally deposited on the surface, where it pools as rivers, lakes and seas. Scientists have obtained data on Titan from ground-based telescopes, Earth-orbiting observatories and deep space missions, such as those returned by the Cassini-Huygens spacecraft for well over a decade now. Their analysis reveals a complex system where organic content is distributed from the upper atmosphere to the surface and an interior that may vary with seasons, much like on Earth albeit on much longer timescales. Studying this far-away world not only gives us clues as to the formation and evolution of our own planet but of habitable conditions in the solar system and beyond.
Complex atmosphere
A day on Titan lasts a lengthy 16 Earth-days and it orbits Saturn at a considerable distance - around 1.2 million kilometres compared to just 384,400 kilometres for the Earth-Moon distance. At 10 astronomical units (AU) from the Sun, Titan receives a mere hundredth of the amount of sunlight our planet receives, while its substantial atmosphere allows only 10 per cent of the radiation to reach the surface. This makes the surface a very dark and cold place (93.6 K or -179.2C), coupled with a surface pressure 50 per cent higher than Earth's. If that wasn't harsh enough, due to Titan's orbital inclination of 27 degress it has seasons that last about 7.5 years.
Thanks to the Pioneer 11 and Voyager flybys, scientists already knew before the European Space Agency's Huygens probe descended to its surface in January 2005 that Titan's atmosphere is unique, with a structure similar to Earth's, but more extended because of Titan's lower gravity. Titan is the only moon in the solar system to possess such an atmosphere, which includes a troposphere (from the surface up to about 44 km), a stratosphere (from the tropopause to about 450 km), a mesosphere (up to about 600 km) and a thermosphere above, followed by an ionosphere (mainly around 1200 km).
The temperature and density profiles measured by the Voyager 1 instruments and the atmospheric structure instrument of Huygens (HASI), indicate a temperature inversion at the tropopause where the coldest temperatures (70K) occur, while temperatures up to 187K dominate the stratosphere. However, these thermal profiles change depending on the region and Titan's season.
Scientists have now had the opportunity to witness atmospheric changes over two Titan seasons
Although Voyager data gave scientists a good look at the moon's hazy atmosphere, it was Cassini's suite of spectrometers that provided a wealth of new information on the organic chemistry of the satellite by determining the ion composition in the thermosphere where the molecules form (Figure 1). The data revealed that Titan's atmosphere is essentially composed of dinitrogen (N2~98.4%) and methane (CH4 ~1.6%), which combine and interact via photolysis and photochemistry in the upper layers of the atmosphere to produce trace quantities of hydrocarbons (ethane, acetylene, ethylene, propane, benzene, etc) and nitriles - hydrogen cyanide (HCN), cyanoacetylene, HC3N, etc). Some of these species, like HCN, are prebiotic molecules of high interest for astrobiology.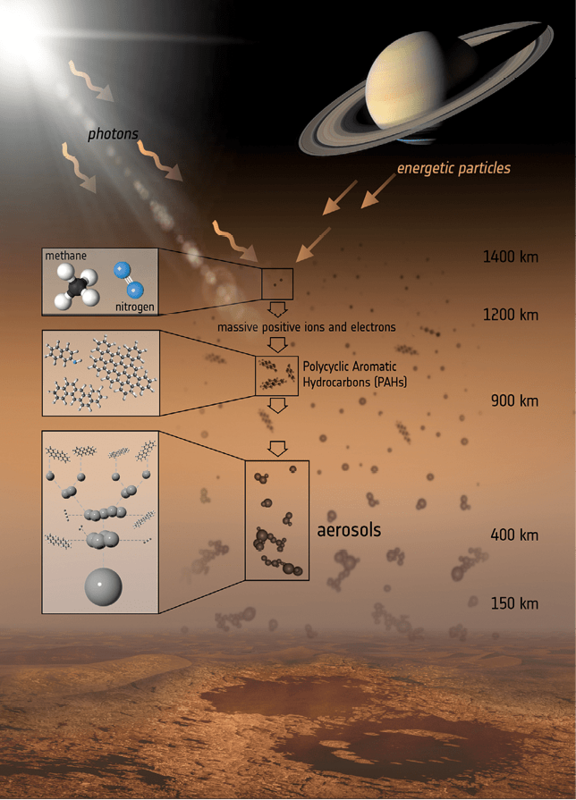 Figure 1. Titan's atmosphere and processes therein leading to the formation of organics.

The atmosphere also includes small amounts of exogenous carbon monoxide, carbon dioxide and water. The complex refractory organic compounds combine and aggregate in the atmosphere where they form clouds that hide the surface (Fig. 1). These clouds, composed essentially of methane, ethane, and other simple organics, cause rain and particles to fall on the surface where they condense, among other things, as hydrocyanic acid and benzene.
This process, which is thought to create the lakes observed currently in the north, is one of the most compelling pieces of evidence in support of a 'methanological' cycle on Titan. Similar to Earth's hydrological cycle, though featuring methane rather than water, this makes Titan the only other body in the solar system to have this kind of liquid activity on its surface. The Huygens probe also carried a Gas Chromatograph Mass Spectrometer (GCMS) which measured the composition in the lower atmosphere and on the surface showing several organics (Fig. 2).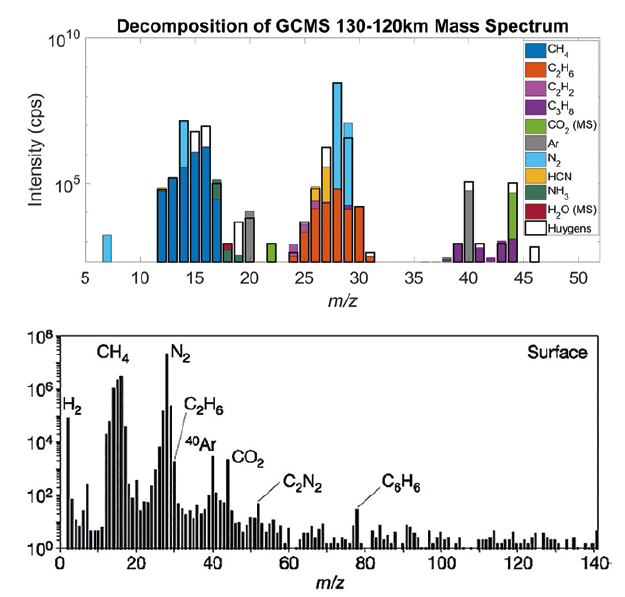 Figure 2. The composition of Titan's lower atmosphere and surface from Huygens GCMS data taken during the probe's descent and landing. Upper panel: mass spectrum in the 120-130 km altitudes (Gautier et al., 2019); Lower panel: mass spectrum of the surface (Niemann et al. 2010).

Atmospheric evolution
After 13 years of thorough exploration of the Saturnian system by the Cassini mission, scientists have now had the opportunity to witness atmospheric changes over two Titan seasons. Cassini arrived at Saturn in 2004, two years after the northern winter solstice, and ended in September 2017, just after the northern summer solstice.
During its mission, Cassini has therefore caught glimpses for the first time of the transition from fall to winter at Titan's south pole and watched as summer came to the north (Fig. 3). The space and ground-based observations of Titan over that period show important variations in temperature and chemical composition in the neutral atmosphere before and after the Northern Spring Equinox (NSE) in mid-2009 caused by circulation effects and the change in insolation (solar flux).

Figure 3. Inspired by data from the Cassini mission, this artist's impression of Titan shows the change in observed atmospheric effects before, during and after equinox in 2009.

During the Cassini mission, the thermal field and the chemical content of minor gas species and condensates in the stratosphere and mesosphere of Titan were determined by applying radiative transfer analyses to Cassini/CIRS (Composite Infrared Spectrometer) spectra, which cover the far-infrared range from 10 to 1500 cm-1. The results show a rather uneventful equatorial evolution (Fig. 4), a scene that is in direct contrast to the higher northern and southern latitudes that see strong changes in temperature near the poles, accompanied by a decrease or increase in radiative emitters as the seasons move along.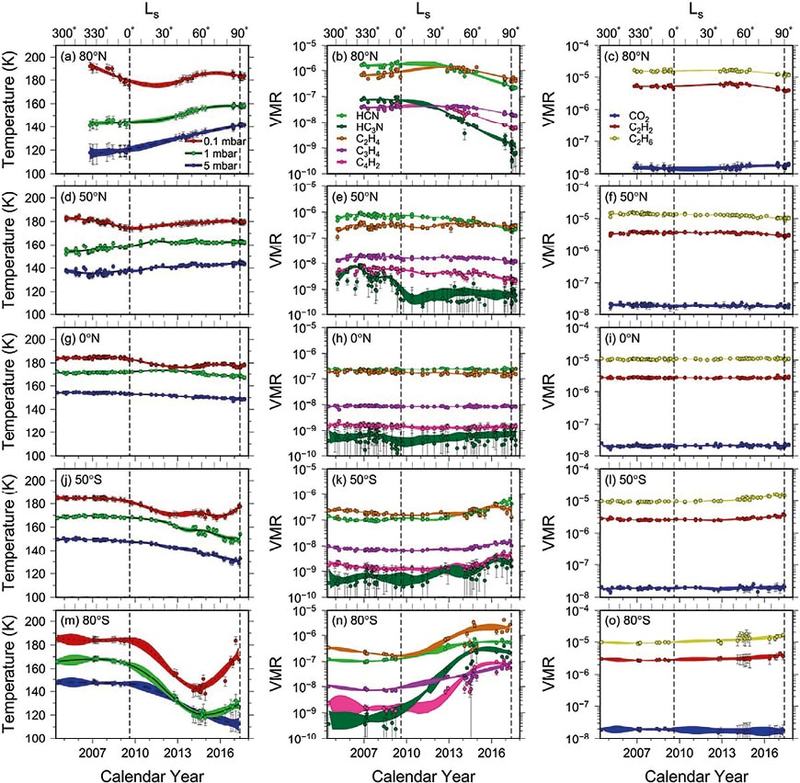 Figure 4. Titan's atmosphere at five different latitudes showing the seasonal variation of temperature and composition at three different pressure levels for the temperature (5, 1, and 0.1 mbar) and near the stratopause (0.1 mbar pressure level). Vertical dashed lines show the 2009 northern spring equinox and 2017 northern summer solstice on Titan. VMR = volume mixing ratio (Teanby et al., 2019, GRL 46).

In addition, seasonal circulation effects in the atmosphere also play an important role in churning up the chemical structure on this mammoth moon. Like the terrestrial atmospheres of Venus, Earth and Mars, Hadley cells also dominate the meridional circulation on Titan, exhibiting a large variety in strength, width and seasonality. However, simulations of global wind patterns based on wind speed data taken by the Huygens probe have suggested that Titan's atmosphere circulates in one single enormous cell. As warm gas rises in Titan's southern summer hemisphere, then sinks in the northern hemisphere, it results in a high-altitude gas flow from south to north and low-altitude gas flow from north to south; a feature that is only possible on a slowly rotating world such as Titan. Meanwhile, the pole-to-pole wind circulation cell appears to be centred on the stratosphere; models predict that it should change every twelve years, with a three-year transition period over the course of Titan's year.
The continued presence of methane in Titan's atmosphere has been the subject of many theories in the scientific community
In the first years of the mission, the northern latitudes exhibited enhanced chemical abundances up until the NSE. These subsequently decreased over two years, but were still higher than the readings taken over the South pole (Fig. 5). This northern enhancement was associated with temperatures colder than in the south by 15-20 K in the stratosphere at high latitudes. From the NSE until around 2014, circumstances changed, however; a strong temperature decrease was observed near the south pole (totalling an approximate 40 K drop in temperature within the four years since 2010), whereas a small warming affected the north resulting in a rise of 6 K from February to September 2014 (Fig. 5).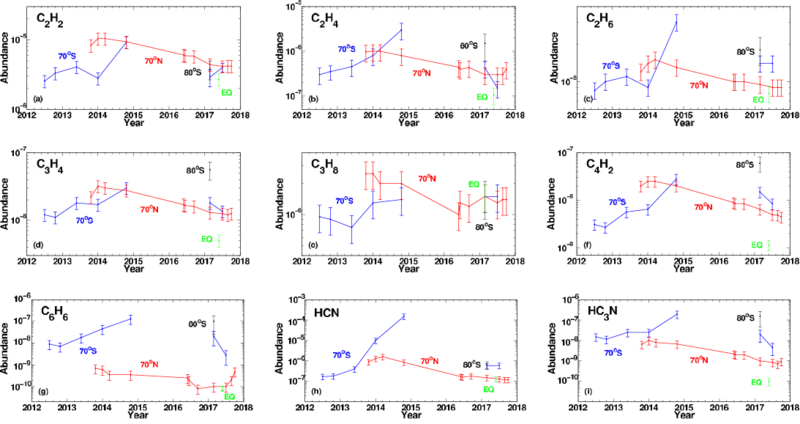 Figure 5. Trace hydrocarbon and nitrile gases abundances in stratosphere of Titan and their evolution from 2012 to 2017 (Coustenis et al. 2019 Icarus, in press).

Furthermore, after the NSE, the onset of a strong enhancement of several trace gases such as HC3N and Benzene ice (C6H6)were reported at Titan's south pole. This had previously only been observed at high northern latitudes, where an additional trend for the increase of several other trace gases (C4H2, C3H4, and HCN) had also been witnessed. These changes are indicative of a seasonal atmospheric reversal setting in (Fig. 3): a large-scale reversal in the single pole-to-pole atmospheric circulation cell of Titan immediately after equinox, with an upwelling of gases in the summer hemisphere and a corresponding downwelling in the winter hemisphere.
After 2014, a large and sudden temperature increase - by 10-50 K - in the southern polar stratosphere was found along with a change in the temperature profile's shape, while the opposite behaviour was also observed in the north (Fig. 4). This coincided with a steady decrease in chemical content in the north; this too, was also seen in the south pole but only after a two to three year delay.
This scenario is continuing in the current northern summer, but whereas the north experienced a slow decline in chemical content, the south pole of Titan suffered a sudden and large drop in numbers in 2017. Both hemispheres have yet to see an increase in their hydrocarbon abundances (Fig. 4).
What is the significance of all this? This situation is indicative of a non-symmetrical response to the seasons in Titan's stratosphere, processes that can help researchers set constraints on photochemical and General Circulation Models (GCM) models to better understand this intriguing moon.
In addition to the gases, observations of Titan's southern stratospheric polar region in the middle of southern fall, which is experiencing the coldest stratospheric temperatures since the beginning of the Cassini mission, allowed for the detection of condensates that were previously only found in the north, including some new ones like C6H6 ice. Several other unidentified signatures observed in the deep stratosphere could also be due to compounds containing nitrile ices.
A year on Titan
With the conclusion of the Cassini mission, scientists have an almost complete picture of the neutral atmospheric evolution within a year on Titan. The reported composition values from Cassini datasets and other sources help to search for inter-annual stratospheric thermal and chemical variations and provide an opportunity to evaluate the relative role of different physical processes in the long-term evolution of this complex environment; this shows that the atmosphere and the surface of Titan are tightly interconnected.
The organics falling from the atmosphere are deposited on the surface (Fig. 1), where they contribute to the formation of the geological shapes we see today (in addition to other processes such as aeolian, erosional, cryovolcanic, etc).
Investigations of the low-latitude and mid-latitude terrains using spectro-imaging near-infrared data from the Cassini/Visual and Infrared Mapping Spectrometer (VIMS) and synthetic aperture radar show significant differences with time in the albedo and in the composition of the various areas. In this latitudinal dependence of Titan's surface composition, water ice appears to be the major constituent at latitudes beyond 30N and 30S, while Titan's equatorial region is dominated partly by a tholin-like or by a very dark unknown material, and certainly organics deposited through the atmosphere (Fig. 2). The albedo differences and similarities among the various geomorphological units give insights into the geological processes affecting Titan's surface and, by implication, its interior.
Such variations may be indicative of cryovolcanism (ice volcanoes erupting water and other liquid- or vapour-phase volatiles). This is a process that would account for introducing methane into Titan's atmosphere and keeping it replenished. The continued presence of methane in Titan's atmosphere has been the subject of many theories in the scientific community because ultraviolet radiation is capable of dissociating the methane molecule into its constituent parts. Given how some 4.5 billion years has elapsed since the satellite's formation, any primary methane should have been all used up by now; as it can still be detected, some method of re-injecting it into the atmosphere is required. Although repopulation by cryovolcanism is a leading contender, some other theories have been advocated, such as sublimation of frozen layers of hydrocarbons, or the presence of substantial oceans or lakes of liquid methane on the surface of Titan.
This process, which is thought to create the lakes observed currently in the north, is one of the most compelling pieces of evidence in support of a 'methanological' cycle on Titan
But it is not just methane that poses a conundrum, the origin of Titan's atmosphere as a whole has been the source for debate since its discovery (Fig. 6). The dominant theory surrounding its existence is the delivery of ammonia ice to Titan by cometary impacts, that was later transformed to the dinitrogen-filled skies that we see today. However, recent data from the Rosetta mission to the comet 67P/Churyumov-Gerasimenko, on its isotopic and noble gas constraints, suggests that a large abundance of nitrogen-bearing complex cometary organic material accreted in Titan's interior. In agreement with Cassini-Huygens 36Ar/N measurements, recent theories predict a warm Titan interior responsible for outgassing nitrogen and other organics, that formed about 50 percent of today's atmosphere from within about 300 km of the ice-core interface.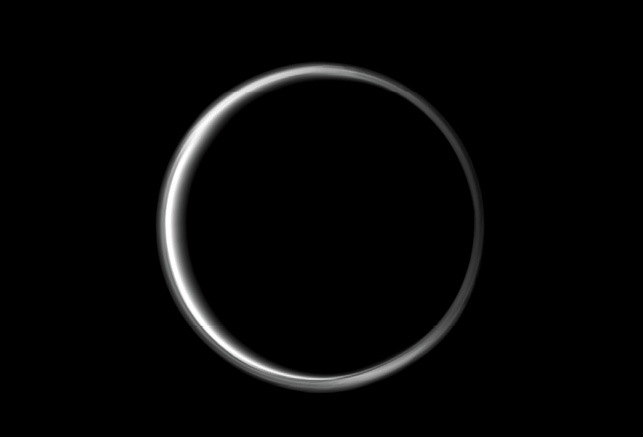 Figure 6. Orientated towards the Sun, the Cassini spacecraft captures the halo-like ring produced by sunlight scattering through the periphery of Titan's atmosphere.

Titan's seasonal variations, unique geological features, with isolated liquid hydrocarbon lakes and possibly internal liquid-water oceans, makes this remarkable moon an ideal target to search for biomarkers. Its habitability is also bolstered by the idea that if a liquid-water ocean on Titan is as geologically active as those on our planet, it might give rise to other Earth-like features such as hydrothermal systems. Then, the simultaneous presence of water, geodynamic interactions, chemical energy sources and a diversity of key chemical elements may provide the basic conditions for life to get started, as is expected to be the case for the other 'water worlds', Enceladus, Ganymede and Europa.
Future exploration
Much has been gleaned from the missions to visit Titan so far, but to truly lift the lid on what this moon might be hiding beneath its thick atmosphere, scientists will have to wait until Dragonfly, NASA's fourth New Frontiers mission that will be launched in 2026 for an arrival at Titan in 2034 (https://dragonfly.jhuapl.edu/).
Dragonfly is a mobile, robotic, rotorcraft-lander that is capable of vertical-takeoffs and landings. It will fly above and land on Titan's surface to study, among other things, the moon's prebiotic chemistry and extraterrestrial habitability at various locations. With this new mission and the results from the previous ones for context, researchers hope to answer such questions as how does Titan function as a system; what is the origin of the atmosphere; how are the similarities and differences with Earth, and other solar system bodies, a result of the interplay of the geology, hydrology, meteorology and aeronomy present in the Titan system?
Last but not least, it might also provide clues regarding how the rich soup of chemicals on Titan (that form a path to prebiotic molecules) differ from known abiotic organic material in meteorites - knowledge that will help contribute to our understanding of the origin of life in the solar system.
About the author
Athena Coustenis is Director of Research with the French CNRS based at the Laboratoire d'Etudes Spatiales et d'Instrumentation en Astrophysique (LESIA) of Paris Observatory. Her research focuses on the exploration of outer solar system bodies and of exoplanets. She is Chair of the European Space Sciences Committee, of the COSPAR Panel on Planetary Protection and of the ESA Human Spaceflight and Exploration Science Advisory Committee.