Two NASA astronauts, Christina Koch and Jessica Meir, have embarked on the first all-female space walk in an historic first.
The duo floated feet-first out of the International Space Station's Quest airlock on Friday lunchtime (BST), for a five-and-a-half-hour mission, which will see them replace a failing power controller.
The power glitch is a repeat of an issue that occurred in April after a battery-pack swap, said NASA officials. The failed battery charge/discharge unit (BCDU) will come back to Earth in a few months time aboard a SpaceX Dragon cargo capsule, so that engineers can inspect the hardware to try to figure out what happened, the space agency added.

To date, a total of 227 astronauts and cosmonauts have completed a spacewalk, but only 15 of them have been women (14 of them have been American), the first being Soviet cosmonaut Svetlana Savitskaya on the 25 July 1984. All spacewalks involving a female astronaut have done so alongside a male crew-mate. Some would say then, that the first all female spacewalk is therefore long overdue.

The spacewalk, officially known as an extra-vehicular activity (EVA), should have taken place back in March, but was controversially postponed because there were not enough medium-sized space suits on the ISS to fit both women. Since then, the agency has addressed the issue by sending up a second medium spacesuit in October.
"I think it's important because of the historical nature of what we're doing," Koch said ahead of her spacewalk. "In the past, women haven't always been at the table. It's wonderful to be contributing to the space program at a time when all contributions are being accepted, when everyone has a role. That can lead in turn to increased chance for success."
This will be Koch's fourth spacewalk and Meir's first. Koch will be extravehicular crew member 1 (EV1) wearing the spacesuit with the red stripes, and Meir will be extravehicular crew member 2 (EV2) wearing the suit with no stripes.
Tracy Caldwell Dyson, a NASA astronaut who completed three spacewalks as part of the Expedition 24 crew on the ISS in 2010, said: "This is significant … As much as it's worth celebrating, many of us are looking forward to it just being normal."

Six people are serving on the space station's current Expedition 61: Koch, Meir, and fellow NASA astronaut Andrew Morgan, the European Space Agency's Luca Parmitano, who commands the mission and Russian cosmonauts Aleksandr Skvortsov and Oleg Skripochka.

Live coverage has already begun and can be seen via NASA Television and the agency's website.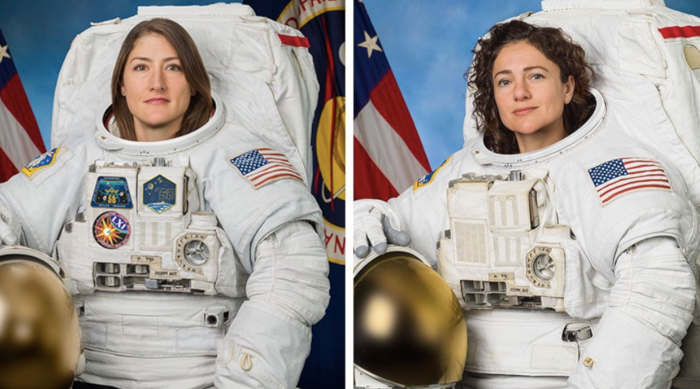 NASA astronauts Christina H Koch (left) and Jessica Meir. Image: NASA