Another image delivered on the same day shows California, USA. It also captures Los Angeles, which coincidently is where the International Ocean Colour Coordinating Group Meeting is taking place.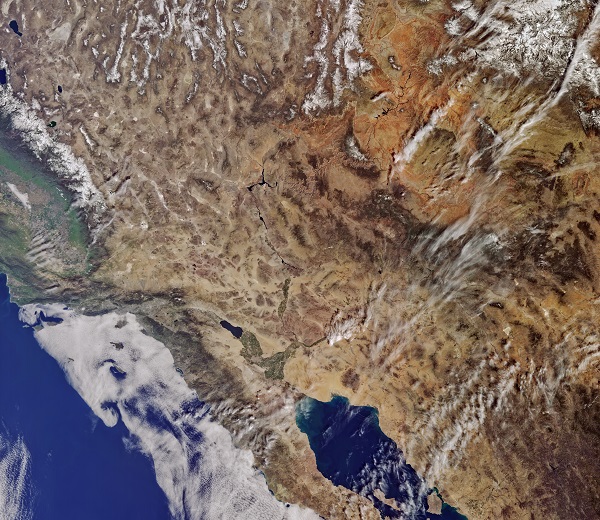 One of the images taken on the following day shows Spain, Portugal, the Strait of Gibraltar and North Africa.
These images were taken by OLCI, the satellite's Ocean and Land Colour Instrument, which has 21 distinct bands, a resolution of 300 m and a swath width of 1270 km. It will allow for the monitoring of ocean ecosystems, as well as support vegetation, crop conditions and inland water monitoring. OLCI will also estimate atmospheric aerosol and clouds, bringing significant societal benefits by providing more detailed information to be used in decision-making processes.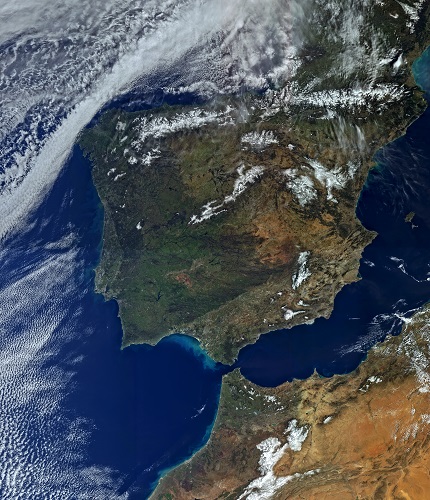 Volker Liebig, ESA's Director of Earth Observation Programmes, said, "This first image already reveals the true versatility of Sentinel-3A. The mission will be at the heart of a wide range of applications, from measuring marine biological activity to providing information about the health of vegetation. Given its extensive payload, Sentinel-3A is a real workhorse that is set to make a step change in the variety of data products provided to users."
Carrying a suite of instruments, Sentinel-3A is arguably the most complex of all the Copernicus Sentinels. It is capable of taking systematic measurements of the Earth's oceans, land, ice and atmosphere to monitor large-scale global dynamics and provide critical near-realtime information for ocean and weather forecasting.
Philippe Brunet, Director of the European Commission's Directorate-General for Internal Market, Industry, Entrepreneurship and Small- and Medium-sized Enterprises, said, "The launch of Sentinel-3A further expands the fleet of dedicated missions for Copernicus services. This mission is particularly important as it will contribute to the Copernicus Marine Environment Monitoring Service and the global land component of the Copernicus Land Service."
The satellite will spend the next five months being commissioned for service, after its successful launch and early operations phase, which was completed in record time. Once commissioned, ESA will hand over satellite operations to EUMETSAT.
The mission will then be managed jointly, with ESA generating the land products and EUMETSAT the marine products for application through the Copernicus services.
Alain Ratier, EUMETSAT's Director-General, added: "This first image is a promise to the marine user community. As the operator of the Sentinel-3 marine mission, we are delighted to see the first fruit of our cooperation with ESA and the European Commission, and we are looking forward to delivering many more images and products to users after the in-orbit commissioning."
OLCI was the first Sentinel instrument to be switched on. In the next few weeks, more data will be coming in from Sentinel-3's altimeter, which measures the height of the ocean surface and the radiometer designed to measure land and sea surface temperatures.
Read more about Sentinel-3's launch here: https://room.eu.com/news/Sentinel_3A_poised_for_liftoff_later_today