NASA has awarded almost $1 billion in contracts to three private US space companies to design and develop human landing systems (HLS) as the country prepares to return humans to the lunar surface for the first time since 1972.
The awards are firm-fixed price, milestone-based contracts and were given to Elon Musk's SpaceX, Dynetics (a Leidos company) and Jeff Bezos' Blue Origin.
Blue Origin won 60 percent of the total funding amounting to $579 million, Dynetics: $253 million and SpaceX: $135 million. Two other companies, Boeing and Vivace, put in bids but were eliminated early on.
"America is moving forward with the final step needed to land astronauts on the Moon by 2024, including the incredible moment when we will see the first woman set foot on the lunar surface," said NASA Administrator Jim Bridenstine. A programme that overall is projected to cost some $35 billion over the next five years, according to NASA budget documents.
"This is the first time since the Apollo era that NASA has direct funding for a human landing system, and now we have companies on contract to do the work for the Artemis program," he added.
NASA will rely on its own Orion crew capsule and heavy-lift Space Launch System (SLS) megarocket – that currently is still under development – to loft astronauts into space.
The landing vehicle, which all vary widely in design, then carry crews to the lunar surface after rendezvousing with Orion. None are required to use SLS as the launch vehicle.
SpaceX has revealed it will provide a lunar optimised Starship to land NASA astronauts on the moon, that "can fly many times between the surface of the Moon and lunar orbit without flaps or heat shielding required for Earth return," wrote SpaceX via Twitter after the contract announcement. The company are likely to use their own Super Heavy rocket to launch Starship and take it to the Moon.
"With large habitable and storage volume, Starship is capable of delivering significant amounts of cargo for research and to support robust operations on the lunar surface to enable a sustainable Moon base," SpaceX added.
It's obviously a very different solution set than any of the others, said NASA chief Bridenstine of SpaceX's design. The giant lander, which is so tall that astronauts will use an elevator to get to and from the lunar surface, could be an absolute game-changer, so we don't want to discount it explained Bridenstine.
Meanwhile Blue Origin and Dynetics, who are partnering with numerous subcontractors, are working on more conventional lander concepts.
Blue Origins who are teaming up with Lockheed Martin and Northrop Grumman, involves a multipart descent and ascent system that could launch on the company's own New Glenn rocket and United Launch Alliance's next-generation Vulcan Centaur rocket.
Conceptual designs of the Dynetics lander, which includes one lander with ascent and descent capabilities, lies low to the ground so that only a few steps are needed to board it; a safety feature NASA rank as highly important.
Dynetics, who began by specialising in ballistic missile defense (BMD) and radar systems engineering back in the early 70s, is working with a number of subcontractors on its system, including Sierra Nevada Corp.
According to Dynetics, the company's Human Landing System, or DLHS, "enables near-term reusability and sustainability and provides a robust, commercially supported lander capability, while boasting flight-proven technologies for habitat, power, thermal and other subsystems."
The DHLS can be fully integrated and launched on NASA's SLS Block 1B vehicle or for commercial launches, it too can be flown aboard ULA's Vulcan Centaur rocket.
The three will now compete against each other over the next 10 months, when NASA will decide which of them will have an opportunity to perform demonstration missions first. Bridenstine said NASA will go with the company that has the highest probability of success by 2024, although the agency has not ruled out continuing with all three concepts.
"With these awards we begin an exciting partnership with the best of industry to accomplish the nation's goals," said Douglas Loverro, NASA's associate administrator for Human Explorations and Operations Mission Directorate in Washington. "We have much work ahead, especially over these next critical 10 months. I have high confidence that working with these teammates, we will succeed."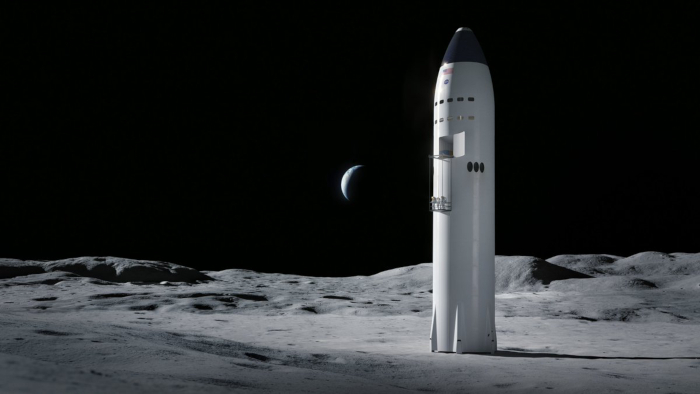 SpaceX human-rated Starship concept. One of three concepts selected by NASA for its Human Landing System programme. Image: SpaceX