China's new prototype spacecraft that was launched earlier this week by the country's first Long March 5B heavy-lift rocket has successfully landed at a predetermined site in northern China at 1:49 pm (Beijing Time) Friday.
The vehicle was in orbit for two days and 19 hours and had completed a number of experiments, the China Manned Space Agency (CMSA) said, including unfolding its solar panels, deploying its relay antenna and establishing a relay communication link, as well as conducting autonomous orbit control.
Several orbit-raising manoeuvres allowed the craft to reach a final apogee of around 8,000 kilometers (4,970 miles) before de-orbit instructions were initiated.
Following touch down at the Dongfeng landing site, officials on the ground confirmed that the cabin structure of the spacecraft had remained intact.
Developed by the China Aerospace Science and Technology Corp. (CASC), the main contractor for the country's space programs, the unnamed space capsule is the successor to China's Shenzhou spacecraft; the country's workhorse transport vehicle for its crewed space program.
It can carry up to six astronauts, or three astronauts and 500 kilograms of cargo and can be adapted to multiple tasks. It can be used both for low-Earth orbit missions and also for deep-space exploration, such as manned lunar exploration, CMSA said.
Meanwhile, an experimental cargo return craft designed to transport equipment that was launched as a secondary payload did not fare so well, as it malfunctioned during its return to Earth on Wednesday.
Fitted with an inflatable, low-mass heat shield, the cargo re-entry vehicle was supposed to deploy its umbrella-shaped heat shield to a diameter of nearly 3 metre (10 feet), before falling back into Earth's atmosphere.
However it had operated "abnormally" during the return process, according to the China Manned Space Agency, adding that engineers are now analysing data from the spacecraft to determine what went wrong.
The otherwise triumphant return of China's prototype spacecraft marks an important step in the nations ambitions to start work on building a permanent space station in low-Earth orbit.
The station will accommodate crews of three astronauts on missions lasting up to six months, according to previous statements by Chinese officials. Construction is expected to begin this year and finish in 2022.
The roughly 20-tonne core stage of the Long March 5B is expected to make an uncontrolled reentry around 11 May; a move that will make it the most massive object to make an uncontrolled reentry since the 39-tonne Salyut-7 in 1991, says Jonathan McDowell an astronomer at the Harvard-Smithsonian Center for Astrophysics, via Twitter.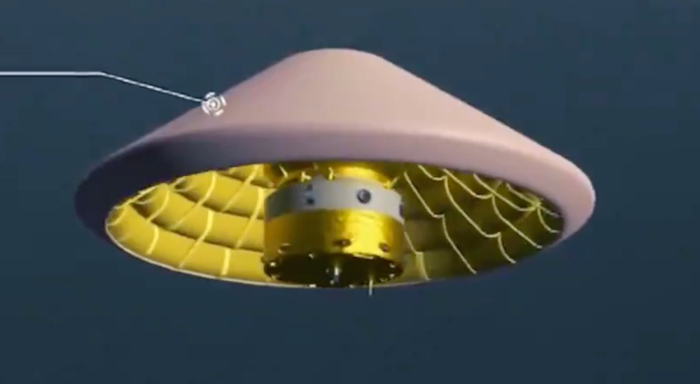 An artist's illustration of the experimental cargo return vehicle that suffered anomalies on its return to Earth. Credit: CCTV