If all goes according to plan, then by this time tomorrow, a Crew Dragon test capsule will be launched on the end of a SpaceX Falcon 9 rocket towards the International Space Station for the first time. Weather permitting, liftoff is planned for 2:49 a.m. EST (07:49 GMT) from Florida's Space Coast.
As this is the first test flight of the Crew Dragon, the only life-sized object on board is a mannequin called "Ripley," named after Sigourney Weaver's character in the "Alien" films.
Ripley is an anthropomorphic test device, so is not there simply for show or for promotional purposes. Instead this "smarty" (and not "dummy") as SpaceX officials prefer to call it, is fitted with sensors around its head, neck and spine to gather data on the environments astronauts will experience when they eventually take up seats on a human-crewed Dragon.
"The goal is to get an idea of how humans would feel in her place, basically," said Hans Koenigsmann, SpaceX's vice president of build and flight reliability. "I don't expect, actually a lot of surprises there. But it's better to verify, make sure that it's safe and everything is comfortable for our astronauts going on the next flight of our capsule."
Providing that the launch proceeds as scheduled on Saturday, then Crew Dragon will be on target to dock with the International Space Station (ISS) on Sunday around 6 a.m. EST (11:00 GMT).
Although a flight readiness review (FRR) has been completed by SpaceX and the US space agency last week, NASA officials said they are working through some issues with the spacecraft, which means it is not fully qualified to fly astronauts. The space agency is comfortable enough however with flying it to the ISS uncrewed.
NASA has become reliant on buying seats on Russian Soyuz rockets to send its astronauts to the ISS after it ended its space-shuttle program in 2011. Accordingly, this is an absolutely critical first step in moving towards returning the crewed launch capability back to the US, said William Gerstenmaier, the associate administrator with NASA Human Exploration and Operations.
"I guarantee everything will not work exactly right, and that's cool, that's exactly what we want to do," said Gerstenmaier, adding that the agency wants to maximise their learning of the event before a real crewed mission takes place; a flight which is expected to take place later this year around July, if all goes well tomorrow.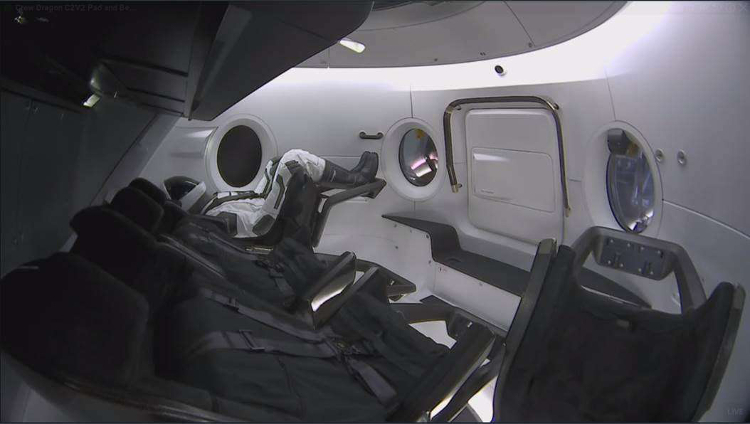 Sat quietly waiting, Ripley prepares for the critical Crew Dragon test launch scheduled for tomorrow. Image: SpaceX