You know that there is something special coming up when you walk over to the customs and immigration officer after arriving at Florida's Orlando airport and in reply to his question 'you what you are coming to do here the US?' you reply: "I'm here for the upcoming Falcon Heavy rocket launch." And he says, "Oh that's what everybody tells us today."
Hmm, ok so I'm not the only one here for this then… this must be something big for the USA and all rocket launch lovers around the globe - even the roadside are adorned with posters advertising the 'SpaceX Falcon Heavy rocket launch next Tuesday at 1:30 pm'.
Local TV news channels are giving regular updates on the mission and newspapers inform readers what are the best places to watch the launch from around Titusville and other parts close to Kennedy Space Center (KSC).
After almost seven years - the last big launch from KSC was the final Space Shuttle mission - launch fever has come again to this part of Florida and people are once again looking towards the famous 39A launch pad for tomorrow's (Tuesday) planned launch.
People are going crazy, or they are crazy in love with big rocket launches and SpaceX in particular. Tickets to view the launch from more than five miles away are exchanging hands privately for almost US$ 200 after being sold out in just two days. You can even buy tickets to view the launch from the KSC visitor complex - and that's more the 12 miles from the launch pad where you only see the rocket after it has risen above the tree line and if sky is cloudless.
Yesterday, two days before the first scheduled launch window of the week, international media could start collecting their security passes. Judging by all the badges waiting on the table it will once again be crowded on the NASA press site.
So I need to pick a good spot the watch the launch from. Meeting media friends and colleagues to talk about the launch, there are different opinions on the outcome and potential success of the mission.
Some believe it will be another week before it even lifts off the pad, other says SpaceX might be lucky if it clears the pad high enough so it will not damage the pad if it explodes on ascent.
And then there is return of the twin side boosters which are scheduled to land back at the Cape, both at landing zone one not far from each other... it's another first but how will it work?
The new Falcon Heavy will be the most powerful in the world, which means it could launch heavier and more complex cargo to space. Once operational, SpaceX could start launching big national security satellites, large orbital habitats and telescopes, or even humans to deep space.
The Falcon Heavy's specs are impressive. The three-core rocket boasts 27 engines (more than any other working rocket has used before) which together provide more than 5 million pounds of thrust at liftoff, allowing the vehicle to put more than 140,000 pounds of cargo into low Earth orbit.
That's more than twice the capability of any rocket currently on the market and almost as much as NASA's new SLS rocket at a fraction of the price.
NASA's giant rocket certainly has its share of problems. It could be years from making its first flight and probably won't carry a crew until at least 2022 whilst estimates show that SLS may cost more than 10 times as much to fly as the Falcon Heavy.
All in all, tomorrow's flight (the launch window opens at 1330 EST/1830 GMT) will be an interesting and eagerly anticipated maiden flight. The weather outlook is currently 80 percent 'go', so only a last minute technical glitch will prevent an on-time lift off. Success will send out a powerful message to the world of government and commercial spaceflight.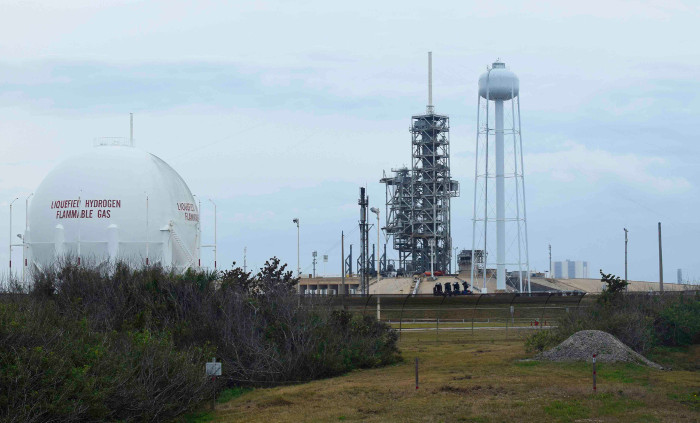 The empty Pad 39A on Sunday prior to the roll out of the SpaceX Heavy rocket. Image: Jacques van Oene