NASA's Aqua MODIS satellite instrument has confirmed that an iceberg weighing more than a trillion tonnes has broken away from the Larsen C Ice Shelf in Antarctica.
MODIS (or Moderate Resolution Imaging Spectroradiometer) is a key instrument aboard the Terra and Aqua satellites, which scan the entire Earth's surface every one to two days and sometime between Monday, 10 July and today, it captured a 5,800 square kilometre section of Larsen C that has broken away. The data was confirmed by NASA's Suomi VIIRS instrument – a scanning radiometer that collects visible and infrared imagery and radiometric measurements of the oceans, amongst other things.
With a volume that is twice that of Lake Erie, the iceberg – which is likely to be named A68 – leaves the Larsen C Ice Shelf reduced in area by more than 12 percent. Whether A68 will eventually break apart or remain as one behemoth iceberg cannot yet be anticipated, though it has been suggested that it is likely to fragment at some point.
The news of the rift is not news for some as researchers from MIDAS, a UK-based Antarctic research project, have been investigating the effects of a warming climate on the Larsen C ice shelf in West Antarctica for many years.
"We have been anticipating this event for months and have been surprised how long it took for the rift to break through the final few kilometres of ice. We will continue to monitor both the impact of this calving event on the Larsen C Ice Shelf, and the fate of this huge iceberg," says Prof Adrian Luckman of the UK's Swansea University and lead investigator of the project.
It is surmised that although the remaining ice shelf will continue to regrow naturally, the new configuration is potentially less stable than it was prior to the rift.
"Although this is a natural event, and we're not aware of any link to human-induced climate change, this puts the ice shelf in a very vulnerable position. This is the furthest back that the ice front has been in recorded history. We're going to be watching very carefully for signs that the rest of the shelf is becoming unstable," adds Dr Martin O'Leary, a glaciologist at Swansea University and member of the MIDAS project team.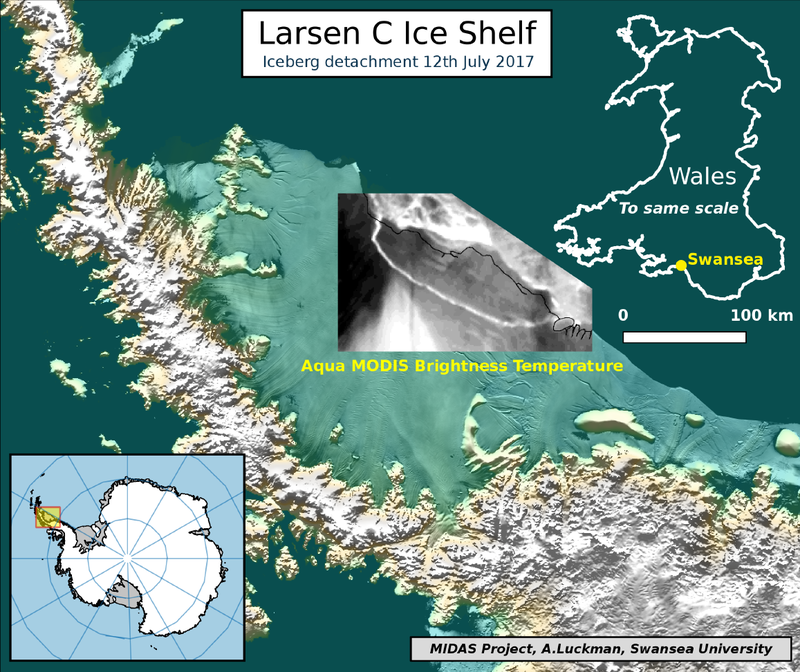 Map of Larsen C, overlaid with NASA MODIS thermal image from 12 July 2017 showing the iceberg has calved