With less than 36 hours to go, Crew-1, SpaceX's first full-length mission for NASA, will carry astronauts Michael Hopkins, Victor Glover, Shannon Walker and Soichi Noguchi to the International Space Station for a six month stay aboard the orbital laboratory.
Scheduled for liftoff on Saturday, 14 November, at 7:49 pm EST (0049 GMT on 15 Nov), the Crew Dragon is the first crew spacecraft to be NASA-certified for regular flights with astronauts since the space shuttle nearly 40 years ago. The trip will also mark the longest-duration human space mission ever launched from US soil.
NASA paved the way forward for the mission after certifying the whole launch system for human spaceflight, including the Falcon 9 rocket and associated ground systems, on Tuesday, making Elon Musk's Crew Dragon the first commercial spacecraft in history to receive the designation.
"Certification moves us from the design and test phase into the crew rotation phase of our work, but we will not stop making sure every flight, including NASA's Space Crew-1 mission, will be approached with the same rigor we have put into making this the best system it can be for our astronauts," said Kathy Lueders, associate administrator for NASA's Human Exploration and Operation Mission Directorate.
Crew-1 is SpaceX's second crewed trip to the ISS - the first being its Demo-2 mission back in May. Aptly named for its purpose, Demo-2 served as an end-to-end demonstration of SpaceX's crew transportation system.
Its occupants, veteran space-visitors Doug Hurley and Bob Behnken, made spaceflight history as the first US astronauts to liftoff from US soil on a private rocket. The duo worked alongside the crew of Expedition 63 for 62 days before returning to Earth.
Crew-1 members will be hoping for similar success when they depart from the famous Launch Complex 39A at NASA's Kennedy Space Center tomorrow, to join the ISS's current inhabitants, Sergey Ryzhikov, Kate Rubins and Sergey Kud-Sverchkov. Cosmonauts Ryzhikov and Kud-Sverchkov are currently gearing up for a Russian spacewalk that will take place soon after the four new crew members arrive.
"We are ready for this launch. We are ready for the six months of work that is waiting for us on board the International Space Station, and we are ready for the return," NASA astronaut Mike Hopkins told reporters during a pre-mission news conference.
Yesterday, the four Commercial Crew astronauts suited up and conducted a countdown dress rehearsal of launch day events inside the Crew Dragon, which has been in place on the launch pad since Monday evening (9 November).
"It feels really good to be here. On behalf of the crew of Resilience, we want to say a big thank you to SpaceX and NASA and the DOD who have been working tirelessly to get us to this point," added Hopkins.
This first Commercial Crew mission is the first of six that SpaceX has contracted with NASA; a partnership that has been in the making for nearly a decade.
"I could not be more proud of everyone at SpaceX and all of our suppliers who worked incredibly hard to develop, test, and fly the first commercial human spaceflight system in history to be certified by NASA," said SpaceX boss Elon Musk. "This is a great honor that inspires confidence in our endeavour to return to the Moon, travel to Mars, and ultimately help humanity become multi-planetary," Musk said, as he thanked NASA for their continued support of his space exploration company.
All that remains is for the weather to play ball. Threatening to overshadow proceedings is Tropical Storm/predicted-Hurricane Eta.
Eta made landfall along Florida's West Coast early Thursday and has been bringing heavy rain inland. Current forecasts from the National Hurricane Center state that a close pass to the spaceport is possible on the 14th, although a 70 percent chance of favourable weather conditions for the launch have been predicted.
NASA will hold a "countdown clock briefing" today (13 November) at 10 am EST (1500 GMT) to discuss the upcoming launch.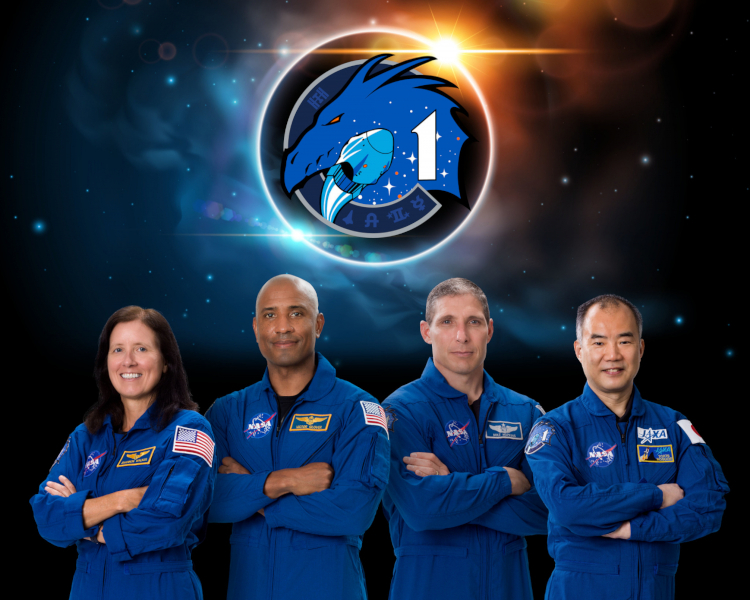 From left; Shannon Walker, Victor Glover, Mike Hopkins and Soichi Noguchi – NASA's first Commercial Crew astronauts who are heading to the ISS in SpaceX's Crew Dragon tomorrow (14 November, 2020), weather permitting. Image: NASA