To prepare astronauts for a trip into deep space on board NASA's Orion spacecraft, engineers have begun subjecting candidates to a series of vibration tests at NASA's Johnson Space Center in Houston.
The Orion spacecraft is similar to NASA's Apollo capsule but will carry up to six astronauts instead of three (as Apollo did) but its purpose is long-haul flight. The spacecraft will serve as the exploration vehicle that will carry the crew to space, provide emergency abort capability, sustain the crew in the crew module during space travel, and provide safe re-entry from deep space return velocities. Orion will launch on NASA's new heavy-lift rocket, the Space Launch System.
Orion will replace the Space Shuttle, which although was very successful in its time, was not designed to travel beyond low Earth orbit or to be used for longer than two weeks at a time. 2016 was a busy year for Orion as critical systems such as avionics components and propulsion tubing were fitted to the spacecraft and engineers are busy working on computers in the crew module as they get ready to verify that the spacecraft can route power and send commands.
These latest tests however have been aimed at its potential crew and how vibrations may impact an astronaut's ability to view the spacecrafts displays and controls during a launch. Test subjects sat in the latest design of the seat atop the crew impact attenuation system and wore modified advanced crew escape suits that are being developed for astronauts in Orion.
Once completed, Orion will launch on NASA's new heavy-lift rocket, the Space Launch System (SLS). Although rumours suggest that the SLS could be scrapped in the wake of the new presidency, NASA has successfully completed the exploration upper stage (EUS) preliminary design review for the most powerful rocket ever built by the space agency.
"To send humans and even more cargo farther away from Earth than ever before, NASA decided to add a more powerful upper stage – the upper part of the rocket that continues to operate after launch and ascent," said Kent Chojnacki, EUS team lead and preliminary design review manager. "With the completion of this review, our teams will start developing components and materials for the EUS, and build up tooling," he added.
NASA is currently on track to launch an uncrewed Exploration Mission (EM) in 2018, however the detailed SLS assessment is a big step forward in being ready for more capable human and robotic missions to deep space which are planned for as early as 2021.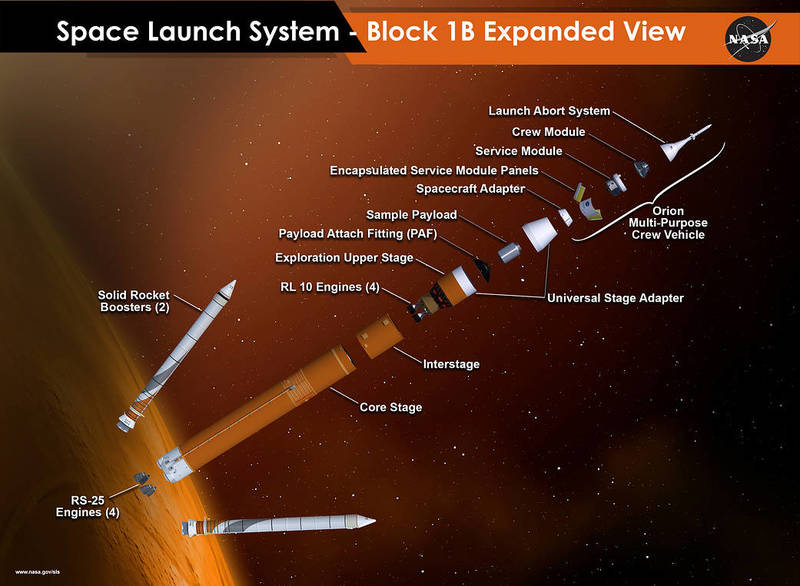 An expanded view of the next configuration of NASA's Space Launch System rocket, and the Orion spacecraft which sits on top. Image: NASA