With the aid of Swarm – a trio of satellites deployed by ESA – scientists now know why GPS navigation systems on low-orbiting satellites sometimes black out when they fly over the equator between Africa and South America.
Launched in 2013, Swam is an European Space Agency mission to study Earth's magnetic field. The data gathered will help in gaining new insights into the Earth system by improving our understanding of the Earth's interior and climate by untangling the different magnetic fields that stem from Earth's core, mantle, crust, oceans, ionosphere and magnetosphere – an process that is expected to take at least four years.
GPS receivers, much like the ones used frequently in automobiles nowadays, are used as part of a satellites positioning system so that operators keep them in the correct orbits. Not only that but the GPS also pinpoints where the satellites are making their scientific measurements.
During their first two years in orbit, the link from the Swam constellation was broken 166 times and now thanks to the data obtained by this mission, scientists now know why satellites sometimes lose their GPS connection - thunderstorms.
These 'thunderstorms' appear in the ionosphere around 300–600 km above Earth, and Swarm data has revealed a direct link between GPS blackouts and ionospheric thunderstorms.
"Ionospheric thunderstorms are well known, but now we have been able to show a direct link between these storms and the loss of connection to GPS," said Claudia Stolle from the GFZ research centre in Potsdam, Germany. "This is thanks to Swarm because it is the first time that high-resolution GPS and ionospheric patterns can be detected from the same satellite."
The ionosphere is the part of the atmosphere where atoms are broken up by sunlight, leading to the release of free electrons. If these electrons are scattered by thunderstorms, it creates pockets or small bubbles with little or no ionised material and it is these bubbles that disturb the GPS signals. Rapid changes in the ionosphere tend to happen close to Earth's magnetic equator and typically just for a couple of hours between sunset and midnight.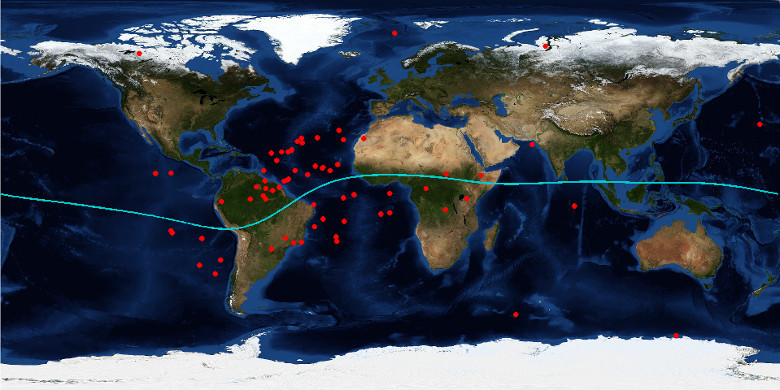 The red dots in the map show where the Swarm-C satellite lost its GPS connection between launch in November 2013 and March 2015. These losses in tracking signal were down to equatorial plasma bubbles. The green line denotes the geomagnetic equator. Image: NASA blue marble/GFZ Potsdam/ESA
Of course, resolving why GPS signals are prone to blackouts is not only good news for Swarm, but also for other low-orbiting satellites experiencing the same problem. With this new knowledge, engineers can improve future GPS systems to limit signal losses.
"What we see here is a striking example of a technical challenge being turned into exciting science, a true essence of an Earth Explorer mission such as Swarm," added Rune Floberghagen, ESA's Swarm mission manager. "These new findings demonstrate that GPS can be used as a tool for understanding dynamics in the ionosphere related to solar activity. Perhaps one day we will also be able to link these ionospheric thunderstorms with the lightning we see from the ground."