Do you fancy flying to the edge of space under a high-tech balloon? If so, now is your chance, as Space Perspective, a US firm with an operation centre in the heart of Florida's space coast, has announced its plans to fly passengers and research payloads 30 kilometres into the stratosphere in its futuristic-looking craft called Spaceship Neptune.
Flown by a pilot, Space Perspective say that Neptune can carry up to eight passengers called "Explorers" on a six-hour journey to the edge of space and safely back.
The journey, which is described as a two-hour gentle ascent "above 99 percent of the Earth's atmosphere," will take the "Explorers" to a height of 30 kilometres.
Once at its cruising altitude, Neptune will float above the Earth for up to two hours allowing passengers to share their experience via social media and with their fellow Explorers.
When ready to descend, the two-hour trip back to Earth's surface ends in a splash down, where a ship retrieves the passengers, the capsule, and the balloon.
"We're committed to fundamentally changing the way people have access to space – both to perform much-needed research to benefit life on Earth and to affect how we view and connect with our planet," said Space Perspective Founder and Co-CEO Jane Poynter.
"Today, it is more crucial than ever to see Earth as a planet, a spaceship for all humanity and our global biosphere," adds Poynter, who specifies that Neptune's commercial human spaceflight launches are regulated by the FAA Office of Commercial Spaceflight.
The human space flight company plans to launch from the iconic Shuttle Landing Facility at NASA's Kennedy Space Center (KSC) in Florida, but also has additional planned launch locations at Cecil Spaceport in Florida, Hawaii, Alaska and "elsewhere as we expand operations around the planet," say the founders of Space Perspective.
The balloon which carries a "comfortable and spacious" pressurised capsule underneath, measures the length of a football stadium. The craft was developed from the ground up for maximum safety and accessibility, and boasts near zero-emissions.
"Few endeavours are more meaningful than enabling people to experience the inspiring perspective of our home planet in space for the betterment of all, and that's what we are accomplishing with Space Perspective," says Founder and Co-CEO Taber MacCallum.
Poynter, along with MacCallum and six others, were part of the first closed mission of the Biosphere 2 project; an artificial, Earth system science research facility located in Oracle, Arizona at the base of the Santa Catalina Mountains.
Biosphere 2 was originally meant to demonstrate the viability of a closed ecological system to support and maintain human life in Outer Space, but suffered a number of set backs and was only used twice for its original intended purpose: once from 1991 to 1993, and the second time from March to September 1994.
Despite financial uncertainties and issues regarding management of the facility, the huge glass and steel-frame structure is now owned by the University of Arizona, and conducts a number of scientific experiments centred around its original function.
The company's first un-crewed test flight of Neptune is slated to carry a suite of research payloads and is scheduled for launch in early 2021.
Space Perspective is working with researchers, educators and students from academic institutions and organisations to conduct studies on, amongst other things, atmospheric science, astro- and solar-physics and astrobiology to explore the limits of life on the planet and beyond.
Space for Humanity, a nonprofit, has chosen Space Perspective as a preferred partner for their Citizen Astronaut Program and scientific research.
"Space for Humanity is cultivating a movement to expand access to space for all of humanity, and this partnership represents a big leap in making that happen," said Dylan Taylor, Founder of Space for Humanity and CEO of Voyager Space Holdings.
"We are excited about the possibilities this partnership opens up for us, and what it means for all the participants that will be able to view our home planet from the edge of space."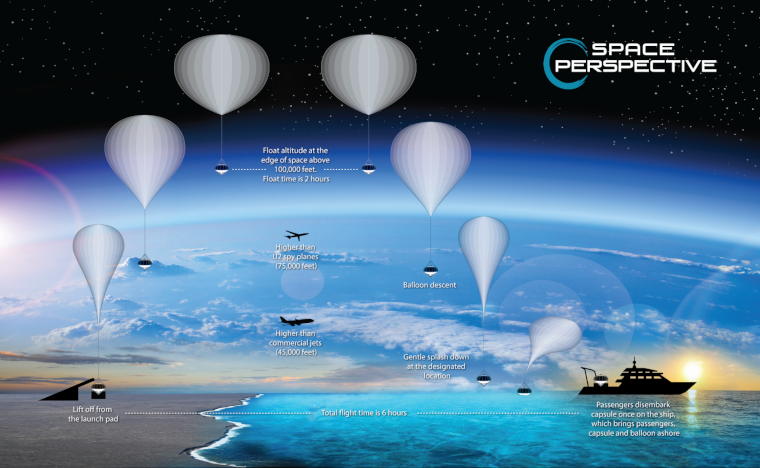 A schematic outlining how Spaceship Neptune will fly to the edge of space and back. Image: Space Perspective.
If you've enjoyed reading this article, please consider subscribing to ROOM Space Journal to gain immediate and full access to the latest magazine feature articles and receive your own print and/or digital copies of the quarterly ROOM magazine delivered electronically or direct to your door