My guess is that anyone reading ROOM will agree that spaceflight and all that goes along with it is inspirational. This inspiration presents itself in so many ways - inspiring children to pursue an education and careers in STEM fields, inspiring innovative research and technology developments, inspiring cooperation between countries and organisations that once were not so cooperative, inspiring us to work together to build and successfully operate the most complex spacecraft ever, and inspiring us to continue to challenge ourselves to work together to explore off our planet in order to improve life for everyone here on Earth.
For this issue, the 'Space for Art' column's theme continues with another presentation of this wonderful inspiration that comes through the interaction between art and space.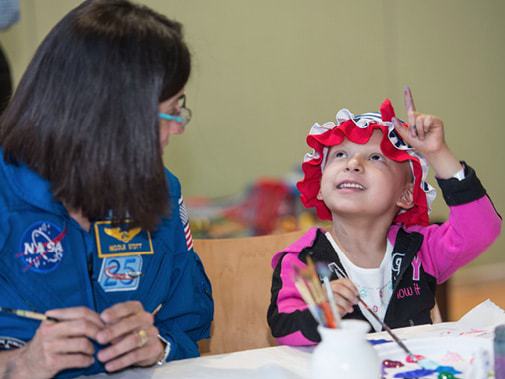 Painting with a young patient at MD Anderson and talking about the wonders of space and art and the future.
Just as the view through a spacecraft window will always provide the fortunate viewer with some beautiful, unexpected surprise to see, it's also really wonderful to witness the inspiration that spaceflight can provide in very unexpected and surprising ways.
I consider myself blessed to have experienced the view through our spacecraft windows and all of the other amazing things that go along with flying in space, but in this post-flight stage of my life I'm feeling equally if not more blessed by the projects I now have the opportunity to support as a result of that spaceflight experience.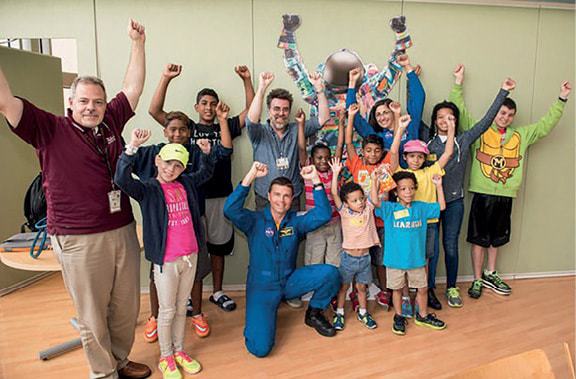 Celebrating a great day of painting with the children of the MD Anderson Children's Cancer Center, are Dave Graziosi of ILC Dover, astronaut Reid Wiseman, and artist/ director Ian Cion and and artist/astronaut Nicole Stott.
I am pleased to introduce you to one of these projects, which I believe is the most meaningful project I have ever supported. The Space Suit Art Project' is a beautiful combination of art, space, and kids painting space suits. A space-inspired art project that is raising awareness for childhood cancer, and creating hope, courage and unity..
While these words are simple, the impact of this project is anything but. This project has creatively and powerfully tied together the inspiration of space and art. It has brought people with very different experiences and challenges together and helped them quickly discover a common bond of inspiration. And has also effectively demonstrated the strength of the inspiration of space and art and their very positive, collective impact on healing.
In a future issue, I hope to share my own personal experience with 'The Space Suit Art Project' and stories of some of the others involved. But for now I want to introduce you to Ian Cion, the artistic genius behind the project, and for you to read more on the following pages about the motivation behind this project through his story. Be inspired!