Best known for its reusable Dream Chaser spaceplane, Sierra Space (as a business entity of Sierra Nevada Corp) is contracted to NASA for resupply missions to the International Space Station (ISS) using its expendable Shooting Star cargo capsules. The company has also delivered its prototype of an inflatable habitat - the Large Integrated Flexible Environment (LIFE) - to NASA, and is developing life-support products for water processing and environmental management. And beyond that, Sierra Space plans clusters of interconnected space habitats where private space travellers arrive and depart on a fleet of privately-owned spaceplanes for science, manufacturing or entertainment applications in low Earth orbit. Following the announcement this spring that the Space Systems division of Sierra Nevada Corp (SNC) would be rebranded as a separate company known as Sierra Space, ROOM's US Editor Amanda Miller caught up with the company's Executive Vice President, Janet Kavandi and Director of Advanced Development, Neeraj Gupta.
Can you update us on the status of your major projects?
KAVANDI Our first launch of a Dream Chaser cargo vehicle to the International Space Station is planned for the second half of 2022. We have seven missions on contract right now, and we're also planning a crewed version which could take people to a low Earth orbit platform.
What we envisage long term is multiple platforms, connected together with nodes and serviced by the Dream Chaser vehicles. Then we could serve any kind of customer from a movie producer to a manufacturer or pharmaceutical researcher, all the way to a national defence or national security client. In fact, these habitats could also be used as lunar orbiting habitats – perhaps not the big three-storey-tall-type inflatables, but maybe a one-storey habitat attached to a lunar lander system.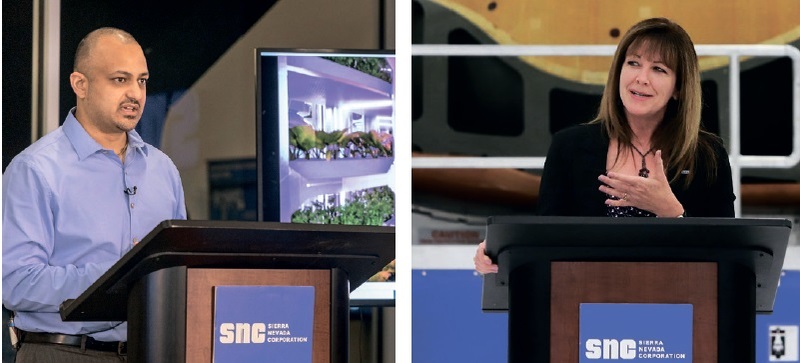 Neeraj Gupta and Janet Kavandi.

I recognise the habitats and the Dream Chasers - we've seen prototypes and first flight articles of those - but has a node ever been made?
People don't realise what they can do in space until you help them understand why it's beneficial to build a platform in space that they can work from
GUPTA The node is the piece that connects all the habitats together and offers the docking ports for vehicles to visit the system. It has not been built as yet, but we've been developing it, actually, for a couple of different reasons - not only for our LEO commercialisation work, but also for a deep space transit or a Mars transit. We've been on contract with NASA now for a couple of years working that development.
Was the habitat originally proposed for NASA's lunar Gateway, and do you have other visions for it?
GUPTA Yes, it was originally for the Gateway. NASA is starting to put up the first elements - I believe from 2026 - which are the Power & Propulsion Element (PPE) and a Habitation and Logistics Outpost (HALO), a small habitat. Sierra's large habitat is considered more for Mars use, but we'll likely do what they call a shakedown cruise, meaning it stays on the Gateway for a number of years to prove that it works in orbit and for the kind of long duration required for a trip to Mars. We originally designed it for both purposes, to operate at the Gateway as well as for a trip to Mars.
It sounds like you've pitched it to certain types of customer?
KAVANDI It's kind of an 'If you build it, they will come' concept. People don't realise what they can do in space until you help them understand why it's beneficial to build a platform in space that they can work from. A lot of people have already demonstrated technologies that work better in space because of demonstrations on the International Space Station. The experiments that we fly up for universities and other companies to try out in space either work better or they don't work better in space. An example is a pharmaceutical customer that wants to know about tumours that grow inside the human body. You can grow those tumours in microgravity, in a Petri dish of sorts, and they grow like they do in your body. So you can determine the exact structure of tumours better and then design drugs to attack that particular type of tumour.
Then there's 3D manufacturing for products that need to have zero defects. You can layer certain types of materials in microgravity in a better way than you can on Earth.
You can, of course, film movies in true microgravity and I know a lot of people are interested – including James Cameron and Tom Cruise
And in the entertainment business – you know the way they film people in microgravity, hanging from wires that they have to delete at the final edit? Well, you can, of course, film movies in true microgravity and I know a lot of people are interested – including James Cameron and Tom Cruise.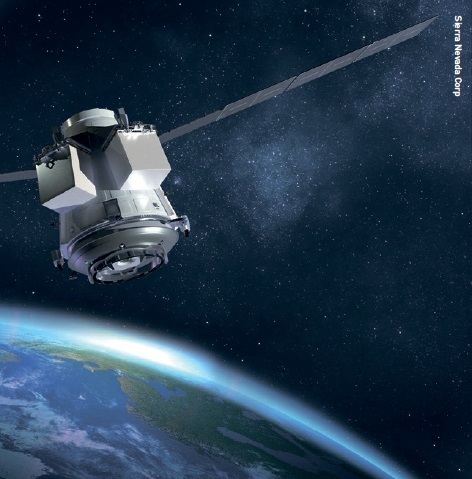 SNC's Shooting Star is a 4.6 m module that will attach to the aft portion of Dream Chaser, providing room for an additional 4,500 kg of cargo - both pressurised and unpressurised. It also has other applications such as a free-flying spacecraft.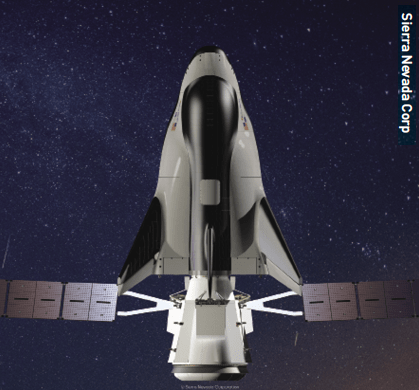 Artist's rendering of Dream Chaser docked with Shooting Star.

Of course, a key application is Earth observation, monitoring the changing climate and so on. You can get really high-quality imagery of places on the surface or underwater and see where coral reefs are dying and target those earlier from space. It's like the God's-eye view. Take Madagascar for example: how much damage has been done in Madagascar from clear cutting? There are ways that we can address that country and take proactive action to try to reverse some of that damage.
So there's just a limitless number of applications - if we can commercialise it and make it affordable and accessible. And although we're thinking just about the US right now, if you think about that internationally, we could consider multiple platforms up there - all serving different countries and different businesses. And we haven't even talked about tourism and a hotel in space. A lot of people are interested in just being able to go up and experience microgravity for a week, you know.
GUPTA I'll add to that a little. We had a study with NASA a couple of years ago where we put the original platform concept out. Now we're tracking another NASA solicitation, coming out this year, for a free flyer. We've also been working with the European Space Agency (ESA), which put out some contracts to look at what to do after the ISS is retired. So we've been working with both NASA and ESA on this concept and how this could meet their needs.
To actually put astronauts in, too?
GUPTA Correct. For everything. For all the things that Janet said, from the microgravity science and all those pieces, as well as putting up astronauts. It's like we're on the verge of commercialisation but still at the mercy of governments. The question is what's going to make commercial entities want to come to us to put a platform in space?
KAVANDI It's a good point. There are a couple of different aspects of what you're saying when you're talking about the government. Especially if you're talking about launching humans, you want to ensure that you go through the process of ensuring that your vehicles are safe, that they're human-rated, and that you have a launch capability that is safe for those on the ground too. So we still have to deal with all the regulations of how to launch safely.
The other aspect is the shared funding that we get from the government because NASA – specifically for the US – doesn't have a big enough budget to pay for it. It's like with the Space Shuttle: we didn't have enough money to pay for the Shuttle, the ISS and lunar exploration, so the Shuttle was the sacrificial lamb. Now we have the ISS, and then further exploration to Mars and deeper space, so NASA needs to shed some of its expenses in low Earth orbit. So the plan is to commercialise LEO while NASA focuses most of its financial investment on the Moon and beyond.
NASA wants to help the commercial sector get started, but they can't fund all of it and continue to fund ISS and do all the other things. So they want to wean us off and pay for it in other ways, but the commercial sector isn't quite ready to accept all that cost because it is expensive, and it is hard.
On the commercial side, one of the things we've been working on for a while now is international partnerships and relationships
We're seeing more investment going into space companies from the private sector, because they see such a value in the future of low Earth orbit commercialisation and all the different possibilities of doing business 'up there'. That is where I feel the future lies.
GUPTA You're right. On the commercial side, one of the things we've been working on for a while now is international partnerships and relationships. There are 26 countries represented on the ISS with ESA, the US and Japan as some of the major players. But what we've found in working with the United Nations Office of Outer Space Affairs (UNOOSA) is that there's a lot of global interest beyond this. In fact, we've had interest from 75 different countries around the world and multiple companies within those countries.
There is a very large community out there that's developing and wants access to space but currently doesn't have it. What we've been looking at is how we can provide that internationally.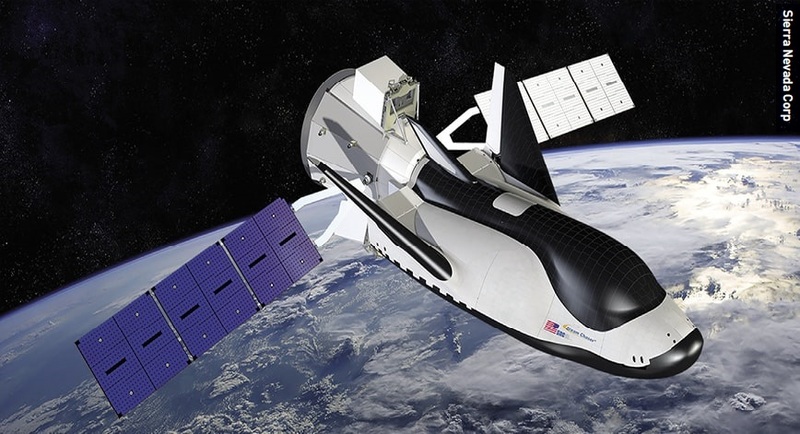 Dream Chaser is contracted to NASA for resupply missions to the International Space Station (ISS).

Do you think big pharma, maybe, has enough money to be the first to try it?
KAVANDI It's hard to say. I think they are a type of industry that could invest that kind of money. I think certain types of manufacturing might be able to as well – such as very hard-to-produce materials that require 3D printing and very high-quality materials.
I think we could offer a research lab of sorts for people to try out new things. It's like the ISS right now, where you can try out things and if they work, then you can go to larger-scale manufacturing. The only issue there is that you have to worry that someone's by-products or chemicals interfere with somebody else's manufacturing capability, or they're toxic to humans and things like that. So, essentially, you have to have your own board to vet the hazards of any new capability. But once you get through that process, people can decide: "Yeah, this is going to work. We should rent out a whole module to produce this."
So this is a dream that will live and develop over many decades, I think. We're at the very beginning, on the cusp of this emerging market. Once someone is brave enough to put their toe in the water and test it out, and it goes well, then I think we're going to see this huge rush of people interested in doing the same thing… then I think the floodgates will open.
One of the things that's unique about us is that we have all the technologies in house, from Dream Chaser cargo transportation to our LIFE habitat inflatable system
Is a testbed that a broad range of people could use, something an agency could get behind?
KAVANDI Yes, kind of like ISS part two. You have some customers with a glove box, for example, or essentially a space version of a fume hood so you have a containment system. You can have a whole floor of just glove boxes. And then you have a floor for, say, producing different kinds of vegetables to experiment with what kinds produce the most quantity and which are more resistant in space. And then you get another floor where you can try different drugs for human research on things like cataracts or bone density issues or intracranial pressure issues and how to resolve those kinds of things for long-term human exploration.
Why not test components on the ISS first?
KAVANDI Well, there are a lot of things you have to comply with to go to the ISS - safety zones, keep-out zones, rules when you approach to dock with the ISS - and the international partners who are up there all have rules and regulations. So while they're necessary for safety, when we start out as our own free flyer, we can make our own rules that may be different from NASA's or we may be more flexible with the type of platform that we plan.
As we build our Dream Chaser and our LIFE habitat, we know what the weak points are and what the safety concerns would be, so we get to write our own rules about approach and docking, and transfer of supplies and robotic requirements or spacewalk requirements.
GUPTA One of the other things that's really a benefit is the technology itself. The ISS has been there for a long time, and although it's an amazing feat, it's using technologies that are decades old now. And we've learned a lot, so going to a free-flying system directly, you can implement a lot of the new technologies we use every day in our phones, and things like that that just don't exist on the ISS. So being able to go directly to your own platform gives you a lot of real advantages.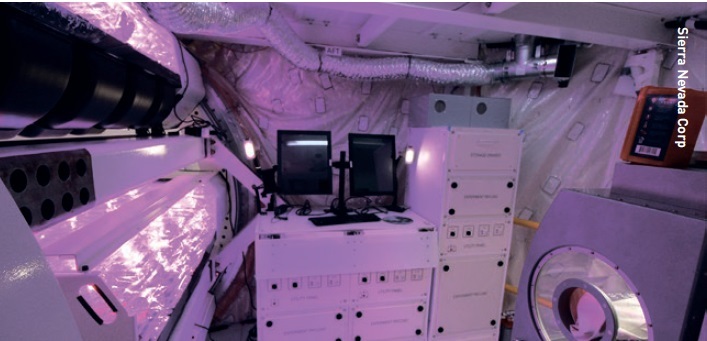 SNC has delivered its prototype of an inflatable habitat - the Large Integrated Flexible Environment (LIFE) - to NASA.

Do you have any close competitors that build similar things?
KAVANDI Bigelow has built and attached an inflatable to the ISS. It's still there but from all indications - and we're not in contact with them - they aren't in it for the long haul. And then you have Axiom space, which is relatively new, and has already announced plans to attach a canister type of habitat, similar to the current ISS modules which are built in Italy. We're the only ones that I'm aware of right now that have a plan to start out as a free flyer with an inflatable habitat, serviced by our own vehicles, and then grow from there.
A lot of companies are either launch vehicle or capsule providers with plans for lunar stuff, but not a combination of the whole thing from the transportation back and forth, and everything that comprises the platform including life support systems. The only thing we don't have right now is a launch vehicle, but everything else we'll be able to provide.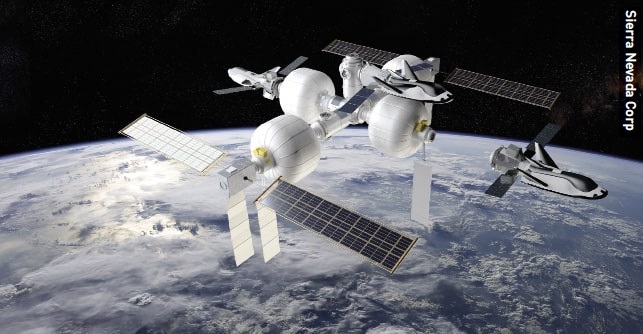 Artist's rendering of SNC's LIFE habitat in orbit.

About the interviewees
Janet Kavandi is Executive Vice President of Space Systems at Sierra Nevada Corp, in Louisville CO, USA. She is responsible for the company's space programmes, including the Dream Chaser spaceplane. Prior to her current position, she served as director of NASA's Glenn Research Center in Ohio. She was selected as a NASA astronaut in 1994 and is a veteran of three Space Shuttle flights from 1998 to 2001, serving as a mission specialist. She holds a PhD in analytical chemistry.
Neeraj Gupta is Director of Advanced Development at Sierra Nevada Corp, in Louisville CO, USA. He is focused on space exploration including systems for commercialising low Earth orbit and exploring the Moon and Mars. He works with customers on business development and is responsible for programme execution, which includes design, development and testing.