Despite clear advantages of incorporating the cloud into satellite businesses, whether Earth observation (EO) or communications related, the satellite industry was late coming to the party in comparison to the ICT sectors. But the last 10 years have seen a surge in the adoption of cloud-based technologies, with established and NewSpace players targeting new-age business models that leverage the cloud. While the cloud was a backend concern relegated to niche use as recently as a decade ago, it has made its presence known in the satellite industry primarily through customer-facing big data products and internalised technologies that were essential for data orchestration at scale. Where then, does cloud computing most impact the satellite industry, and what does the revenue opportunity look like?
Cloud computing represents an important technological shift that has been underway across industries since the turn of the 21st century, impacting the bottom lines and business models of various players in the ICT (Information & Communication Technology) sectors. Over the past decade alone, adoption of 'the cloud' has surged forward with major legacy software vendors orchestrating efforts towards the emergence of on-demand self-service, rapidly elastic solutions on the cloud. Digitisation strategies today are less about the blanket adoption of cloud-based services and more about understanding exactly which services need to move on from on-premise, and their associated costs and added value.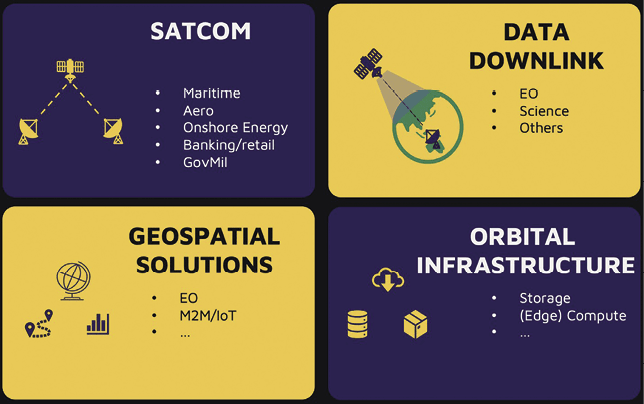 Cloud computing via satellite applications (Source: NSR).

The three cloud service models as defined by the National Institute of Standards and Technology - Software as a Service (SaaS), Platform as a Service (PaaS) and Infrastructure as a Service (IaaS) - each come with their own pros and cons, but there are clear advantages: a reduction of upfront capital expenditures and operational costs, ease of development and ubiquitous accessibility.
The use of cloud-based applications ensures that existing business processes are further streamlined. While there are tactical advantages, shifting to the cloud is more a strategic imperative, with business agility and IT flexibility being key drivers.
NSR (Northern Sky Research), a global market research and consulting firm focused on the satellite and space sectors, forecasts upwards of 52 Exabytes of cloud data traffic transported via satellite by 2029 in its report 'Cloud Computing via Satellite'. The decade up to 2029 is expected to present an opportunity for US$16 billion in cloud service revenues cumulatively. Of the market segments studied, the delivery of cloud services via satcom represents by far the largest revenue potential throughout the forecast period. Earth observation data downlink forms the next largest segment as an opportunity for ground segment players, while geospatial analytics and orbital infrastructure are smaller segments with revenues driven by business model and technology evolution trends respectively.
Even before the COVID-19 pandemic, enterprise digitalisation across industries was a major concern, leading to cloud migration strategies to ensure market competitiveness in a cloud-native future. The pandemic has helped to accelerate this movement, despite negatively impacting some of the same industries.
Satellite communications is where it rains
The delivery of cloud services via satcom represents by far the largest revenue potential throughout the forecast period
Cloud service providers (CSPs) have made a flurry of announcements in the last few years alone, expanding their direct connectivity partner programmes to include satellite operators and service providers, from Microsoft Azure ExpressRoute (SES, Intelsat, Viasat) to IBM DirectLink (SES).
Such partnerships ensure high performance cloud access to satcom customers, whether in the maritime, aero, energy or government military sectors. The cloud trend in satcom is expected to impact business models of all actors in the value chain. Such solutions are forecast to drive revenues in the long run, sustaining bandwidth demand from traditional satcom customers. On the other hand, the development of applications in the cloud is also expected to bring in bandwidth savings as applications move closer to being 'high value, low volume' with greater margins, leading to increased revenue opportunities as well.
The maritime sector is the largest driver of cloud services via satcom, expected to generate $5.2 billion over the next 10 years. In 2019, D2iQ delivered real-time microservices to one of the largest cruise ship fleets on the open seas, while optimising usage of the limited 300 Mb satellite connection for its guest services.
More recently, Rignet's predictive analytics offering was upgraded to a Microsoft ready status and is now optimised to run with Azure, helping customers realise operational savings. Inmarsat's maritime IoT platform provides a number of dedicated partner applications, ranging from fleet optimisation to quality assurance. Passenger cruise and offshore energy data requirements are the primary drivers, with cruise passenger cloud data traffic forecast to accelerate once non-GEO high throughput satellite (HTS) systems come online.
Meanwhile, despite a near-term downturn in the aero segment due to the COVID-19 pandemic, the long-term influx of capacity, pricing pressures (for both equipment and services) and the gradual adoption of the free-service model for in-flight connectivity will drive this segment to reach nearly $1.8 billion in 2029. Here too, cloud migration strategies will be a key driving factor, as in the case of Gogo's Amazon Web Services (AWS) migration in 2019.
Onshore energy (land-based oil & gas, mining and utilities) is in transition as an industry, with most major players eyeing digitalised integrated operations. Real-time data, intensive video intelligence, crew welfare applications and smart grid solutions are expected to drive cumulative revenues in this segment to nearly $800 million through the next decade. In the post-pandemic world, the current shift to remote and automated mining is only expected to accelerate.
Data downlink: EO building steam
A 'cloudification' of the satellite value chain is underway, and major players continue to place their bets
In the adjacent data downlink sector, ground station service providers are accelerating efforts in revamping/augmenting existing infrastructure, with the use of cloud-enabled services or virtual ground stations built on shared infrastructure. Cumulatively, nearly 500 PB of raw EO data is expected to be downlinked by 2029 onto cloud servers.
There are a few main factors driving this market: the emergence of NewSpace players with solid investor backing (Infostellar), the entry of major CSPs with deep pockets and resources into the space industry (AWS and Azure) and the virtualisation of ground station services.
Commercial EO players are open to a fully/partially outsourced ground service model, thereby generating cloud-related data traffic in this segment. SAR imagery players such as Capella Space and Umbra Labs, for instance, have leveraged AWS services to simplify and automate their data flows. Improvements in the resolution and quality of EO data (optical, SAR, hyperspectral, etc.) will only increase the volumes of data being downlinked.
Recent activity, related to large cloud providers launching dedicated space business segments, cements the arrival of a new paradigm in the satellite data downlink market, one that was up until now the forte of a few major incumbents.
For the Earth observation market, data is downlinked from satellites on the open market, either to private data centres, hosted centres or directly onto the cloud of EO operators. With current trends in hyperspectral, SAR and HD video capabilities, the volume of data downlinked is expected to increase, driven by improvements in sensors and instrumentation. Despite pressures on data downlink traffic from edge compute/optical downlink technologies, NSR forecasts $4.2 billion in cloud service revenues for EO data downlink through the next ten years.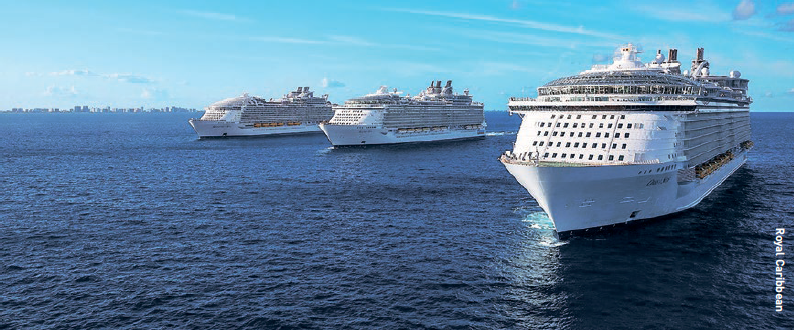 The maritime sector is the largest driver of cloud services via satcom, forecast to generate US$5.2 billion over the next ten years. Passenger cruise and offshore energy data requirements are the primary drivers.

Big data analytics by the bucketload
Downstream business model innovations are also underway, as analytics providers compete to provide better insights by developing new products and services, thereby increasing the consumption of cloud services, whether for compute, storage or network capabilities.
In mid-2019, Descartes Labs built the first system on the TOP500 fastest supercomputers list to run completely on public cloud resources. Soon after, the company launched a real-time geospatial data platform, providing geospatial tools that use satellite big data over the cloud.
UrtheCast's UrthePipeline is proposed as a fully managed solution to provide what is called 'scientific-grade Analytics Ready Data' to customers at scale, a solution that is tunable to the customers' scale and latency requirements.
Satellite big data solutions have taken centre stage in the wake of the COVID-19 pandemic as well, and related cloud service opportunities are forecast to increase, reaching upwards of $200 million by 2029. Service providers in this segment are expected to further optimise their cloud usage to improve their margins, while presenting a low hanging revenue opportunity to CSPs.
These geospatial solutions providers are cloud customers, using cloud capabilities to develop applications and platforms for satellite data end users across a variety of sectors, ranging from transportation and financial services to energy and managed living resources.
Geospatial intelligence is fast becoming a key component of traditional business intelligence tools and big data applications. However, scalability is a concern in this segment, as companies weigh the benefits and costs of using private/public clouds due to the sheer volume of data being stored or processed.
Orbital infrastructure: early years
The cloud trend in satcom is expected to impact business models of all actors in the value chain
Players in this segment essentially launch satellites as cloud service infrastructure, providing storage and compute capabilities in space. While comparatively a very nascent and emerging market, high visibility cyber-attacks from recent years (NotPetya, for instance) have spurred interest in such solutions, with potential customers willing to pay a high premium for protecting/storing their data in space-based cloud services. Next generation in-orbit processing capabilities, data security and effective partnerships will be key here. In-space cloud storage is forecast to present a revenue opportunity of nearly $22 million by 2029, growing at a high compound annual growth rate of 43 percent.
Heavyweights weigh in
In some ways, the entry of major cloud service providers into the satellite ecosystem was well predicted. Back in 2018, Jack Dangermond at ESRI wrote about recent mapping and geographic information system trends done at a whole new scale; i.e., the geospatial cloud.
This was shortly after DigitalGlobe published a retrospective on the company's massive shift of archival data to the cloud via AWS SnowMobile. Soon, the NewSpace ground station-as-a-service (GSaaS) market accelerated. There were a few other instances of satellite operators and service providers working alongside CSPs, such as SES Networks' cloud-based applications for its mining customers, or Marlink's digital enablement strategy for shipping using Microsoft's Azure Stack.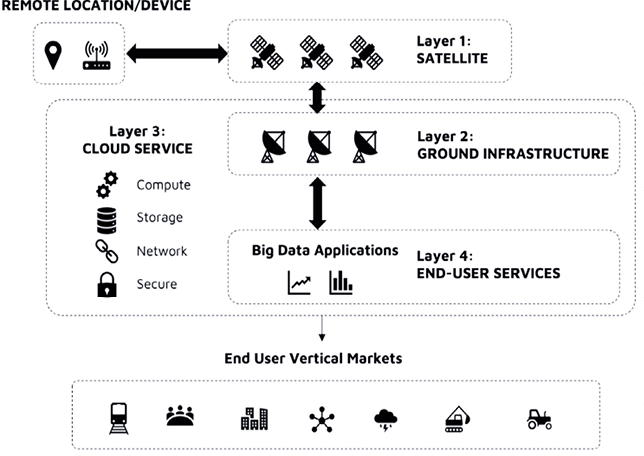 Cloud computing via satellite value chain (Source: NSR).

Since then, cloud players have emerged as a key segment to watch out for in the satellite business, first through direct peering partnerships such as Azure ExpressRoute and IBM Direct Link, and more recently, through high profile dedicated business units as in the case of AWS Aerospace & Satellite Solutions and Azure Space. The industry is now witness to a transition both in space and on ground towards virtualized ground stations, software defined networks and data intensive applications, where cloud infrastructure and services are becoming key enablers helping the industry expand its footprint.
The volume of data on the cloud transported through LEO/MEO/GEO is forecast to grow rapidly at 33 percent over the coming decade, or close to 180 exabytes cumulatively for commercial applications alone. This is in contrast to much slower end-to-end lifecycles through dedicated and siloed services in the past, whether in satcom or Earth observation. With both incumbents (as well as other major CSPs such as Google and IBM) being experienced service providers to government and defence clients as well as commercial space companies, the latest flurry of cloud-related activity in NewSpace and 'traditional' space was perhaps, a long time coming.
Moves up and across the stack
Geospatial intelligence is fast becoming a key component of traditional business intelligence tools and big data applications
AWS GS and Microsoft's Azure Orbital are in a separate category when it comes to the GSaaS landscape: neither are established ground station operators nor are they rooted in the classical NewSpace paradigm that gave rise to startups around the world. This is more a well-positioned lateral move of major players in a complementary (or competing, depending on who you ask) technology stack (cloud via fibre/undersea cables) expanding further into additional layers of the satellite value chain.
Granted, the existing coverage of the Amazon and Microsoft ground stations is not nearly as well developed as that of KSAT and SSC or any of the shared infrastructure service providers. However, these are still early days, and the use case might be shifting: co-locating ground station antennas with existing data centre infrastructure for improved access, tighter cloud integration and dynamic virtualised networks.
The traditional downstream EO value chain of data providers (satellite operators) and a highly fragmented market of geospatial analytics firms has already expanded to include data aggregators and marketplaces in the mid-tier with players such as SkyWatch, UP42 etc. vying to collate and serve a variety of EO/remote sensing data products.
A quick search for "satellite" on the AWS marketplace and Azure marketplace reveals a variety of products and services from a number of companies across this stack, as well as satcom (AIS/IoT) based data solutions. Also interesting are the inclusion of virtual network functions and digitised intermediate frequency (IF) satellite data transport services from Amergint and Kratos, as well as Kubos Corporation's cloud-based mission control system, an early indication of the range of virtualised and cloud-native services currently in development across the satellite sector.
The satcom world meanwhile, continues to be abuzz with Non-GEO HTS constellations, yet another major opportunity for a cloud play. Amazon's $10 billion commitment to its Kuiper constellation places it alongside other major non-GEOs, notably SpaceX (Starlink), OneWeb, SES (O3b mPOWER) and Telesat. Microsoft's partnerships with SES and SpaceX further provides an entry point into this market for end-to-end cloud satcom services.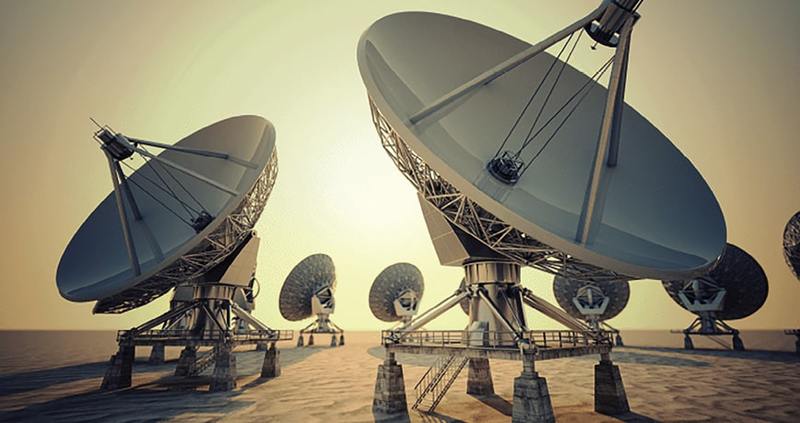 The emergence of NewSpace has accelerated the ground station-as-a-service (GSaaS) market in recent years.

Technolgy ratchet
Technology begets more technology - and so the cloud comes with the promise of transforming every business it touches. With wide-ranging impact across the satellite industry, the adoption of cloud computing has multiple benefits to an organisation, creating additional business opportunities. It will act as an enabler, reducing the barrier of entry to market for small companies and new startups in the space industry.
Enterprise digitisation across industries and cybersecurity considerations have driven the cloud-based satcom service market significantly. With the growing supply of EO satellites, the traditional EO industry has evolved to include data analytics, and the cloud is essential in accelerating the adoption of such solutions. By cutting out the need for ownership of assets, it allows satellite players to cooperate with CSPs and serve their customers much more efficiently. The cost of a cloud service, the potential upside/expected savings for the business, and turnaround time – these are important questions that drive cloud-related conversations today. A 'cloudification' of the satellite value chain is underway, and major players continue to place their bets.
The cloud computing via satellite market is communications-centric, in terms of both data traffic and service revenues. This is driven largely by demand in the maritime, aero and energy segments, and further by direct cloud connectivity partnerships.
Additionally, virtualised ground networks enable the transformation of the EO and analytics industries, bringing value closer to the end user efficiently. Orbital storage and compute solutions further blur demarcations in the traditional satellite supply chain, effectively decoupling satellite hardware and software and thus opening up the satellite market to competition from the wider big data and cloud computing ecosystem. The cloud is on its way to space, and we have an opportunity to watch as it makes its way higher and higher.
About the author
Shivaprakash Muruganandham is a strategy consultant and analyst for aerospace and satellite firms, currently with Northern Sky Research (NSR) where his areas of expertise cover satellite big data, geospatial analytics, Earth observation, optical satcom, high altitude platforms and other emerging space markets. His areas of interest span across climate, conservation and development studies and the role that the space industry can play therein.