Airbus, Europe's biggest aerospace manufacturer, is now developing the Spaceplane – a vehicle designed to bring cargo or paying passengers into suborbital space.

The Spaceplane has been in the works since 2006, when Astrium, then a subsidiary of EADS (European Aeronautic Defence and Space Company) began developing the vehicle. Development slowed down in 2011, but the company has continued to work on the project in spite of the global economic crisis. "We keep the investment going," said Astrium CEO François Auque in a BBC report. "We continue to mature the concept, maintaining the minimum team, in order that when we find the relevant partnership we are ready and have progressed sufficiently."
In June 2011, the development team was joined by a consortium of Singapore companies. At the time, Astrium officials said they were seeking more partners before establishing the project commercially. In 2014, EADS was restructured and reorganized as the Airbus Group, with what was previously known as Astrium being included in the Airbus Defence and Space division.
In June 2014, Airbus tested a quarter-scale demonstrator off the coast of Singapore. The demonstrator flew to 3 km and was piloted from a barge.
The vehicle currently in development at Airbus will carry four passengers as high as 100 kilometers, and be able to take off and land at a conventional airport. According to Airbus, the vehicle will operate in between the standard airplane and satellite altitudes, and open up a whole new market segment. The spaceplane could be used as a transfer service or for experiments and work in a part of space not occupied by many other vehicles.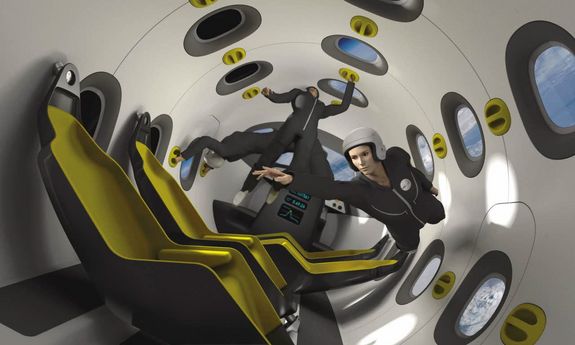 During flight, a rocket engine will ignite at about 12 km to bring it up to operational flight, bringing it up to an altitude of 60km in only 80 seconds. The rocket propulsion system will then shut down as the plane's inertia carries it on to over 100km, with weightlessness lasting for a few minutes at the top of the flight arc. The plane will then slow down and ignite the engines again for a runway landing. The entire trip is expected to last approximately two hours.
According to Airbus, the target is to produce five aircraft per year and eventually maintain a fleet of 30+ aircraft within the next ten years. Flights will cost about $225000 per passenger.
Although the plane underwent an in-atmosphere flight test in 2014, Airbus has not yet released a launch date. So far, they say that it could be possible to get into space "about seven years after procuring development financing."