On January 27, in a historically vital launch for Intelsat, Europe's Ariane 5 rocket had successfully placed the first of Intelast's Epic-generation satellites into transfer orbit.
Intelsat, a US and Luxembourg-based company, is expecting revenue growth as the Epic Ku-band high-throughput satellites appeal to new markets for mobile broadband.
Ariane 5, launched from Guiana Space Center in South America, placed Intelsat 29t into transfer orbit. Intelsat subsequently reported that the satellite was operational and sending signals.
This was Ariane 5's first launch of the seven or eight planned for this year, and the 70th consecutive successful launch overall.
Intelast is currently working on the construction of five other Epic-class satellites at Boeing Space and Intelligence Systems of El Segundo, California, all using Boeing's sixth generation of digital signal processors. The processors will allow Intelsat to move coverage and power around the satellite's coverage area to follow demand.
Intelsat is presenting Epic as a backwards-compatible, user-friendly, open-architecture alternative to the Ka-band high-throughput fleets now being deployed by its competitors.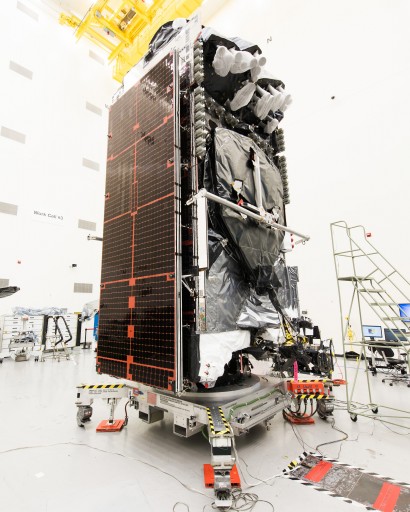 Intelsat
The Ariane 5, capable of placing two satellites weighing a combined 10,000 kilograms into geostationary transfer orbit, launched the 6,552-kilogram Intelsat 29e as a solo passenger.
Arianespace Chief Executive Stephane Israel said before the launch that the flight was the first January liftoff of Ariane 5 since 2002. "It's a good sign for the rest of the year," Israel said.
Intelsat 29e carries 20 C-band transponders and, when measured in 36-megahertz equivalents, 249 Ku-band transponders. It will be the first of the new-generation high-throughput satellites using Ku-band launched in the last 20 years. The satellite also carries 450 megahertz of Ka-band.
Addressing a briefing before the launch, Thierry Guillemin, Intelsat Chief Technology Officer, clearly laid out the importance of the Epic series for Intelsat.
"This is not just any space project," Guillemin said. "In the 16 years I have been at Intelsat, this is the most important for us. This is the beginning of an entirely new generation of satellites and a new era of connectivity for this industry. We are at the beginning of a renaissance in satellite communications."
Intelsat 29e will operate from 310 degrees east in geostationary orbit, covering the continental United States, Latin America and a special focus on the North Atlantic sea and air routes for Intelsat's mobility customers, including Panasonic Avionics, Harris CapRock and maritime broadband provider MTN Communications, which was recently purchased by EMC of Miami.