After five years of development and almost two years waiting for its debut, the first Slovak satellite skCUBE has been launched into space.
Designed and constructed completely in Slovakia by the Slovak Organisation for Space Activities (SOSA), skCUBE successfully blasted into space with the aid of the Indian Space Research Organisation's (ISRO) Polar Satellite Launch Vehicle (PSLV) rocket, when it hitched a ride along with 30 other satellites.
The satellite is packed with innovative technologies and a scientific experiment that focuses on observing very-low-frequency radio signals in space. These frequencies range from 3 to 30 kHz, and are usually blocked on the Earth's surface by the ionosphere.
The launch makes Slovakia the 78th country in the world to send its own satellite into space and although the 1U CubeSat project may seem small in dimensions, big things are expected from this little package; to promote the importance of STEM education in the country and to gain hands-on experience with designing and developing space hardware, alongside helping Slovakia to become a member of the European Space Agency.
Not only that, although the skCUBE project received some financial support from government and private companies, the experts involved worked exclusively as volunteers and were not paid for their involvement in the project.
Nonetheless, this work has helped to boost SOSA's profile as the organisation is setting up a satellite technology company based on the new technologies and components they have developed. These include an attitude determination and control system, and miniaturised high-precision sun sensors, which have already garnered interest from commercial companies and other potential partners around the world.
"The launch of this satellite is only the beginning," said Michaela Musilova, chair of SOSA and visiting professor at Slovak University of Technology in Bratislava. "We are now focusing on the commercial and industrial side of the space sector, while continuing to develop more innovative technologies and space research projects".
It has been suggested that one of the future research projects could be an international collaboration aimed at putting a fleet of multiple CubeSats into space to study gamma ray bursts – extremely energetic explosions that have been observed in distant galaxies.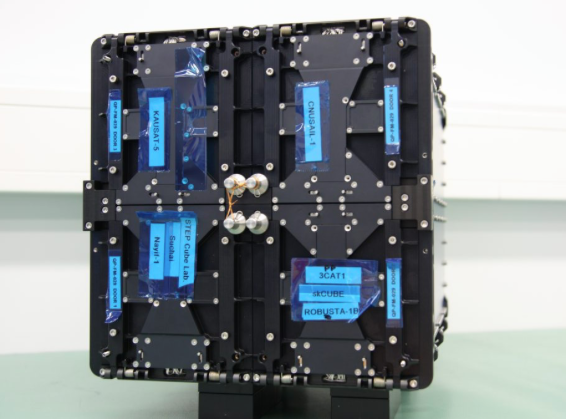 skCUBE satellite