In a big leap for Australia's New Space industry, rocket company Gilmour Space Technologies has successfully completed tests of its orbital-class rocket engine, as it moves forward with its plan to launch small satellites to space by 2020.
Making a move away from either solid- or liquid-fuelled engines that are traditionally used by most commercial rockets today, Gilmour Space is pioneering a new type of safer, cheaper, and greener hybrid-engine rocket that utilises a mixture of solid and liquid fuel. Gilmour Space is also reported to be the first company in the world to produce a multi-material fuel grain using additive (3D) manufacturing.
"We conducted two successful engine tests in December, one of which was a low pressure test-fire that generated 45 kilonewtons (over 10,100 pounds-force) of thrust," said its CEO and Founder, Adam Gilmour. "This is significantly more thrust than some of our small satellite launch competitors' main engines, and we expect to do much better in our full-pressure and full- duration test firings later this month."
"We started with a full-flow, mono-propellant thruster hot fire of our large catalyst pack," said Gilmour. "This is a critical subsystem of our main orbital engine, and it efficiently decomposed our Hydrogen Peroxide oxidiser at a core temperature well above the ignition temperature of our fuel."
The company has already completed tests of its mini hybrid-propulsion engine – the Cubesat In-Space Propulsion System – that could one day be used to send a 1U CubeSat from Earth's orbit to that of other moons or planets in the solar system.
Last year the company, which has operations in Queensland, Australia and Singapore, raised AUD 5 million (USD 3.7 million) in private funding from Blackbird Ventures and 500 Startups to develop and launch its low-cost rockets for the global small satellite industry.
"Despite a growing number of startups and companies looking to enter the small satellite launch market, it's notable that only a handful have progressed to actually building, testing and launching a rocket that demonstrates their technology.
"Gilmour Space is doing it; and if all goes well, I believe our new engine could well be the largest and most powerful privately-funded hybrid rocket engine in the world."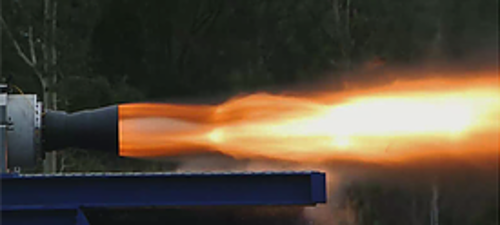 Hybrid motor test (Image: Gilmour Space Technologies)