It was third time lucky for aerospace startup Interstellar, as the company successfully launched its MOMO sounding rocket to an altitude of 110 kilometres (68.4 miles) above Earth, making it the first commercially developed Japanese rocket to reach orbit.
Established in 2013 by a former internet maverick, Interstellar Technology Inc. said the unmanned rocket reached orbit after taking off from the company's test site in the town of Taiki on Japan's northern main island of Hokkaido and flew for about 10 minutes. It later fell into the Pacific Ocean after exceeding the boundary between Earth's atmosphere and outer space.
"It was a complete success. We'll work to achieve stable launches and mass-produce (rockets) in quick cycles," company founder Takafumi Horie told The Japan Times.
This was the company's third attempt at reaching space, after two previous tries in the last two years failed. Interstellar's first endeavour in 2017, Momo-1, resulted in an emergency engine shutdown after contact was lost just 66 seconds into flight. In 2018, Momo-2 only made it some 20 meters off the ground before crashing back down onto the launch pad and exploding violently.
Momo-3, Interstellar's latest incarnation is approximately 10 meters (32 feet) long and 50 centimetres (1.5 feet) in diameter and weighs about one tonne. It is designed to carry a payload weighing up to 20 kilograms at a cost of approximately ¥50 million (~$450,000), but is currently incapable of sending them into orbit.
Interstellar Technologies also has its sights set on developing a larger booster able to carry payloads weighing up to 100 kg (220.5 lb) into a sun synchronous orbit. Dubbed ZERO, the company hopes to conduct its first flight test in 2020.
As with many NewSpace start-ups, Interstellar's goal is to provide ultra low cost, reliable launch services to capitalise on the growth in the small satellite market and Horie is hopeful of his new business; "I'm hoping that many manufacturers and satellite makers will come here to join us," he said.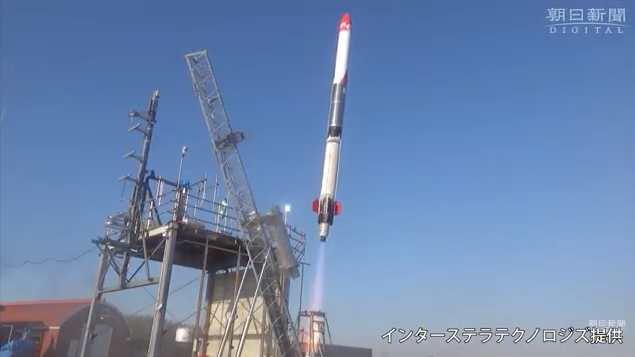 Youtube footage of Interstellar Technologies Inc., Momo-3 rocket taking off from the company's test site in the town of Taiki.