John Glenn, former NASA pioneer and the first American to orbit the Earth died yesterday at the Ohio State University Wexner Medical Center in Columbus.
An accomplished fighter pilot who received five Distinguished Flying Crosses for serving in both World War II and the Korean War, Glenn was one of the "Mercury Seven," a group of military test pilots selected by NASA in 1959 to become America's first astronauts.
In 1962, John Glenn became the first American to orbit Earth – three times to be precise – in his spacecraft named "Friendship 7." After spending about five hours in orbit, he showed that the Mercury spacecraft was fit to operate in space and it made Glenn an instant hero. Glenn resigned from NASA in 1964 and he went on to become a U.S. senator for the state of Ohio – a role in which he pursued for 25 years.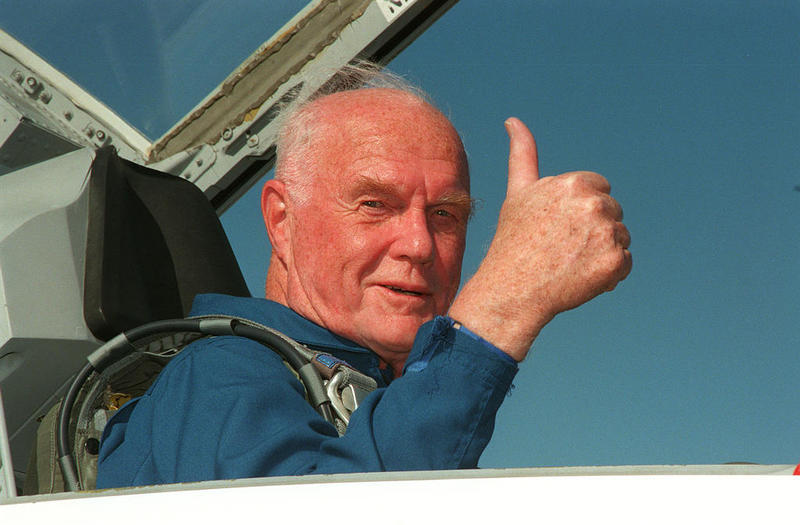 John Glenn became the oldest person to fly in space on his second flight, aboard space shuttle Discovery. Image: NASA
Speaking yesterday of the news, NASA Administrator Charles Bolden said; "Today, the first American to orbit the Earth, NASA astronaut and Ohio Senator John Glenn, passed away. We mourn this tremendous loss for our nation and the world."
"In 1998, at the age of 77, he became the oldest human to venture into space as a crew member on the Discovery space shuttle -- once again advancing our understanding of living and working in space."
"He earned many honors for both his military and public service achievements. In 2012, President Obama awarded him the Presidential Medal of Freedom, the highest civilian honor the country can bestow, and he also received the Congressional Gold Medal."
"Glenn's extraordinary courage, intellect, patriotism and humanity were the hallmarks of a life of greatness. His missions have helped make possible everything our space program has since achieved and the human missions to an asteroid and Mars that we are striving toward now," added Bolden.
Glenn's mission of almost nine days on the space shuttle orbiter Discovery, which launched on 29th Oct, 1998, would help NASA learn what being in space does to older people as he participated in a series of tests on the ageing process – a subject close to his heart, as the ageing population was one focus of his work as a U.S. senator.