China's Technology and Engineering Center for Space Utilization, part of the Chinese Academy of Sciences, has reported the launch of a microsatellite from the Tiangong-2 space lab. The satellite will orbit close to Tiangong-2, take high-resolution photos and carry out space experiments.
The microsatellite weighs about 47 kilograms and has greater capabilities than the previous satellite launched by the Shenzhou-7 mission crew back in 2008. Jing Haipen and Chen Dong, crew members of the Shenzhou-11 mission, are expected to stay at the space lab for thirty days, a record for Chinese astronauts. The experiments conducted by the mission have so far included a space-to-ground quantum communication test and a plant cultivation experiment in space.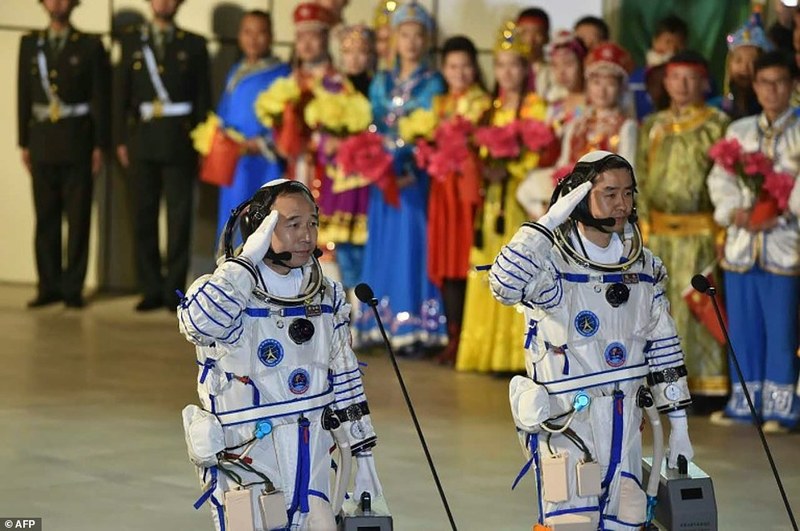 Chinese astronauts Jing Haipeng (left) and Chen Dong (right) prior to launch. Credit: AFP
According to an interview with Yang Liwei, China's first man in space, almost 40 experiments are planned for this mission, with nearly half relating to aerospace medicine. "All the experiments are in preparation for our future space station. The space lab is built for our experimental needs and for us to accumulate experience. According to our arrangements, the tasks will be carried out one by one. The workload is really heavy."
The newly-launched satellite reportedly has efficient orbit control, can process tasks autonomously and transmit data at higher speeds than its predecessor. Chinese space media has reported that the satellite will carry out a number of experiments planned for this mission, but did not go into greater detail.