The long-expected announcement by OneWeb LLC yesterday, confirmed that OneWeb Satellites, a 50-50 joint venture between OneWeb LLC and Airbus, intends to build a factory just outside the gates of NASA's Kennedy Space Center in Florida to build its 900 satellite constellation - that will ultimately see the company churning them out at 15 satellites a week – following a co-funding agreement with the state of Florida.
Start-up Internet satellite constellation operator OneWeb LLC, based in Britain's Channel Islands, already has $500 million in funding from big players that include satellite fleet operator Intelsat, Bharti Enterprises, Qualcomm, Coca-Cola and Hughes Network Systems, to launch the new satellites. The intended network will provide more than 10 terabits per second of new capacity, designed to boost internet access to the 57 percent (or 4.2 billion1) of the world's population who still do not have reliable access to the World Wide Web.
"This new facility is another step in the dream of enabling affordable Internet access for the entire globe," Wyler said in a statement. "These satellites are truly state of the art as we have really pushed, but not exceeded, the limits of technology. With this new facility we will be able to iterate, update and continuously improve the satellites design and performance, and being right at the space center using Virgin Galactic we will be able to launch new satellites within hours of completion."
Virgin Galactic's air-launched LauncherOne vehicle, which is still in development and could fly by the end of 2017, was awarded 39 launches by OneWeb to replenish the company's satellite fleet as old satellites stop working. Rather than launching from a traditional launch pad at a spaceport, LauncherOne will haul up one satellite at a time after dropping them from a modified Boeing 747-400 carrier aircraft that will carry the craft to at an altitude of approximately 35,000 feet before releasing the launch vehicle to begin its rocket-powered flight to orbit.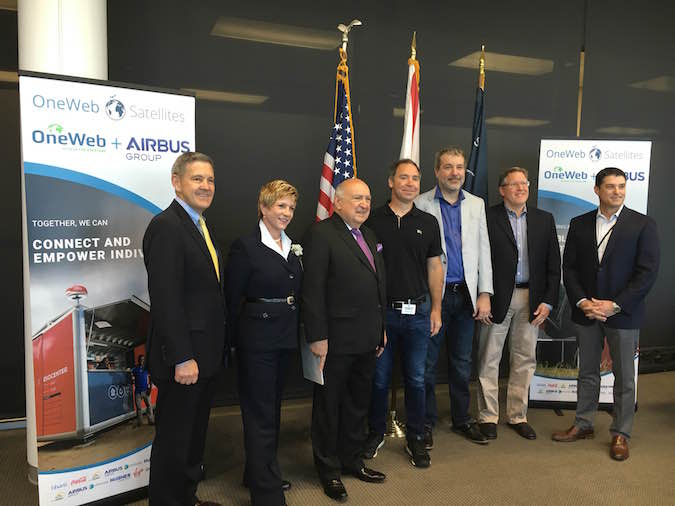 From left to right: Bob Cabana, director of NASA's Kennedy Space Center; Lynda Weatherman, president and CEO of the Economic Development Commission of Florida's Space Coast; Frank DiBello, president and CEO of Space Florida; Greg Wyler, founder of OneWeb; Brian Holz, CEO of OneWeb Satellites; David McGlade, executive chairman of Intelsat; Steve Crisafulli, Speaker of the Florida House of Representatives. Credit: OneWeb
Under the plan agreed to by Space Florida – Florida's aerospace economic development agency – the company will invest about $80 million in its manufacturing facility, including $36 million in the plant itself. The plant will qualify for $17.5 million in matching funds from the Florida Department of Transportation for the construction phase. "This is not only an advanced manufacturing facility for the company, but there are plans clearly to support a number of major sub-tier suppliers in this facility, and we look forward to welcoming them as well," said Frank DiBello, president and CEO of Space Florida. OneWeb and Airbus hope to sell similar small, relatively-inexpensive satellites to other customers after demonstrating the production capabilities in Florida.
"There will be a lot of new elements brought into satellite manufacturing that only this facility will have in the world, and that will allow us to be very cost-effective, so we can help Greg [Wyler] and OneWeb achieve their dream of pushing affordable Internet access into the developing world and connecting schools." said Brian Holz, CEO of OneWeb Satellites.
The OneWeb installation will be located next to a rocket manufacturing plant being developed by Blue Origin and OneWeb hopes to start manufacturing in 2017, with the first 10-satellite launch scheduled for late 2017 or early 2018. The full constellation is expected to be in orbit by the end of 2019. It is envisaged that some of the first satellites will be built in Europe and launched from ArianeSpace's facility in French Guiana, on South America's Atlantic coast near the equator.
1) According to International Telecommunication Union,