A Russian cosmonaut, actress, and film producer are heading to the International Space Station 5 October on board a Soyuz MS-19 spacecraft, for a 12 day stay to film segments for a movie.
Making his fourth flight into space, veteran Roscosmos cosmonaut Anton Shkaplerov, a former Commander of the ISS, will join actress Yulia Peresild and film director Klim Shipenko for the launch from the Baikonur Cosmodrome in Kazakhstan at 4:55 am EDT (1:55 pm Baikonur time).
Their Soyuz MS-19 spacecraft, which has been upgraded so that a single person can pilot the spacecraft, will make a fast-track three hour journey to dock to the station's Rassvet module around 8:12 am ET. Hatches will open between Soyuz and ISS about two hours after docking.
The launch will mark the first time in more than 21 years that the Soyuz includes a solely Russian crew and will also mark the expansion of commercial space opportunities on the ISS to include feature filmmaking.
During their near two week stay, Peresild and Shipenko are each expected to perform a number of roles to shoot, "The Challenge", or "Vyzov" in Russian – the first fictional film to be shot in space.
Along with being the lead role, Peresild will act as her own stylist and makeup artist, while Shipenko multitasks to become a camera and sound operator, and lighting director. He will also appear in some scenes of the movie.
The film plot is based around a doctor, Peresild's character, who despite being unfamiliar with space, is forced to fly to an in-orbit station in order to save a cosmonaut's life.
Peresild was selected from around three thousand actresses for the role, and along with Shipenko, has trained extensively for the flight. Both have also participated in a four-hour simulation inside a Soyuz replica while wearing the Sokol suit.
The drama is a joint project by Roscosmos, Channel One and the Yellow, Black and White studio and approximately 35 - 40 minutes of the footage shot in space will appear in the film's final release.
Despite its premise of being an "experiment to see if Roscosmos can prepare two ordinary people to fly in about 3 or 4 months" – a scenario not unlike the recent Inspiration4 flight – the film has drawn criticism from the scientific and aerospace communities, as to it being an apparent misuse of public money and that trained cosmonauts had to be removed from their flights.
It was also reported by the Russian National News Service media website, that Sergei Krikalev, director of crewed programs at Roscosmos, lost his position by speaking out against the project, but was reinstated after a few days following protests from cosmonauts on and off active duty.
Peresild and Shipenko will leave the station and return to Earth on 16 October (17 October Kazakhstan time) aboard the Soyuz MS-18 spacecraft with cosmonaut Oleg Novitskiy, who launched into orbit 9 April.
Shkaplerov will remain aboard the station until March next year, returning on a Soyuz MS-19 spacecraft with NASA astronaut Mark Vande Hei and Russian flight engineer Pyotr Dubrov.
By the time the trio return, Vande Hei will have completed the longest single spaceflight by an astronaut in US history, after both he and Dubrov had their missions extended to accommodate the Russian film crew.
NASA will be providing coverage of the launch beginning at 4:15 am ET on NASA TV, and on the agency's website.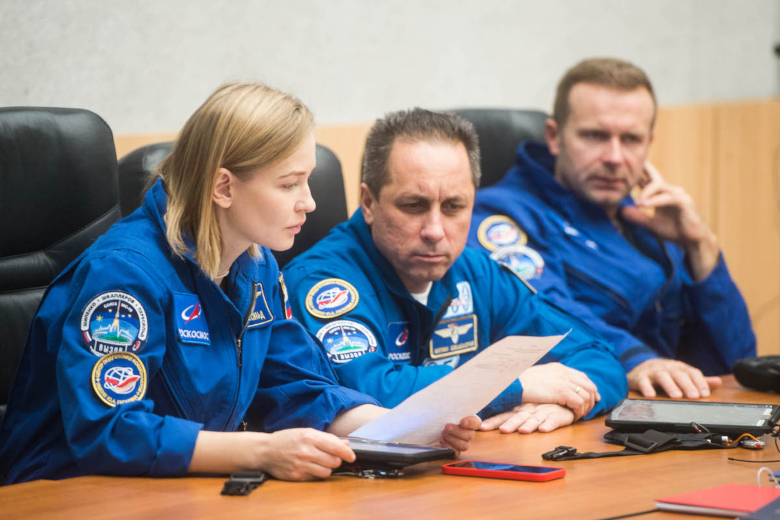 Actress Yulia Peresild, cosmonaut Anton Shkaplerov, and film director Klim Shipenko participate in final training activities before launch on the Soyuz MS-19 spacecraft. Image: Roscosmos