On Jule 24th, ULA successfully launched its 15.24 meter Future Heavy rocket from Fort Carson Army post. The launch set a new record for "the largest sport rocket launched anywhere in the world", according to ULA. And that's not the only unique aspect of the Future Heavy – it is a rocket built entirely by the company's interns and their mentors, while on-board payloads were built by fifteen teams of children from Colorado, ranging in age from kindergarten to 12 th grade. The project took almost four years and involved 105 interns and 41 mentors from the Space Foundation, ULA, and Ball Aerospace.
"We like [our interns] to have a very realistic experience," ULA President and CEO Tory Bruno said at the Space Symposium meeting in Colorado Springs, Colorado, last April. Bruno also said that the program's goal is to inspire students to pursue a career in science, technology, engineers or mathematics (STEM careers). "It is an exciting time to be in the space industry, and United Launch Alliance continuously works to excite the next generation of rocket scientists, astronauts, space entrepreneurs and enthusiasts," Bruno said.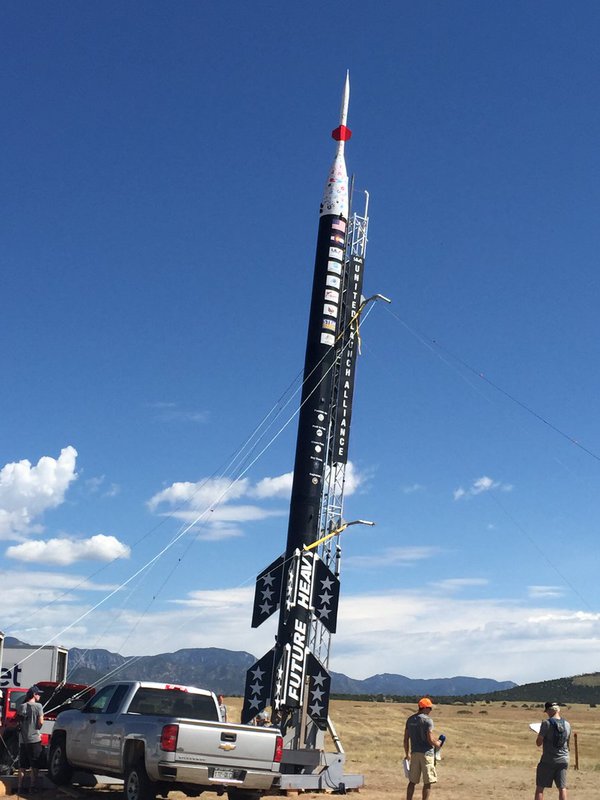 The ULA Future Heavy rocket. Credit: ULA
The Future Heavy is considered a sport rocket, a rocket built for recreational purposes, with an apogee of about 3000 meters above ground. The rocket has been an optional side project for interns for the last few years – all work on the rocket was done outside of normal working hours.
Since being founded in 2006, United Launch Alliance has completed over 100 consecutive successful launches. ULA is a joint venture of Boeing and Lockheed Martin, and produces Atlas V and Delta IV rockets, among others.