'EARTh from space' is the theme of all of my artwork and lies at the heart of my own motivation to share the overwhelmingly impressive experience I was blessed to have while living, working and flying in space.
The spaceflight experience is impactful in so many ways and finding a personal and meaningful way to express it is important to every astronaut. For myself, the single most meaningful way for me to share my own experience is through my artwork. Sharing my spaceflight experience with everyone I can. It was the defining motivation for my retirement from a dream job with NASA and for taking this next giant leap into a new adventure as an artist.
Each one of my paintings tells a different story and shares a profound and emotional part of my own personal experience. And each presents a part of that spaceflight experience that reminds me of not only the very special place I was living in space, but also of the incredibly special and ultimately important place I had the privilege of witnessing from that awesome and surreal vantage point of the International Space Station (ISS).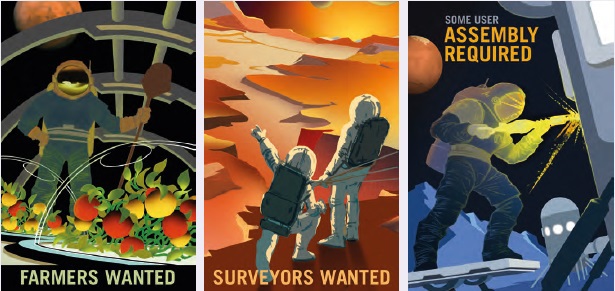 Inspirational artwork used by NASA in a series of posters designed to inspire future generations to think about living and working on other planets.
That incredibly special and ultimately important place is humanity's own personal spaceship, Earth. Our plant is stunningly, overwhelmingly beautiful. Each orbit presented some new and different perspective of that beauty.
Through my artwork I am attempting to uniquely share even just a glimpse of that beauty, with the hope that out of that beauty, will arise in you the same heightened appreciation for our planet that I am blessed to now feel - and that I feel an obligation to share.
Appreciation for our home planet Earth will continue to be an underlying theme of our 'Space for Art' column. But we also recognise the importance of those 'other' planets and potential spaceflight destinations. As we consider the possibilities for future human spaceflight to destinations outside low Earth orbit, one of our best ways for imagining what it will be like, or maybe what we'd like it to be like, is through artwork.
Over many years, artwork has also often been used to inspire recruitment across a variety of disciplines - and space is now no exception. A series of imaginative and inspirational posters, originally commissioned by NASA for an exhibit at the Kennedy Space Center Visitor's Complex in Florida, has recently been released for anyone to download and display.
These posters are all part of NASA's 'Journey to Mars' messaging for the future and, while creating such everyday jobs on the red planet may still be a little tongue in cheek and seem far away, these posters are sowing important seeds for future generations.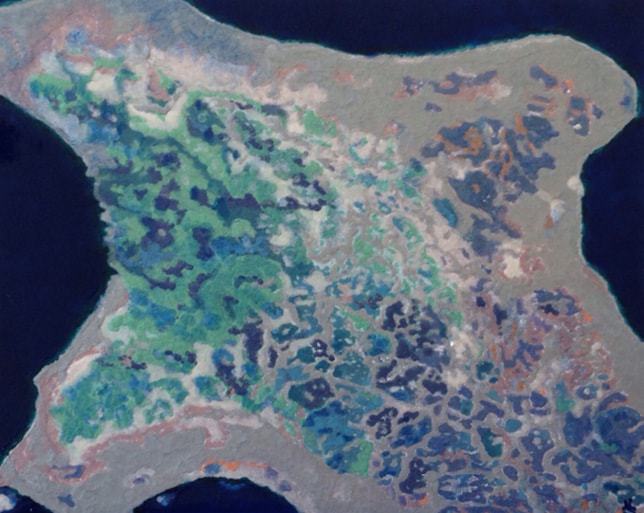 'Christmas Island', an original oil painting on high gloss paper, matted on foam board, inspired by photo of Christmas Island taken by Nicole from the ISS.
As well as allowing us to dream, they fit neatly with the articles that follow in this Space Lounge section of ROOM: 'Are the days of innovation over - or just beginning?', asks Sarah Lieberman and 'The promise of space tourism' by Los Angeles-based author, film-maker and explorer Jason Klassi who writes that we live in a time of 'unprecedented possibilities'. Asking these questions, and imagining and painting and writing about a future that includes wonderous things that might only seem fantastical right now, is one of the first powerful steps towards making these things reality.
The posters are available online to download, print out and display in schools, colleges and at home - www.mars.nasa.gov/multimedia/resources/mars-poster...