Joel Spark is co-founder of Spire Global, Inc. and serves as General Manager of Space Services. Based in Glasgow, Scotland, at the company's UK headquarters, office and manufacturing facility, he spoke to ROOM's Editor-in Chief Clive Simpson about Spire's highly successful role in disrupting the global space business.

Team members in Glasgow gather for the visit of Her Majesty Queen Elizabeth II.

What is the origin story of Spire?
Peter Platzer, Jeroen Cappaert and I met at the International Space University (ISU) in Strasbourg in 2011. We worked on a number of projects together, but it was Peter's thesis that was the seed from which Spire grew. He found that not only were the capabilities of nanosatellites increasing exponentially, but the incumbent space industry had not yet realised how transformative this disruption would be.
We saw the incredible potential for exponentially improving technology to disrupt the space industry by providing new tools for Earth observation, connectivity, and more. So we founded Spire to be a part of that transformation, using data from space to improve life on Earth.
From day one, we focused on non-optical methods of Earth observation, like radio occultation (RO), where the underlying technology (software-defined radio and onboard processing) was growing the fastest thanks to the telecommunications and computing industries. Since our applications would all be software-defined, it also meant we could continuously improve our satellites, even after they had been launched, through on-orbit software upgrades.
Spire is vertically integrated, with both satellite buses and payloads developed completely in-house, giving us complete control over the design and manufacturing process
What started as a thesis evolved into a kickstarter campaign and led to three guys building a satellite in a garage in San Francisco. Now we have the world's largest multipurpose constellation in orbit and one of the world's largest constellations - period.
Satellite assembly in Spire cleanroom.

Did you always want to work in the space industry?
Absolutely, growing up I used to build LEGO and K'NEX rovers and send them out onto our roof. I never could have dreamed that years later I'd send satellites, which are basically the same size as my rovers, out into space.
What has surprised you most as the company has grown?
Peter wrote his thesis on a Moore's law-like force that is driving the exponential growth in capability per kilogram of small satellites - a tenfold increase every five years. We saw this clearly. When Peter, Jeroen and I started the company back in 2012, we could never have imagined that within 10 years we would be a company listed on the New York Stock Exchange with eight offices in five countries, operating a fully deployed constellation that serves about 600 customers. The sheer speed of the company's growth is what has been a surprise - a very pleasant surprise - to me.
Why build your satellites in Glasgow?
The UK space industry has been growing and thriving for some time. We set up our manufacturing facility and UK headquarters in Glasgow for a variety of reasons, including access to top engineering talent. The hub of academic institutions in Scotland presented an attractive opportunity for ongoing recruitment efforts. We also have a close relationship with the Scottish government and are aligned in our view on the tremendous role that space-based information can play towards protecting and preserving the planet from the impacts of climate change.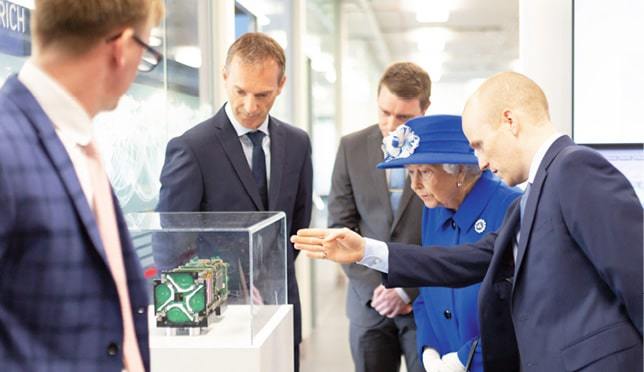 Joel Spark shows Her Majesty Queen Elizabeth II a Spire satellite during her visit to the firm's Glasgow headquarters in 2021.

Is there anything unique about your satellites, and who do you sell them to?
Yes, indeed there is. Spire is vertically integrated, with both satellite buses and payloads developed completely in-house, giving us complete control over the design and manufacturing process. All our payloads are software-defined, meaning that we can enhance and change what they do while in orbit with simple software updates.
For reference, not only have we launched over 150 satellites in over 30 launch campaigns, but we have also done tens of thousands of updates over the past few years alone. Our satellites are also multipurpose, meaning that each satellite carries multiple sensors and is capable of doing a variety of different things simultaneously, including tracking ships, planes, and global weather.
Our engineers can see, touch, and feel the impact of what they are building every day
Our constellation is so robust that we pioneered a new Space-as-a-Service offering, where we enable any company to be a space company by taking 'space' out of the equation. We leverage our fully deployed infrastructure to help others launch applications or missions into space.
What we do not do is sell our satellites. All of our customers purchase a subscription to data, including our Space Services customers. While we might launch dedicated satellites or constellations for our customers, we continue to own and operate these satellites and deliver the data collected from their sensors to our customers through a data subscription. Essentially, we are making space as accessible as integrating an API (Application Programming Interface).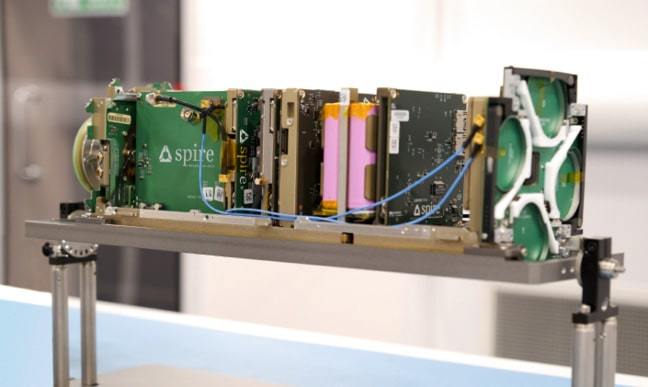 Spire is vertically integrated with all hardware and software developed in-house.

Has recruiting been difficult and where do you look for talent?
Anyone who says that hiring isn't difficult is lying. Recruiting the right person at the right time in the right location is never an easy task. What makes it a bit easier for us at Spire is that what we are doing is on the cutting edge of one of, if not the most, forward-looking industries - space. Our engineers can see, touch, and feel the impact of what they are building every day.
We are a mission-driven company and find that the younger generation of talent is particularly attracted to the work that we are doing at Spire. Not only is it cool to build satellites that ultimately become part of our constellation in-orbit, but knowing that the data that these satellites collect is helping solve generational challenges like climate change, makes it even all the more appealing to prospective talent.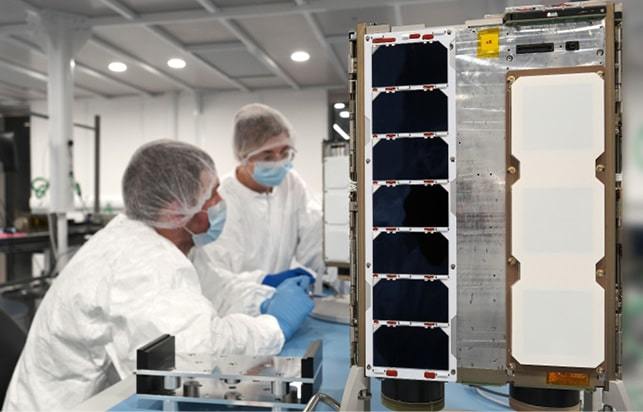 Spire engineers build a satellite at the firm s Glasgow headquarters.

Who are Spire's customers? What is it exactly that you are selling?
We have about 600 customers today spanning the commercial and government sectors, globally. The myriad of use cases for the data that we collect from space is ever expanding. From the ultimate vantage point of space, we have a unique view into the US$21 trillion global supply chain. We know where all the world's ships and planes are and can predict where they are going to be.
Spire collects the largest number of radio occultation profiles, which are essential inputs into weather forecasting models and can only be captured from a large constellation of satellites in space. We currently supply crucial weather data to the National Oceanic and Atmospheric Administration (NOAA), European Organisation for the Exploitation of Meteorological Satellites (EUMETSAT), European Centre for Medium-Range Weather Forecasts (ECMWF) and National Aeronautics and Space Administration (NASA), as well as several commercial organisations.
Whether our data is being used to help offshore wind farms better predict and manage their energy production, to help logistics companies with route optimisation for fuel efficiency, to aid government agencies in identifying GPS jamming activity, or to help detect and stop the spread of wildfires, we are leveraging our unique vantage point to help solve problems here on Earth. Put simply, we are selling a subscription to data, including clean (raw, structured), smart (fused with third-party data), predictive (enhanced by AI/ML), or solution (includes recommendations) data.
In addition to selling data from Spire satellites, we also provide Space-as-a-Service, where customers deploy dedicated constellations using Spire's proven satellite, ground stations and web infrastructure.
Some of our Space Services customers bring their own hardware and we help them manufacture and qualify it in our cleanroom in Glasgow. Other customers have Spire develop the payload for them in addition to the satellite. Either way, once it is in space, the customer can operate their fleet of satellites through a web API.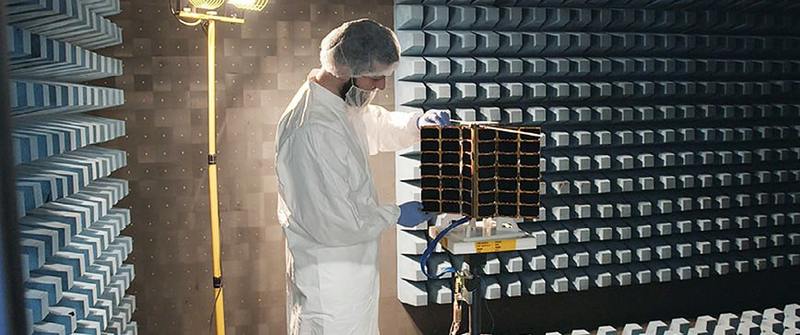 Satellite test chamber.

Is there a recent win or milestone that you are particularly excited about?
We are leveraging our unique vantage point to help solve problems here on Earth
In the win column, I'd be remiss if I didn't mention Her Majesty Queen Elizabeth II's visit to our Glasgow headquarters in 2021. It was an incredible honour to give The Queen a tour of our manufacturing facility and explain to her what we do at Spire.
If you told me back in 2012 that just nine years later The Queen would visit a Spire office, I would have thought you were crazy. It meant a lot to the whole company - you could feel the pride oozing through the walls of our Glasgow office for weeks.
On the milestone side of things, we recently announced a landmark Space Services contract with NorthStar Earth & Space for a dedicated constellation of satellites focused on space situational awareness and debris monitoring.
The agreement kicks off with a three-satellite constellation with optionality to scale it into the dozens. It is a perfect example of the way that our Space Services offering is changing the game in the space industry - empowering a whole new category of space companies that do not need to develop, own, or operate a constellation of their own, but rather pay a monthly subscription fee to access the vantage point of space.