A Cygnus cargo spacecraft was successfully launched to the ISS by a United Launch Alliance Atlas 5 rocket on March 22 nd.
The Atlas 5 lifted off on schedule at 11:05 p.m. Eastern time, placing the Orbital ATK-built Cygnus into orbit about 20 minutes later. The Cygnus is scheduled to arrive at the ISS on March 26.
The Cygnus is carrying more than three tons of cargo for the International Space Station, including crew supplies, vehicle hardware and experiments. That payload includes a wide range of experiments, including Saffire-1, which provides a new way to study a large fire on an exploration craft. Some of the other planned experiments are: the meteor-tracking experiment (first space-based observations of meteors entering Earth's atmosphere); the Strata-I experiment (exploring regolith properties in microgravity and regolith interaction with spacecraft and spacesuit materials); the Gecko Gripper study (testing a gecko-inspired adhesive gripping device that can stick on command in space); and a number of others.
This is Cygnus' second time flying on an Atlas 5, its previous mission having been in December. But this trip will differ significantly from the December mission - at the end of this mission, Cygnus will be unberthed from the station, but instead of reentering the Earth's atmosphere, it will carry out the Saffire-1 flammability experiment before its return.
"Flying the Saffire experiment is exciting for us," said Frank DeMauro, vice president of human space systems at Orbital ATK, "We're using Cygnus now not only as a logistics vehicle for cargo delivery and removal but also really as a testbed for NASA research."
By June, Orbital ATK hopes to resume Cygnus launches on its Antares vehicle, which has been grounded since October 2014, when it suffered a launch failure. According to Kurt Eberly, Antares deputy program manager, "We'll be ready to go in the June timeframe. NASA will take stock of where they are and what their needs are and then find a good slot for us." A specific date will be determined later and depend on NASA's schedule.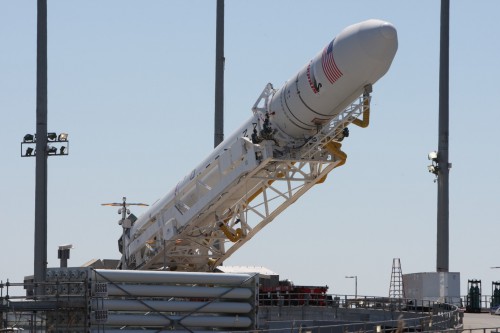 Prior to that launch, Orbital ATK plans to carry out a static fire test of another Antares first stage on the pad at the Mid-Atlantic Regional Spaceport in Virginia, likely in early May, he said. "That's going to hit all the operating points we're going to fly in flight," he said of that pad test.
If that launch goes as planned, another Antares launch of a Cygnus spacecraft would take place in the fall, Eberly said.