The COVID-19 pandemic has demonstrated the crucial importance for businesses to be nimble and to embrace new technologies – and space technology is central for many sectors to achieve this.
The thriving UK space industry is now set to expand beyond the 'golden triangle' of London, Cambridge and Oxford, thanks to UK Government backing for seven regional projects including a new North West 'space hub', led by the Science and Technology Facilities Council (STFC) through the UK Space Agency.
The North West already boasts the largest aerospace sector in Europe and, within the UK, its digital economy is second only to London. But developing a thriving space sector here will require linking up engineers, innovators and investors with the cutting-edge facilities needed to experiment and prototype new ideas, and this is where STFC will play a central role, building on a decade of experience in helping space sector companies to flourish.
STFC, part of UK Research and Innovation, and one of the UK's research councils, boasts a collection of world-renowned facilities, including observatories, synchrotrons and high-performance computers, incorporating STFC's Rutherford Appleton Laboratory in Oxfordshire, Daresbury Laboratory in the Liverpool City Region, the Boulby Underground Laboratory in Cleveland, the Chilbolton Observatory in Hampshire and the Royal Observatory in Edinburgh.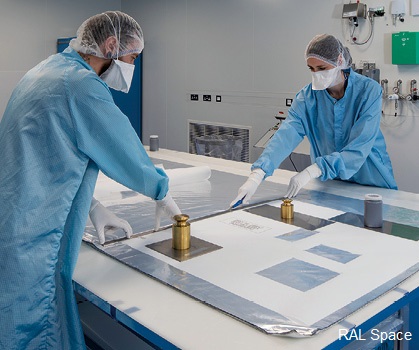 Multi-layer Insulation Facility

Instead of restricting these facilities to academics, STFC is committed to opening its doors to startups and businesses, developing Science and Innovation campuses to support a culture of multidisciplinary innovation and regional economic impact. Whilst this benefits a whole range of sectors, STFC's track record in the space sector is particularly strong.
STFC's experience in space programmes spans more than 50 years – from leading concept studies for future missions; developing bespoke, innovative scientific instrumentation; providing space test and ground-based facilities; and operating ground-stations to processing and analysing data. The work STFC engages in with businesses facilitates and realises the potential and impact of space technology both upstream and downstream.
In 2020, STFC celebrated the tenth anniversary of its involvement in the flagship programme, the ESA Business Incubation Centre United Kingdom (ESA BIC UK). In addition, STFC now partners with the University of Leicester in delivering the programme, and businesses situated at and around Space Park Leicester have the opportunity to apply.
The ESA BIC UK is now the world's largest business incubation programme for technology startups. Since 2010, almost 100 early-stage technology startups have joined it, collectively raising more than £75 million in investment and achieving a 92 percent success rate. This has seen cutting-edge space technology applied in game-changing new products and services, embracing everything from regenerative healthcare to sustainable animal feed and remote observation.
During the pandemic, ESA BIC UK companies have attracted £14.8 million investment and maintained a high survival rate, with no losses. With this innovation and entrepreneurial spirit set to expand further across the UK, we expect even more businesses to become excited by the opportunities the space sector offers.
For more information on STFC's space capabilities and its collaborative work with businesses please search for #SpaceAtSTFC to view our space related content or contact us at innovations@stfc.ac.uk to speak to a member of our team.
Editor's note: this is an STFC sponsored article.