As we continue to celebrate the 50th anniversaries of Apollo, we are experiencing a time of reflection on the significance of those first lunar missions - Apollo 8 and the iconic Earthrise image, Apollo 11 and the first Moon landing, and over the next couple years with Apollo 12 through to the last time humans visited the Moon on Apollo 17. These celebrations honour the legacy of the missions, their message to us all as humanity and give us hope for our future.
I am always thankful for the opportunity to reflect on my spaceflight experience in new and different ways – like when I was asked recently to describe what the black of outer space feels like - and how I'm always impressed by the artistic mastery I see and hear being created to express the awe and wonder of what we experience through space exploration.
In this edition of 'Space for Art' I'd like to share The Moons Symphony by composer Amanda Lee Falkenberg, the creative result of cooperation with some of the greatest scientific minds from NASA, ESA and world-class space artists. It was recently showcased in a stunning way through the writing of visual artist Andrea Hamilton in her project Celestial Black. I'm hopeful that an introduction to The Moons Symphony and Celestial Black will encourage you to reflect on who and where we are in this universe together. That personal reflection and the action that each and every one of us can take as a result might just lead us to the solutions for our greatest challenges here on Earth.
Celestial Black. What does the depth of blackness behind the stars and planets represent? For generations, composers have filled this void with scores that speak volumes about our relationship with space. It is 100 years since the London Symphony Orchestra first performed Gustav Holst's celebrated seven-movement suite The Planets but it is the Moon in her canopy of night which has inspired some of the most iconic pieces of music.
Music is a universal language that everyone can relate to, just as everyone can relate to space and, of course, our beautiful planet - Amanda Lee Falkenberg
The impressionist composer Claude Debussy wrote his masterpiece Clair de Lune in response to Paul Verlaine's poem of the same name, and Dvorak's aria Song to the Moon, from the opera Rusalka, became the soprano Renée Fleming's signature performance.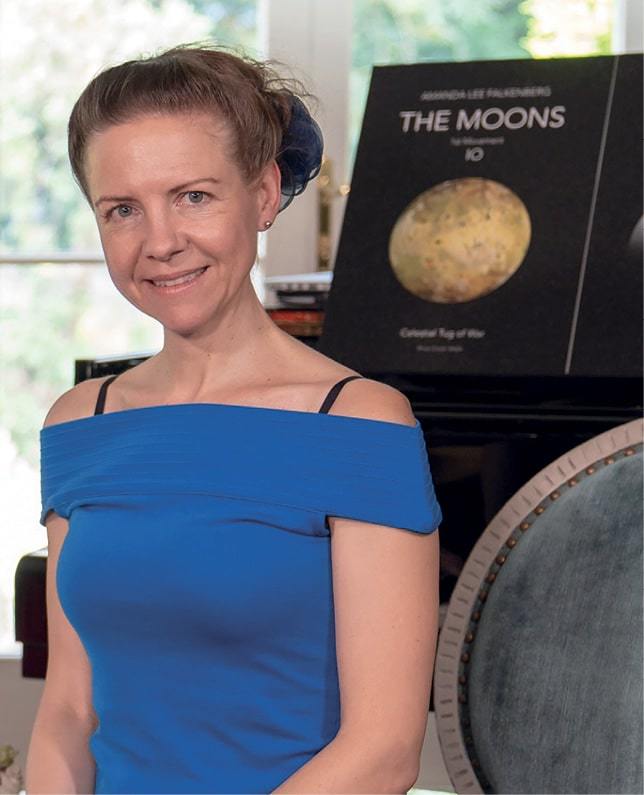 Composer Amanda Lee Falkenberg.

One of the most recognisable musical overtures in space comes from Stanley Kubrick's 2001: A Space Odyssey made one year before the first Moon landing. The film begins in total darkness, with only the sound of avant-garde Hungarian composer Györgi Ligeti's orchestral work Atmospheres. A gentle orchestral chaos - which the composer termed micropolyphony - the music keys us into the mood of the film and sets the viewer up for a big musical payoff later. As the Sun rises in the opening image, we see three spheres – Moon, Earth, Sun – then we hear four trumpets play the now iconic overtone sequence C-G-C-E. That marks the start of Richard Strauss' world-famous tone poem Thus Spoke Zarathustra, written in 1896. It illustrates a central theme of the film: humankind's development since the dawn of time and the quest for enlightenment. "I don't have the slightest doubt that to tell a story like this, you couldn't do it with words," Kubrick later said. Strauss would have agreed - he once told his friend, novelist Romain Rolland, "In music one can say everything".
Strauss got his idea from Nietzsche's book of the same name, a philosophical raisonneur that the author - no mean composer himself - described as a "symphony". Written in a poetic, prophetic style, its central theme examines how the advance of science was leading people to doubt cultural and religious norms; how appropriate for Kubrick.
To the composer Amanda Lee Falkenberg, space represents hope, a place of infinite possibility that envelops these celestial bodies: "This limitless, boundless, depth of space is the black ocean that suspends our skies. Its silent cosmic currents allow the planets and stars to dance to the rhythm of its celestial tides." Falkenberg translates the awe-inspiring search for life in the outer solar system into one harmonious and life-affirming score. In seven movements, The Moons Symphony connects us to deeper understanding of our place in the universe and from the distant perspective of the moons, the music gives voice to something universally felt: a love we share for our planet Earth.
"Through the power of music, I wanted to create an inspiring work of art that connected with as many people on the planet as possible, but also delivered a hopeful and uplifting message that is relevant to the plight of our world today," Falkenberg said.
One of the first people to hear Falkenberg's music was astronaut Nicole Stott, whom she met through the International Association of Astronomical Artists (IAAA). Responsible for curating the 50th anniversary celebration of Apollo 8 at the Kennedy Space Center, Florida, Stott's objective was to create an immersive storytelling experience of the positive impact on humanity of this first human mission to circle the Moon and to witness Earth rising above that barren grey horizon in space.
On the other side of the Atlantic, composer Amanda Lee Falkenberg had begun work on The Moons Symphony written after 20 months of scientific research. Consulting with experts from NASA/JPL, Harvard, Johns Hopkins and the University of Michigan, Falkenberg had found they were increasingly focused on the moons. While the planets they orbit are often too hostile to consider landing on, it seemed that their moons would reveal more and might hold the secret to life in our outer solar system. It was this idea that first ignited Falkenberg's musical imagination.
Each movement expressed the unique character of a distant moon, along with the human elation of its first sight. But halfway through this process, Falkenberg's creative trajectory took an unexpected turn. It was during the writing of Titan – Monsoons and Dunes that "something just did not feel right". Imaginatively, she had been travelling further and further away from what she knew. "I began to feel homesick and I understood that in order to move forwards I needed to look backwards, at our own Moon."
Women who compose full-length symphonies are as rare as female astronauts, but what defines both endeavours is cooperation
Also a member of the IAAA, she was uploading segments onto the platform, unaware that an astronaut might be listening to every note. Stott made contact, and shared her own perspective of being in outer space, and the breath-taking, life changing experience of seeing planet Earth from so far away, referred to as 'the overview effect'.
"Colours felt new in space. Every colour I thought I knew took on a different glow and translucence and iridescence. Seeing the Earth from space - it was high definition, crystal clear, and just glowed. Describing it to my son who was seven at the time - it was like the brightest light bulb I could imagine splattered with all of the colours we know Earth to be," she recalls.
"This stunningly beautiful glowing and colourful Earth orbited below against the backdrop of the clearest and blackest black I'd ever seen. Again, glowing and translucent and iridescent. There was a depth to this new blackness like nothing I had experienced before when looking up at the flat palette of the night sky from below. I felt transported into this blackness, feeling like I could reach into it. This was another wonderful reality check of who and where we all are together on this colourful, life-supporting planet in the otherwise, seemingly endless, blackness of space."
Stott asked Falkenberg to compose the theme for Apollo 8's tribute video at the Kennedy Space Center and, as the composer looked back over the Apollo 8 mission, she saw William Anders' iconic photograph Earthrise and began to understand how powerful this perspective could be.
Women who compose full-length symphonies are as rare as female astronauts, but what defines both endeavours is cooperation. Falkenberg's composition would eventually form the seventh movement of The Moons Symphony and a holistic tribute to the power of an imaginative alliance - scientific exploration, musical composition and artistic creativity. As well as Stott and Falkenberg's partnership, artists Ron Miller and Ed Bell were inspired by the work and became involved. Space artist Miller was not only a partner but an inspiration: Falkenberg would compose with his art in front of her.
Meanwhile, art director and 3D animation artist Bell contributed glorious 3D works to the video accompanying Ganymede. "It's the cooperative spirit that's going on with this symphony, not just the healing vibrations in music, but because of the incredible entities around it. "Music is a universal language that everyone can relate to, just as everyone can relate to space and, of course, our beautiful planet," says Falkenberg.
Moreover, a rational and analytical approach to technology and science is often perceived as incompatible with the imaginative and experimental status of art. But The Moons Symphony challenges the status quo with a fresh new perspective, one that harnesses the power of bringing everyone together by combining science and art.
For more about Amanda Lee Falkenberg and The Moons Symphony, visit www.themoonsmusic.com. The full version of Celestial Black by Andrea Hamilton is available at www.andreahamilton.com/celestial-black.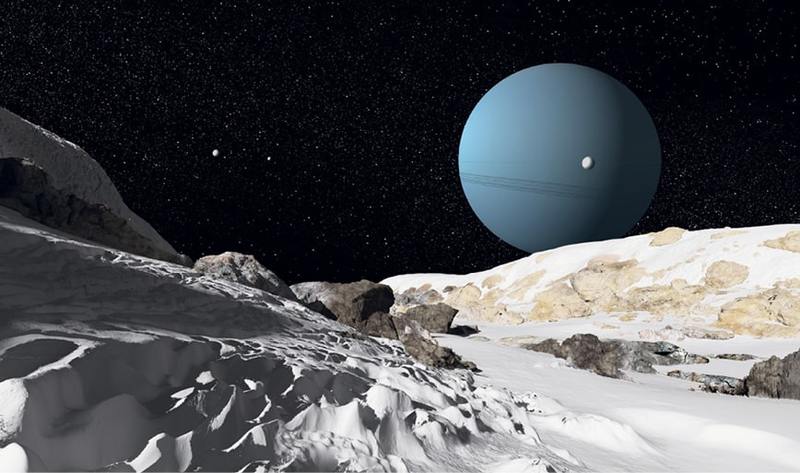 The planet Uranus seen from its moon Umbriel in a painting by artist Ron Miller.